See international contemporary dance at D Festival in Brussels
Dive into the vibrant world of contemporary dance in the capital at the 11th edition of D Festival from 24 January to 9 February.
The fortnight-long event incorporates circus, performance and music in seven projects staged across three venues in Etterbeek and Ixelles.
Although the name of the festival is reduced to one letter, the international festival is bursting with stories and dance forms. It aims to encourage encounters with Brussels-based choreographic artists and dancers whose origins are as varied as their careers and aesthetics.
They include Pierre Larauza and Emmanuelle Vincent, Faraja Batumike (pictured above), Lucas Katangila, Thi Mai Nguyen, Sara Lemaire, Paola di Bella and Hippolyte Bohouo. Despite their varying backgrounds, the artists share an organic approach, inspired momentum, engagement, rebellion and a vital need for expression through the body.
The D Festival explores the multiplicity of movements, of words and the dream of becoming a dancer in a hostile environment. It explores these themes through dance – traditional, contemporary, aerial and acrobatic – as well as music, theatre and contemporary circus.
Bulletin readers have an opportunity to win tickets to a performance of #5xBxl by t.r.a.n.s.i.t.s.c.a.p.e, in which five dancers each take a singular approach to movement in relation to their personal life (pictured main image). Sufi dance, aerial, contortion, crossfit and i-dop-! ball are all woven into the spectacle choreographed by Pierre Larauza and Emmanuelle Vincent.
Other festival performances include two powerful choreographies by Congolese dancers, both originally from the eastern town of Goma. La Cage is by inspiring hip-hop performer Faraja Batumike; Ndoto by dancer and activist Lucas Katangila. In Stand By, Thi Mai Nguyen explores humanity in an intimate duet, while Sara Lemaire/Petri Dish present Talweg, a tale of cruelty that blends circus, screenings, theatre and dance.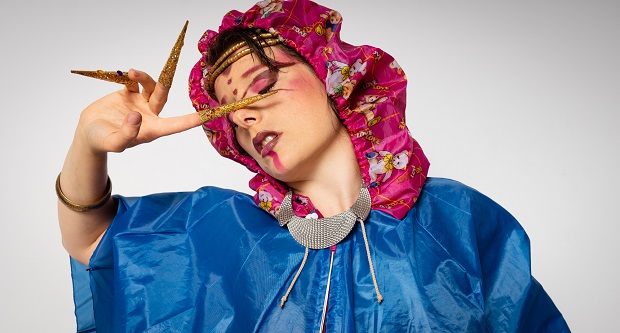 The Ivory Coast dance music of the same name, influences the duet Zouglou by Hippolyte Bohouo, along with the spirit of rebellion. And music fans can enjoy Pocket Poney Live Concert by Paola di Bella (pictured above) that mixes song with comedy and theatre.
D Festival
24 January to 9 February
Marni, Senghor and 29@La Maison Verte
Brussels
Photo: (main image) #5xBxl (c) Eric Danhier; La Cage (c) Gilles Destexhe; Paola di Bella (c) Irene Occhiato&Arnaud Beleen. Sorry! Our prize giveaway has now closed and the winners have been notified.