What's on this week: 29 April to 5 May
Brussels goes arty with the long-awaited return of its international contemporary art fair, Balkan sounds ring out in the city centre and yet another film festival graces the capital… discover our agenda highlights in Brussels and beyond
Brussels shows why it's such an international hotspot for contemporary art this weekend as the 38th edition of Art Brussels finally opens its doors at Tour & Taxis. After three years absence due to the pandemic, the prestigious fair gathers 157 galleries from 26 countries with some 1,000 artists presented across five sections, including a focus as ever on emerging artists from around the world. Belgian artists naturally get a look on, including Dennis Typhus (Potentially the last text message, 2022, pictured main image). Visitors are guaranteed a unique panorama of the current art landscape and there's plenty of satellite and side shows to keep all art enthusiasts happy. 28 April (invitation only); 29 April-1 May (public days), Tour & Taxis, Avenue du Port 86C
Final tickets are on sale for the Balkan Trafik!, the annual celebration of culture from the southeast European region. Concerts, dance workshops, masterclasses, street art, food and more fill the multi-stage open-air event at De Brouckère and the Grand Place. Friday night's headliner is Goran Bregović & his Wedding and Funeral Big Band, while The Last Original Balkan All Stars top the programme on Saturday. Ukrainian rocker Yuriy Gurzhy (pictured) joins the group Rasta Zeneca on Friday in a new project especially created for the festival. Until 1 May, De Brouckère and Grand Place
Win tickets: "Incompetence is a very good mask for corruption." This is just one of the compelling lines you'll hear in the bluntly titled They Blew Her Up, a play penned by Times of Malta editor Herman Grech. He delves into the murder of his colleague, Daphne Caruana Galizia, an investigative journalist killed by a car bomb in 2017. It is a stark and crucial reminder to the rest of the EU that not every country is on equal footing when it comes to democratic norms. (In English, with French and Dutch surtitles). The Bulletin has pairs of tickets to give away to this performance. Find out more and enter the draw here. 4-5 May, KVS, 7 Quai aux Pierres de Taille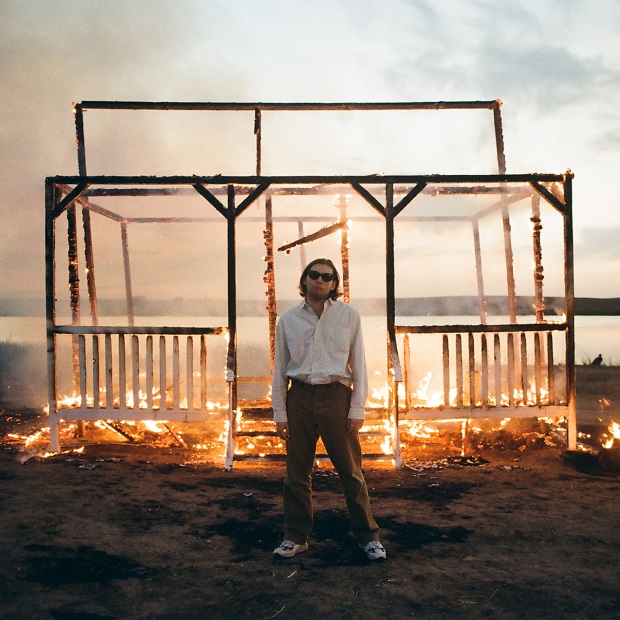 By far one of the most reputed music events in Brussels, Les Nuits 2022 offers you a couple of weeks to discover new and upcoming musical artists of all genres from Belgium and around the world. Staged in four different concert halls, some 200 groups and artists fill the programme, which includes special projects and album previews plus Bota by night on 7 May, an opportunity to soak in the tunes until the wee hours. New York hip-hop artist Armand Hammer, prolific Yorkshire rocker Ethan P Flynn (pictured) and UK singer-songwriter Keeley Forsyth are just a few of the international artists waiting to entertain you. Until 16 May, Botanique, Rue Royale 236 (Saint-Josse)
Marking the centenary of the death of the Belgian artist is Christian Dotremont: Painter-Poet, a new major exhibition at the Fine Arts Museum. Co-founder of the influential CoBrA movement, Dotremont (1922-1979) pioneered logograms, spontaneous graphic poems that took various forms. More than 200 artworks and archival documents trace the artist's practice in this important retrospective(Lino-lithograph by Doltremont and fellow CoBrA artist Pierre Alechinsky, pictured). An additional bonus at the museum, and running for the same period, is an exhibition dedicated to Jacques Louis David's masterpiece The Death of Marat. For the first time, it offers both contemporary and historic perspectives of the symbolic work. 28 April to 7 August, Rue de la Régence 3
 
In 2009, two Bulgarian expats launched the Millenium Documentary Film Festival to showcase movies covering topics included under what we now call the Sustainable Development Goals. This means that many films on the vast programme are hard-hitting, such as Judges Under Pressure (pictured), a look inside Poland's justice system, under threat of corruption since the far-right came to power. But others are buoyant, like Halal Cinema, the story of one Tunisian imam's attempt to revive a cinema closed for 25 years. 5-13 May, across Brussels
Brussels pianist Martin de Marneffe and his MdM Trio play some of the most pleasingly upbeat jazzy numbers around. They have a certain cinema quality, conjuring up images of casual Sunday afternoons in the city or nursing a red wine looking out at the rain. Their new album Time is Running comes with a series of concerts in Brussels and Drogenbos. 3-7 May
As war rages, Russian expats remind us that they have long been victims of an oppressive regime. The Full Circle international club hosts award-winning author Mikhail Shishkin for the talk Literary Tradition and Dissent. Shishkin, who lives in Switzerland, left Russia many years ago and has been an outspoken opponent of Putin's regime. 29 April 18.30-20.30, Chaussée de Vleurgat (Ixelles)
Outside Brussels
The festival season is well and truly opened thanks to the return of the Roots & Roses Festival this weekend. Located in Lessines, just 50km from Brussels, the event inspires something of a cult following for its home-made food, convivial vibe and of course musically diverse line-up, ranging from modern blues to garage, surf, Americana and rockabilly. With a very international programme, headlining acts include The Black Lips, The King Khan & BBQ Show, The Limiñanas and last-minute bookings Monsters, BellRays and Giant Sand. Consider camping or staying in a local B&Bs. 30 April & 1 May, 10.30-22.30, Ancien Chemin d'Ollignies 10, Lessines.
Quench your thirst with a refreshing lambic, gueuze or kriek beer during the Open Brewery Days in the Pajottenland and the Senne Valley this weekend. Toer de Geuze 2022 is a popular biannual event in the Flemish Brabant province, with Boon, Oud Beersel (pictured), De Cam, De Troch, 3 Fonteinen, Lindemans, Mort Subite and Timmermans among the specialist breweries opening their doors to the public. You can visit independently or join a bus tour. Check the website for full details and opening times. 30 April & 1 May, across Flemish Brabant
Ghent's big festival of flowers, Floraliën, takes place only every five years and so makes a BIG show of it. Ostensibly a major convention for florists and agriculturalists and juried competition, it attracts hundreds of thousands of visitors to wander through massive installations both indoor and out. Visitors can get ideas for their own landscape projects but it's mostly about overwhelming the senses with the perfume and colour of millions of flowers. 29 April to 8 May, Citadelpark, Familie van Rysselberghedreef 2, Ghent
Experience a moon landing and dock your own spacecraft at Space: The Human Quest, an extensive exposition on space travel, from its early missions to a future on mars. Marvel at the technical complexities required to keep people alive on spacecrafts to the wonders discovered about other planets in our galaxy. Until 30 June, Antwerp Expo, Vogelzanglaan 7, Antwerp
Sorry! Our Roots & Roses festival pass giveaway has now closed and the winner has been notified.