Updated daily: Our practical guide to how Belgium's coronavirus restrictions affect you
Last update: Friday 5 June. Recent updates are in bold
Seeing people
Belgium will relax its rules on the maximum number of people you can see outside your immediate family from 8 June. 
The previous rule of four people outside your household will be replaced by an individual limit of 10 outside contacts per week. Gatherings - at home, in a park or in a restaurant - will be allowed for up to 10 people, children included. 
For example, if you live with a partner, each of you can see 10 friends, and these 10 people can change from one week to the next. But, as a couple, you cannot invite all 20 of your week's friends out for a meal, picnic or birthday party.
Erika Vlieghe, who chairs the expert committee on easing the coronavirus restrictions, said the previous rule - limiting each household to four external guests, always the same four - had reached its limits. "We are evolving towards a situation in which we will still have to limit our contacts, but perhaps in a different way."
Police are no longer patrolling the streets specifically to enforce the coronavirus measures. Instead, the coronavirus checks will be integrated into police's other routine work. For example, during a routine patrol in the park, police might break up groups of more than 10 people. "We are now in a new phase," said a local police spokesman. "We are counting on the common sense of our fellow citizens." 
Eating/drinking
Cafes, bars and restaurants can reopen from 8 June, with a 1.5 metre distance between tables and a maximum 10 people per table. Customers should be served at their table, and staff must wear a mask.
Disinfectant hand gel must be available at the entrance, and chairs and tables should be disinfected after each meal. Condiments can only be served in individual sachets and there should be no printed menus or decorations on the table. Buffets are banned.
All restaurants must close by 1.00 in the morning. The late closing time was agreed to make it easier for restaurants to organise two sittings for the evening meal.
A proposed requirement for restaurants and cafes to log customers' contact details, for the purposes of contact tracing, has not been implemented amid concerns it would be in beach of privacy law, according to Denis Ducarme, the federal minister for small businesses. He told Bel RTL: "Beyond the fact that it is, in practical terms, difficult, I consulted the data protection authority and it appears to be impossible to do so today in accordance with compliance with GDPR. To implement this, we would need a legislative base and we do not have all the elements today to put that in place."
Eight out of 10 people in Belgium are planning to visit a cafe or restaurant as soon as they reopen, according to a poll of 1,600 by meal voucher provider Edenred. The remaining 20% said they would wait and see, fearing the atmosphere would no longer be the same or that safety measures would not be respected.
The Horeca Comeback scheme, which allows customers to pre-pay for a meal or drink now and redeem it later, has generated half a million euros for the 5,600 bars and restaurants taking part. If a business goes bust before you can claim your food/drink, the vouchers will be valid at another participating establishment of your choice. Another similar initiative has been set up by table booking site The Fork - reserve a place at your favourite restaurant, pay in advance and claim your meal later.
About 200 restaurants, cafes and bars in the City of Brussels have filed a request to expand their outdoor seating areas. The city council invited cafe owners to register their interest online.
A federation representing cafe owners in French-speaking Belgium is taking legal action against the Walloon and Brussels region. They feel discriminated against because the one-off compensation payment paid to them by the government is lower than in Flanders. Brussels has paid €4,000 in damages to each closed cafe and restaurant. Wallonia's payout was €5,000. Flanders initially paid €4,000 and is topping it up by €160 per day since 6 April. "There is no reason why in one part of Belgium you can receive three times what you get elsewhere," said Diane Delen, president of Fedcaf. "We are all Belgian entrepreneurs."
Schools
Schools partially reopened on 18 May, but only for pupils in the final years of primary and secondary. This was extended on 25 May to the first and second year of primary, and the first two years of secondary school. Primary and nursery pupils in other year groups can return to school on 2 and 8 June respectively - however the final decision remains with the director of each school.
Nursery schools in the City of Brussels will reopen on 8 June, alderwoman Faouzia Hariche announced. "For Tuesday it was impossible to organise, so we decided to give ourselves more time. It is essential to know how many children will come and we must give the teams time to prepare."
For secondary school pupils, the decision will be made by each of Belgium's three language communities. Representatives from the federal and regional governments met on Wednesday to discuss the reopening of school with scientific experts. Wallonia-Brussels minister-president Pierre-Yves Jeholet said: "For children, the health risk of going to school is much lower than the psychological, social, human and emotional risk of not going back."
Charlotte Martin, an infectious disease specialist at Saint-Pierre University Hospital, agrees it is time to reopen schools. She told RTBF: "At the beginning of the pandemic we did not have enough information to know whether closing schools or leaving them open was a reasonable decision, so we closed them as a precautionary measure. But now we have accumulated enough of knowledge to know that reopening schools relatively widely would not be a risk for the management of the epidemic." She said the distancing measures, which are designed to protect vulnerable people in society, should not have been transposed to schools: "We applied the same measures without seeing that it was an entirely different context and an entirely different risk. We now know that infected children do not effectively transmit the virus to adults."
Earlier this month, a group of 269 pediatricians had penned a joint letter arguing that all children should be allowed back to school. They write: "There is no valid medical reason for us to exclude children from the community any longer. A child must be able to evolve, interact and play normally." 
Parents with children in the reopened year groups who choose to keep their kids off school will not be sanctioned. Wallonia-Brussels education minister Caroline Désir said: "The idea is certainly not to punish absences. If we cannot reassure parents and some decide not to put their children in school, they will not be penalised." Désir said she "cannot promise that on 1 September we will resume school as if nothing had happened". She said it was possible that pupils would attend school part-time, on alternating days. "We have to prepare for a different start to the school year," she told RTBF.
Children's activities
Children's playgrounds around Belgium reopened on Wednesday 27 May. Playgrounds can be used by children aged 12 and under, with a maximum number of 20 people at any given time. Accompanying adults must maintain a minimum 1.5-metre distance. Indoor playgrounds and amusement parks cannot reopen until 1 July.
Children's summer camps - including sports camps - have been given approval to go ahead from 2 July, with a maximum of 50 participants and no mixing up of groups. Youth clubs will also be allowed to reopen from this date. The news offers stay-at-home families a breather over the summer holidays, as they can enrol their children for outdoor activities.
The Belgian association of fairground organisers, DFB, said it was disappointed that funfairs cannot resume before August. "We do not see why a distinction has been made between us and amusement parks," the group said. Amusement parks can open on 1 July.
Shopping
Shops throughout Belgium reopened on 11 May. Access to shops is limited to a maximum of one customer per 10m² of retail space, with a maximum shopping time of 30 minutes per store. Wearing a mask is highly recommended. You should shop alone, unless you have to accompany a child. From 8 June, night shops will be able to push back their closing time, from 22.00 to 1.00 in the morning.
Businesses that involve close physical contact with each customer - for example beauty salons, hairdressers and tattoo parlours - were allowed to reopen on 18 May, by appointment only and with the wearing of masks compulsory.
Rue Neuve has been split down the middle with barriers. At the end of each block, mini-roundabouts allow pedestrians to switch to the other side of the street. Signs at each end of Brussels' busiest shopping street explain the rules: walk on the right-hand side, follow staff instructions, stay away from other shoppers, avoid touching products that you do not plan to buy, use the disinfectant dispensers at the entrance to each shop and pay by card.
Maasmechelen Village shopping outlet will take customers' temperatures when they arrive. Anyone registering 38°C or higher on the thermal cameras will be invited to a separate room for a second check with a handheld thermometer. If the second reading remains above 38°C, they will be turned away.
Don't think about trying to organise a social shopping trip among friends or relatives now that non-essential stores have reopened. Finance minister Alexander De Croo said: "Going shopping has to be a necessity. The objective is absolutely not for people to meet in stores."
Supermarkets can freely organise new promotions and bulk-buy discounts. Until recently, these had been limited to promotional activities that had already been decided or were already running before 18 March. Supermarkets have also been authorised to sell masks to the general public. Most supermarkets are imposing a limit of one box per customer (50 masks in total). Prices are in the region of €30.
Retail federation Comeos says customers should do their shopping alone and keep a distance from other shoppers. Customers should not put their shopping on the conveyor belt until the previous customer's purchases have been scanned. Checkout staff will wear gloves.
You should pay by card where possible. The limit for paying with a contactless bank card has been doubled from €25 to €50. If your shopping costs less than €50, you should not need to enter your PIN on the keypad. Shops cannot refuse cash, but some supermarkets are limiting cash transactions to a single till, with all others card-only. A new app lets you check how busy a supermarket is before heading out. Search for ShopSafe in your app store. The app functions in a similar way to traffic planning service Waze. Stores are listed as "quiet", "normal", "busy" or "very busy" based on anonymous location data from mobile phone operators.
Delhaize has reserved access to its stores only to over-65s, police and medical workers between 8.00 and 9.00 in the morning. Lidl is closing its stores an hour early, at 19.00 on weekdays and 18.00 on Saturday, to take the pressure off staff. Aldi will also close an hour early on Saturdays, at 18.00. Unions representing supermarket staff at Aldi and Lidl have reached agreements with management over special compensatory measures for workers. Each deal includes extra paid leave and meal vouchers.
There has been a boom in online shopping - everything from thermometers to trampolines and popcorn makers. Summer sales in Belgium have been postponed until 1 August.
Belgian supermarkets have recorded an additional half a billion euros in sales since the coronavirus crisis began in mid-March, according to new figures from Nielsen. Overall revenue is up 10%, with a 13% rise in alcohol sales, partly because the closing of borders has put a stop to cross-border shopping. Sales of beauty products were down by 90%.
Open-air fresh produce markets have been allowed to reopen since Monday 18 May, with a maximum of 50 stands, compulsory masks and a one-way circuit to ensure social distancing. Flea markets can follow suit on 8 June.
Outdoor exercise
Outdoor exercise is "allowed, even recommended". Until now, this was limited to walking, cycling, jogging, skating and rollerblading. From 4 May, the rules were extended to other sports in small groups (of up to three people) without physical contact. From 8 June, any non-contact sporting activity - indoors or outdoors - is allowed, including training sessions and fixtures, although spectators are not allowed to attend until 1 July. Changing rooms and showers remain closed. Gyms can reopen on 8 June, provided safety distances are maintained.
Contact sports such as football, basketball and judo are limited to contact-free training sessions until 1 July. Swimming pools, spas remain closed for now. These should reopen from 1 July.
Until 8 June, while outdoor exercise has been permitted, participants should be moving at all times - not sitting down on lawns or park benches. Once they have finished their exercise, they should return home. Sitting on a bench and sunbathing will be allowed again from 8 June, as will picnicking in groups of no more than 10. Spring 2020, which we spent indoors, was the sunniest spring on record. The Royal Meteorological Institute recorded 707 hours of sunshine, against an average of 464.
Work
Remote working remains strongly recommended, even as the rest of Belgium's coronavirus measures are gradually phased out.
According to ongoing research by the University of Antwerp, more than half of respondents who have contracted coronavirus believe they caught it at work. Remote working from home is still strongly recommended in all companies, whatever their size, for all staff members whose job allows. Businesses that have reopened must respect social distancing rules, notably a distance of at least 1.5 metres between each employee. A 50-page set of guidelines has been published, covering everything from canteens to toilets and lifts.
A special medical certificate is now available for anyone who is unable to work because they are self-isolating at home. The note can be sent remotely, without the need for a face-to-face doctor's consultation.
More than 1.25 million workers have been placed on temporary unemployment. The monthly payout is typically 70% of gross salary, with a minimum of €1,165.93 and a maximum of €2,754.76 per month. Workers with a child under 12, or with a disability, can apply for special parental leave, under plans put forward by federal economy minister Nathlie Muylle.
The financial support package for self-employed workers who have lost all or most of their income - the "droit passerelle" - has been extended until 30 June. It amounts to €1,291.69 per month, or €1,614.10 for a parent with children. Last month, almost 350,000 freelancers benefited from the payout. Self-employed people who have had to cut back their work to look after a child under 12 can apply for paid parental leave - €532.34 per month or €875 for a single-parent family - but this cannot be combined with the "droit passerelle".
The Flemish government has announced that workers placed on temporary unemployment will have their energy bills paid for them. In Wallonia, every firm that has shut down will receive a €5,000 payment. In Brussels, the payout is €4,000. Businesses in Brussels that have had to close because of the coronavirus restrictions can now apply for the one-off grant from this website. The website has a list of the sectors covered by the payout. They include catering, sport, leisure, travel agencies, cinemas and driving schools. Eligible firms must employ fewer than 50 staff and have their registered address in the Brussels region. The Brussels government has also approved a one-off €2,000 grant for businesses that did not close down entirely, but have seen a significant drop in turnover as a result of the coronavirus crisis, such as artisans and construction workers. Example details of the applicable sectors and criteria are being drawn up.
While the work market has collapsed in recent weeks, some sectors are actually recruiting - including food distribution and security guards. Farmers are short of between 15,000 and 20,000 seasonal workers in jobs such as fruit-picking, as the busy May-June harvest period arrives. While seasonal workers have been allowed to travel to Belgium for such work, there have been several reports of police turning people away at the border due to a misunderstanding. Flemish agriculture body Boerenbond hopes clearer instructions will be given to those guarding Belgium's borders.
Trade unions and business federations are in favour of extending temporary unemployment until the end of August for workers whose jobs have been impacted by the coronavirus shutdown. They will meet again on 15 June to discuss a possible further extension to the end of the year. The final decision rests with the federal government.
Brussels' public construction projects have gradually resumed, including the renovation of the Leopold II tunnel and the extension of tram line 9 in Jette.
Creches and childcare
Belgium's French-speaking creches, accredited by the childcare body ONE, reopened to all from 4 May. It is recommended that children should be split into groups of no more than 10. Drop-off and pick-up times should be staggered, and only one parent should enter the building (the same parent each day, where possible). Facilities should be disinfected at the end of each day. Staff will be provided with cloth masks and disinfectant gel.
Children's care organisation ONE is continuing its regular schedule of vaccinations against other illnesses, but toys have been removed from the waiting rooms and consultation times have been spread out to ensure no two families are waiting at the same time. Children can only be accompanied by one parent.
The stay-at-home restrictions, which were in place for two and a half months, reinforced inequalities between men and women, according to research by VUB. The Brussels university carried out a major survey of how people's daily lives have been affected by the coronavirus shutdown. Its first results suggest stay-at-home has been more stressful for women than men. "It seems that it is mainly women who try to juggle their private and professional spheres at home," said researcher Theun Pieter van Tienoven.
Daytrips and sightseeing
Non-essential travel within Belgium will be allowed again from 8 June, so you'll be able to enjoy a daytrip or a longer staycation. On 20 May, Belgium lifted its ban on visits to a second home, just in time for the long Ascension holiday weekend. Belgian prime minister Sophie Wilmès told parliament earlier that there was "no longer any reason to maintain this ban".
Ostend is planning to introduce a booking system for its most popular beaches, mayor Bart Tommelein has announced. Residents, second home owners and hotel clients will have priority. Reservation will be on a per-day basis and will be free. Quieter beaches such as Mariakerke will remain open without a reservation - but beachgoers will be asked to bring their own windbreak to delimit their personal space. In total, a maximum of 30,000 people will be allowed along all of Ostend's beachers, which is about 60% of the normal occupancy on a busy day.
You will not have to book a spot on Blankenberge beach this summer, the resort's mayor Daphne Dumery said on Monday. The beach will be divided into five zones, with 6m² of space per person. When the first zone is full, the entrances will be closed and beachgoers will be sent to the second zone, and so on. A maximum 10,000 people can be accommodated on the beach - about a third of the usual peak on a hot summer's day. "There were only five of those last year," the mayor added.
The Walloon government has released a €6.5 million budget to allow tourist attractions and accommodation providers to make the necessary adaptations to allow for social distancing among visitors. The size of each payout will depend on the average number of visitors pre-shutdown, or the number of rooms in each hotel.
Public transport
All of Belgium's public transport operators are back running a near-normal level of service. Stib says you should only travel if essential - and avoid rush hours where possible. 
Wearing a mask is compulsory on all Belgian public transport, for all passengers aged 12 and over, not just on-board, but also at stops and stations. The mask should cover your nose and mouth. A scarf can be used instead. Between 4 and 13 May, only 25 fines were handed out to public transport users caught not wearing a mask, it has been revealed. The SNCB is selling masks and disinfectant in 80 mainline rail stations. Because of the requirement to wear a facemask at all times, the SNCB has told passengers that eating and drinking is banned on trains and at stations until further notice. The SNCB has offered a range of measures to support businesses trading in Belgian rail stations. Shops in stations are expected to fully reopen in June. The SNCB is offering rent discounts, longer deadlines and interest-free payment plans to tenants.
Some of the entrances and corridors in Belgium's biggest rail stations have been closed, including the three main Brussels stations, Ghent-St-Pieters, Leuven, Liège-Guillemins and Antwerp Central. The SNCB says that this makes the job easier for cleaners - and is possible thanks to a sharp reduction in passenger numbers. Some of Belgium's smallest stations have closed their waiting rooms and ticket halls entirely because social distancing cannot be maintained. Train conductors will not handle tickets to check them - instead they will be looked at from a distance. Ticket offices will only accept card payments. Coins can still be used in the machines. The SNCB has allowed shops inside 80 mainline stations to sell cloth masks and disinfectant gel to passengers. Some food and drink vending machines will be emptied and filled up with masks and gel instead.
De Lijn and Stib have both banned cash payments onboard their trams and buses. Both operators say passengers should board buses by the middle and rear doors, not the front. De Lijn has cancelled its dial-a-ride service, Belbus, primarily used by the elderly and people with mobility problems.
Consumer watchdog Test-Achats and two associations representing commuters are campaigning for the SNCB to partially refund or extend passengers' season tickets. They also want the expiry date on bulk-buy tickets - such as 10-journey pass - to be extended. Many travellers have not needed to travel over the past two months. "We are aware of the financial impact for the SNCB but we believe that it is not up to passengers to bear the costs," the associations said. "The loss of income must be compensated for by the federal government."
Belgium's taxi sector is still struggling, with passenger numbers down by about 80%. Taxis Verts says it has between 1,200 and 1,400 bookings per day, down from 6,000 to 7,000 in pre-corona times. "We are really feeling the closure of bars and restaurants," its managing director said. "We hardly work any more at night. Added to this is the absence of tourists. There is a general feeling of insecurity that we must try to resolve." Plexiglass screens have been fitted in many taxis, to separate the driver from the passenger. Sam Bouchal, from the Brussels Taxi Federation, said: "We can already forget about the year 2020. It will not get any better before the end of the year."
Driving
Road traffic in Belgium is returning to near-normal levels, while public transport use remains low, the latest stats reveal. Stib says its metros, trams and buses are up to 30% full. In Wallonia, traffic was at around 30% during the shutdown and is now at around 75% of the normal level. The SNCB says train occupancy was at 5% during the stay-at-home period and is now at 9%.
Air quality in Brussels has improved considerably since we were all told to stay at home in mid-March, according to newly updated stats from Bruxelles Environnement. Nitrogen monoxide levels fell by as much as 75% at some measuring stations, including the Arts-Loi junction and in Uccle.
Throughout the Brussels region, street parking rules have started being enforced again since 18 May. The City of Brussels plans to introduce pay-monthly parking permits for workers in several key sectors, to help them better manage their budget. The price of a professional parking ticket remains unchanged and works out at €17 per month. The monthly option is available for workers in hospitals, creches, schools and places of worship, as well as police officers.
The Rue de la Loi has shrunk from four to three lanes of traffic, with the creation of a new bike lane. Until now, cyclists and pedestrians have had difficulty sharing the narrow pavements. "About 3,000 people drive up Rue de la Loi in rush hour," said a spokesperson for Brussels mobility minister Elke Van den Brandt. "At the same time, more than 2,000 pedestrians and cyclists use it. Motorists had a 12-metre-wide space, while pedestrians and cyclists had just 5.5 metres."
Motorists' association Touring is worried that changes are being made to road layouts without consultation. The organisation says that while making temporary adaptations - such as more space for cyclists - is justified, it is concerned that "some of these so-called temporary arrangements become permanent without an impact assessment on traffic". Touring believes the changes should be limited to shopping streets. For the motorists' association, cars are "the most appropriate means of transport for respecting social distancing".
The Bois de la Cambre has been partially reopened to traffic. The northern half of the wood will be accessible to motor vehicles again, while the southern half, around the lake, remains reserved for pedestrians and cyclists. The whole wood will be closed on Sundays. A long-term traffic plan is being discussed for September - with petitions and counter-petitions currently doing the rounds.
Cars have been banned from the Parc de la Woluwe, to give walkers and runners more space. Residents in Saint-Josse - Brussels' most densely populated municipality - had campaigned for some of the narrowest roads to be closed to traffic to make social distancing possible. Mayor Emir Kir says the idea is impractical and has encouraged residents to take a walk at nearby Botanique, Parc Josaphat or Cinquantenaire. Anderlecht has changed the traffic regulations on several streets around the Cureghem neighbourhood, giving pedestrians and cyclists priority over vehicles.
The 20kph zone in central Brussels came into force on Monday 11 May, for a three-month trial period. Pedestrians and cyclists have priority over motor vehicles. Brussels mobility minister Elke Van den Brandt has confirmed that emergency vehicles will not be fined for breaching the new 20kph speed limit in the city centre. Meanwhile, Uccle has also decided to drop the speed limit on 15 streets to 20kph. The measure is in place until the end of June. Molenbeek is also making most of its streets 20kph from 11 May.
Brussels' car inspection centres in Schaerbeek, Anderlecht, Haren and Forest have reopened by appointment only. Priority will given to vehicles that have failed a roadworthiness test and need a repeat test.
Consumer rights watchdog Test-Achats has called on insurers to reimburse part of this year's premium for car insurance holders, or apply a discount to next year's bill. The association says: "With more than 1.25 million Belgians out of work, consumers have been hit hard by the crisis. We are asking car insurers, who have had to face less risk, to pass this on to their customers."
Provisional driving licences will be extended to 30 September to give candidates enough time to take their test. Mechanics can still carry out urgent car repairs. Motorists due to take their cars for their annual roadworthiness test (contrôle technique/technische keuring) from 1 March, have been accorded a delay of six months. This extension will remain in place until the final day of the stay-at-home order.
Uber has laid off between 40 and 50 staff working for its Jump free-sharing electric bike scheme in Brussels. The service has been scrapped.
Other transport
Bike-sharing scheme Villo is offering an hour of free use with each ride, up from the regular 30 minutes. The measure will continue for as long as the stay-at-home restrictions are in place. Medical staff can apply for a free Villo subscription on presentation of proof of work. 
A new "Park+Bike" service launched in Brussels on 18 May at several car parks on the city edge. Commuters can leave their car for free (or just €1 a day in some car parks) and use Villo, Billy Bike or Dott electric scooters to continue their journey into the centre. "To allow Stib to remain safe and efficient for those who really need it and to avoid completely clogging up Brussels, we encourage all citizens who can to walk and cycle," said the region's mobility minister Elke Van den Brandt. Villo is offering a free upgrade to its electric bike service for six months, while Dott offers two free unlocks per day with the promo code PARKANDRIDE.
Electric scooter provider Lime is returning its vehicles to the streets, after withdrawing them in mid-March when the coronavirus measures were introduced. 250 electric scooters are available across the capital. The fleet will be gradually increased according to demand. The vehicles are disinfected regularly. Meanwhile, rival Dott has gone back to its pre-pandemic level of service, offering 3,000 scooters across the city.
Public events
Cultural events with an audience may resume from 1 July, with a maximum of 200 participants - so small festivals can go ahead this summer, but major events will not be allowed until 31 August at the earliest. Sports fixtures can welcome spectators from 1 July, again with the same 200-person limit.
All the football clubs in Belgium's Pro League have agreed that the 2019-2020 season is over. The league table as it stood before the shutdown, after 29 matches, is the end-of-season ranking, with Club Brugge taking the title and Waasland-Beveren relegated. The new season is due to kick off on 7 August.
The Belgian Pride parade, scheduled for 27 June, will be held online only. "We examined whether the parade could take place at a later date. But considering all of the uncertain factors, we decided against it," organisers said.
Brussels' Ommegang parade (1-4 July) is among the cancelled events. Costume makers in the workshops will instead spend their time making masks for frontline workers. Tickets already purchased for the 2020 event will remain valid next year. The Meyboom, on 9 August, will go ahead but in a different form, according to Brussels mayor Philippe Close. It'll be the 712th edition of the Unesco-recognised folkloric event, which has not missed a single year through invasions and occupations.
The 2020 Belgian F1 grand prix at Spa-Francorchamps will go ahead on 30 August, without an audience in the grandstands. Walloon economy minister Willy Borsus said: "Organising it without an audience is obviously a disappointment for the spectators and a real shortfall for the region in terms of economic benefits. However, the terms we have negotiated allow the region to limit losses and ensure the Grand Prix will continue at Spa in 2021 and 2022." Ticket-holders can either apply for a refund or exchange their ticket for the 2021 race. Details will be published shortly at www.spagrandprix.com
Demonstrations are not possible - but you can now organise a virtual one via the mobile app Manif.app. Just pick a location, a cause and a slogan and invite friends to join you. They'll appear as little stick figures on the map.
Buying medicine
Two out of three visits to pharmacies are coronavirus-related but 40% of visits are not essential, according to a survey of 600 pharmacists between 30 March and 3 April by the Association of pharmacists in Belgium (APB), in collaboration with the VUB. It reported that after a peak in recent weeks, visits remained high but were levelling off. With telephone calls doubled, colleagues off sick and a drop in the number of people visiting their GPs, pharmacists said that the mental and physical impact of the epidemic remained high.
The survey evaluated 637 pharmacies and just over 2,000 pharmacists. VUB's Professor Eline Tommelein said hygiene measures had been implemented in almost all pharmacies, but that "face masks in 65% of pharmacists and gloves in 40% of pharmacists remain problematic, although pharmacists understand that the available resources must first go to the healthcare providers directly caring for Covid-19 patients".
Consumer protection watchdog Test-Achats has begun an investigation into over-priced masks and disinfectant gels sold in pharmacies and online. The organisation has received more than 200 complaints from consumers so far. According to its preliminary research, disinfectant gels are being sold for up to 2.5 times their normal retail price in some pharmacies. One customer reported paying €19.45 for a 250ml bottle. Consumers have also reported prices of up to €15 for a surgical mask. Test-Achats has passed its concerns - and the names of the pharmacists involved - to the Belgian Order of Pharmacists.
Sales of pregnancy tests in Belgium have risen by as much as 25% during the stay-at-home period.
Banks and post offices
Customers should use online and mobile banking wherever possible. Bpost says it will continue to distribute mail, newspapers, registered letters and parcels as normal to Belgian addresses. Bpost is handling 400,000 parcels per day and there have been reports of longer-than-usual waits for mail to arrive. For signed-for items, the postman will sign, instead of the recipient. However, it has temporarily stopped delivering mail to addresses outside Europe. From Monday, Bpost will temporarily charge professional clients a 25-cent supplement per package to help cover increased costs due to the rise in deliveries as well as security measures. It already applies a similar supplement for major businesses at the end of the year. The price rise does not apply to individual customers.
The average person in Belgium has cut their monthly household spending by 30% since the stay-at-home rule was introduced, according to new research by ING bank, based on anonymised analysis of 96 million electronic transactions. The biggest sector declines were in leisure travel (-69%), children's activities (-68%) and clothing and beauty (-61%). Spending on groceries was up 24%, with local grocery stores seeing a 14% increase in trade. The number of cash withdrawals at an ATM was down 65%.
Here's another positive consequence of the coronavirus shutdown: it has never been quicker to get your application for planning permission accepted. Several municipalities in Brussels have managed to clear their previous backlog of dossiers. "We have more time to devote to each application because there are no consultative committees and other meetings," said a Brussels-City spokesperson. It's a similar picture in Evere: "Civil servants no longer have face-to-face appointments with the public. All those hours spent in contact with citizens can now be devoted to processing the administrative formalities and that has had a positive impact." However, this is only true for the simplest of planning permission requests. For anything more complicated or controversial, you can still expect a long wait, as public inquiries are on hold until further notice.
ING and BNP Paribas Fortis have warned of a growing number of scam text messages. Recipients are told that their bank account "has been placed in quarantine" and to click a link to reactivate it. Don't.
Foreign travel
Belgium has relaxed the restrictions on cross-border travel. It's now possible to head to the Netherlands, Germany and Luxembourg to visit your family or go shopping. However, France is reportedly still turning people away and will continue to do so until 15 June. 
Belgium will allow cross-border travel within the EU/Schengen area from 15 June, although other countries might choose to maintain their own border restrictions. A decision on travel outside the EU will be made at a later date.
Greece appears to be off the list of possible holiday destinations for Belgians this summer. The country has published a list of 29 countries from which travellers will be allowed to land in Greece without a mandatory quarantine. Belgium, France, Spain and the UK are not featured. Croatia has opened its border to nationals from 10 EU countries, including Germany, but not Belgium. Cyprus has named 19 countries from which quarantine is not necessary, and again Belgium does not feature. Austria and Denmark each plan to reopen their border with Germany on 15 June, but a decision on travel from other countries could come later.
Eurostar is running a skeleton service between Brussels and London and is issuing vouchers to anyone wishing to delay their travel. The vouchers are valid for a year, for travel on any train until December 2021.
Brussels Airlines has placed 4,200 staff on temporary unemployment. The national carrier is facing dire cashflow problems. Brussels Airlines' parent company, Lufthansa, does not believe that the airline industry will return to pre-coronavirus levels of activity any time soon. It is making long-term adjustments to its flights schedules and withdrawing several dozen craft from its fleet. An existing restructuring plan at Brussels Airlines will be accelerated. The airline has scrapped eight destinations from its timetable until the end of March 2021. They are Brussels Airlines will no longer serve, at least until the end of March 2021, Seville, Valencia, Bristol, Hanover, Moscow, Billund, Marrakech and Santorini. Brussels Airlines pilots have proposed to take up to a 45% reduction in working time and wages until 2023, to help the struggling airline save €100 million. Their union, B-United, says this would ensure that no pilot or member of cabin crew would have to take redundancy. Brussels Airlines has announced plans to make 1,000 jobs redundant, including those of 191 pilots and 470 cabin crew.
Customers who have had tickets or accommodation cancelled because of coronavirus can receive a voucher for the full cost, to be redeemed against other travel plans. Consumer and economic affairs minister Nathalie Muylle said travellers could only apply for a refund in 12 months' time - and even then, they could have to wait six months for the money to arrive.
Brussels Airport is now accessible to visitors without a boarding pass, meaning friends and family members can come to the departures or arrivals hall to accompany travellers. Since 24 March, only passengers were allowed within the terminal. Wearing a mask is compulsory.
Charleroi airport has announced it will reopen on 15 June. The airport, which relied on Ryanair for more than three quarters of its business, says it is losing €8 million a month. Ryanair intends to resume about 40% of its flights from July. Passengers and crew will have their temperatures checked at the terminal and must wear masks. Social distancing will be "encouraged where possible". EasyJet has grounded all flights until further notice. TUI Belgium has cancelled all flights and package holidays until at least 7 June. Air Belgium has pushed back the relaunch of its flights from Charleroi to Guadeloupe and Martinique until 24 June. Passengers affected by the postponement will be contacted in the coming days.
Belgians are already making preparations for a stay-at-home summer - one Walloon swimming pool provider has seen a 50% surge in orders for people's homes. One in five people in Belgium have already cancelled their summer holiday plans, according to an Ipsos survey published in Het Nieuwsblad. Three quarters of the 2,100 respondents believe their plans for July or August will fall apart because of the ongoing health crisis. 
Museums and culture
Cultural activites with an audience may resume from 1 July, with a maximum of 200 participants, including the reopening of cinemas and theatres. 
Monday 18 May saw a gradual reopening of Belgium's cultural sector. Museums and historical buildings are again accessible, provided they sell tickets online or by telephone and limit the number of visitors at any given time. Museum cafes must remain closed. See our round-up here of who is planning what. 
Bozar has cancelled all of its performances and screenings until 21 July. Mima museum on the canalside in Molenbeek has successfully raised €15,000 from a crowdfunding appeal, after warning that it was in a precarious financial situation. Half of the proceeds above €15,000 will be donated to Saint-Pierre hospital.
The Atomium is facing a deficit of at least €3 million this financial year because of the coronavirus shutdown, down from an €800,000 profit last year. Management have warned that the financial situation "could be fatal to one of the emblems of Belgium" and that financial reserves will be exhausted by the end of the year. Deputy director Julie Almau Gonzalez says: "We still have time to draw up a plan and it is clear that the monument will be saved." The Atomium reopened on 1 June, with a goal of attracting no less than 25% of its normal pre-coronavirus attendance figures.
Mini-Europe, at the foot of the Atomium, has reopened, selling tickets exclusively online. It'll be a quiet restart: 80% of the attraction's visitors are normally foreign tourists. School trips make up a large part of the rest. "This will be our worst year," said the park's owner. "Last year we had 420,000 visitors. If this year we can limit the damage and have between 150,000 and 200,000 visitors, that would already be good."
Hospitals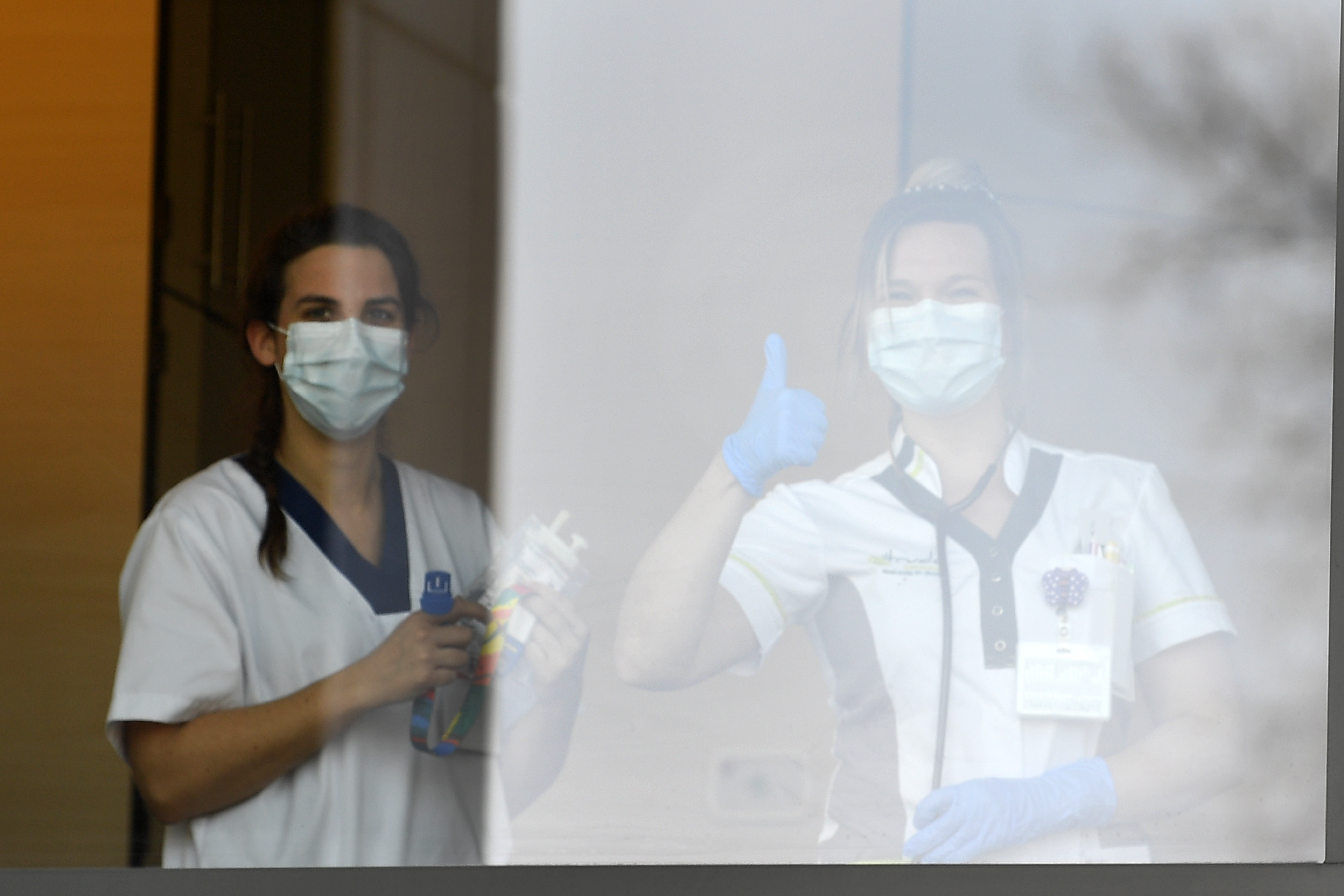 Visiting a sick relative in hospital has been allowed since 2 June, the federal health ministry has announced.
Two unions representing hospital and retirement home staff have announced their intention to strike in protest at Belgium's handling of the coronavirus crisis. Actions will be carried out in hospitals and care homes in June. "They are exhausted and angry," says the CNE union. It says care home workers have been "abandoned ... without equipment or screening".
The Red Cross is appealing for donations in order to buy protective equipment and disinfectant for its frontline workers. Meanwhile, more than 500 volunteers in Brussels have joined a reserve list of medical staff willing to lend a hand to overstretched hospitals. They are mostly students and retired doctors. The Red Cross has renewed its appeal for people to continue giving blood during the coronavirus crisis. Stocks are more than 50% below their normal levels for all blood types in Belgium. 
Medical trade journal Mediquality reports that doctors are being threatened with legal action if they choose not to place a patient in intensive care or give them a respirator. The paper reports of one case, involving a 91-year-old patient in Liège whose family placed pressure on medical personnel. One practitioner said patients were "threatening prosecution if we refuse to hospitalise".
Belgium's hospitals are facing a deficit in the range of €5 to €7 billion because of the coronavirus crisis, according to the chief executives of Brussels' Saint-Pierre and Liège's La Citadelle university hospitals. "We are in the same position as that of Brussels Airlines, but nobody is talking about it," they told Le Soir. Without a public bailout, most Belgian hospitals will finish the year in the red. Routine consultations and surgeries, which come with a fee, have been cancelled, while hospitals' fixed costs - including staff - must still be paid. Saint-Pierre, which was designated as Brussels' go-to hospital for coronavirus treatment, lost €4 million in March, €9 million in April and €10 million in May. A health ministry spokesperson said: "We are discussing with the sector. When we have something to announce, we will announce it."
The federal health ministry says people with an ongoing health problem should continue to seek treatment and attend follow-up consultations with their doctor. "When you need care, you have to go to your doctor, but we ask that you make a phone call to your doctor so that he can guide you and organise with you the best way to provide continuity in your care," the ministry said.
Belgian doctors' body ABSyM hopes to restart non-urgent medical consultations in phases: "We will begin with semi-urgent care, then planned care which can wait without any consequences for the patient's healthk." Physiotherapists have resumed non-urgent consultations.
Health insurer Solidaris says it is "unacceptable" that some healthcare providers are adding a "coronavirus surcharge" to their fees - and has called for these to be urgently regulated. It is aware of some dentists billing an extra €20 to €50 to cover the cost of extra hygiene measures. Federal health minister Maggie De Block has banned healthcare professionals from charging a "coronavirus supplement" to cover the cost of extra hygiene measures. "Accessibility to care cannot be threatened," said De Block. "By introducing a general ban on charging 'corona supplements', we are ensuring that no patient has to bear an extra cost." The ban applies retroactively from 4 May. Patients who have been overcharged should contact their healthcare provider directly or their mutuelle.
Nursing homes in Flanders will again be able to welcome new residents from 8 June. New admissions had been banned since 12 March.
Waste and recycling
All household waste collections in Brussels have returned to normal - meaning separate collections for white, yellow, blue and green/orange waste. In recent weeks, rubbish in some communes was collected in one round, meaning recyclable waste went straight to the incinerator.
The number of complaints for illegal flytipping in Brussels has more than doubled since people were ordered to stay at home. Last year, Bruxelles Propreté received 677 complaints about illegally dumped waste between mid-March and mid-April. This year, the figure was 1,524. According to Bruxelles Propreté, the phenomenon mainly concerns household waste deposited at the foot of trees or next to public bins.
Brussels' Recypark dumps have returned to their regular opening hours, with the obligation to a wear a mask. In recent weeks they had only been open in the mornings, by appointment. The dumps are still to be used only for urgent disposals, not a regular spring clean-out of your home. Charity shops in Belgium are appealing for people not to throw away their unwanted items, but to wait until the coronavirus restrictions are lifted and then donate them. With municipal dumps gradually reopening, it might be tempting to have a big spring clearout. In Wallonia alone, second-hand shops and organisations keep 8,000 people in jobs and generate much-needed revenue for good causes.
Utilities and home help
The Brussels government has agreed several measures to help cleaners and other household helpers in Brussels who were employed under the service vouchers scheme. Their take-home pay is among the worst in Belgium, averaging €11.65 gross per hour, which means they will receive the bare minimum payment during their temporary unemployment. Brussels has agreed to reassess how much they are paid during the shutdown - effectively adding €2.50 gross to their hourly wage for the purposes of the calculation. The titres-services companies that hire home helpers will receive an extra €2 per voucher until further notice.
Water provider Vivaqua will not chase any overdue bills until June, the firm has announced. Customers who fall behind with their water bill will automatically be offered a 10-month payment plan to spread out the burden. Gas and electricity companies cannot cut off a customer's supply due to non-payment until the end of June.
A ban on evictions in the Brussels region has been extended to the end of August. Secretary of state for housing Nawal Ben Hamou said: "It is essential to continue to protect the most vulnerable tenants. The crisis will be felt far beyond the easing of the stay-at-home measures. This protective measure gives tenants a certain stability while awaiting social assistance or a rehousing solution."
The Council of State has confirmed that luncheon vouchers, eco-cheques and gift vouchers expiring between 1 March and 30 June will have their validity date automatically extended by six months. "This decision is good news for the revival of our local businesses, since these checks can only be used in Belgium," a the president of the Voucher Issuers Association (VIA) said.
Rent, mortgage and tax
The Brussels government has approved a €215 one-off grant for tenants who are struggling to pay their rent. To benefit, you must rent your primary residence in the Brussels region from a private landlord - not social housing - and demonstrate a partial or total loss of income between 16 March and 3 May. Only one member of a household needs to meet the criteria. Your net taxable income must be lower than €34,924 (single person), €38,805 (dual-income household, no children) or €44,438 (two incomes, with a child). The threshold increases for each additional child you have. Those who benefit, based on last year's income tax return, should receive a letter in the post. A budget of €18 million has been set aside - which means about 83,000 people in Brussels are expected to be eligible.
Banks are prepared to allow a break in mortgage payments, without penalty, on a case-by-case basis, the banking federation Febelfin said. "Don't wait until the problems become too serious," the federation says. "By anticipating, you can avoid the worst. Your banker will explore the possibilities with you." Febelfin says payment holidays have been agreed on €1 billion worth of lending - both for individuals and businesses. The Brussels region has extended the deadline for paying property tax (précompte immobilier) from two months to four. Bills are normally sent out in the summer. 
A payment holiday will soon be possible for anyone with consumer credit, such as a car loan. Lenders can grant, upon request, a three-month payment holiday, renewable up to six months, if at least one of the named borrowers can demonstrate a loss of income due to the coronavirus crisis, provided they do not have more than €25,000 in savings.
There will be no face-to-face help sessions for filling out this year's Belgian income tax return. In the past, tax officials have set up drop-in sessions in shopping centres and public buildings around the coutnry. It will instead be possible to book an appointment for an advice session by telephone. Details will be available in the tax return pack that you should be receiving shortly.
The Belgian state suffered an 84% drop in VAT revenues in April, compared with the same period last year. Economic activity in Belgium generated €600 million in VAT this April, compared with €3.8 billion a year ago.
Property prices in Belgium are forecast to fall by 3% in 2020, the first drop since 1983, according to KBC bank. "The drop in income caused by the coronavirus crisis will severely affect household demand for housing," it said.
Private events
From 8 June, small gatherings are allowed - indoors or outdoors - with up to 10 people in addition to the people with whom you live. This could be a meal in a restaurant, a picnic in a park or a visit to someone's home, for example.
Up to 100 guests are now allowed at a wedding, rising to 200 from 1 July. A reception with no more than 50 people can be organised from July onwards, when party venues are allowed to reopen.
At funerals, the body of the deceased cannot be on display. The Brussels government has implemented a decree requiring the bodies of dead people to be immediately transported to a morgue or funeral home as soon as they have been pronounced dead, whether from Covid-19 or not, unless a doctor can certify that the victim died of natural causes and presents no danger to public health. Coronavirus can still be carried up to three days after death.
Animal refuges in Belgium have been allowed to reopen, for anyone seeking to adopt or give up a pet. Visits must be booked in advance and limited to one person at a time. Animal crematoriums can also reopen, providing social distancing rules are followed.
Prisons
Court proceedings in Brussels have gradually resumed. Courtrooms have been rearranged to ensure social distancing can be maintained. Mechelen criminal court was the first in Belgium to start using videoconferencing for its trials.
Belgium's prison population has been reduced by 10% in the past month to 9,870 - although the country's prisons remain overcrowded, with 9,500 available places. The decrease can be partly explained by a fall in crime, but also a decision by the authorities to postpone new prison sentences for small offenders. Some inmates nearing the end of their sentence who have underlying health conditions have also been freed early and ordered to stay at home with an electronic tag. Prisoners have made 32,500 masks. They have distributed to prison and courtroom cleaners, lawyers visiting clients in jail and 2,000 for the European Parliament. 
Prisoners with coronavirus whose condition does not require a trip to hospital are currently being transferred to the medical unit at Bruges prison, where 11 of the 25 available beds are occupied. In order to prepare for a possible increase in the number of cases in prisons, it is proposed that a disused hospital in Vilvoorde be repurposed. The Belgian army is ready to lend a hand to get the facility ready.
Prison visits are allowed again. Inmates have been unable to see relatives since 13 March, after a first case of coronavirus in Mons prison was recorded the previous day. The loss of contact has led to riots in some prisons and prompted authorities to offer free telephone minutes and videoconferencing capabilities to detainees. Work is under way to determine how prison visits can be arranged safely, with reduced visiting times, plexiglass screens and no mixing up of inmates from different wards.
Universities
It's university exam time - and students have been sitting their tests in some unusual settings. Some 4,000 students will be doing their exams in the main concert hall at the Ancienne Belgique, which hopes to see them again in September for a more enjoyable reason. Some VUB students are taking exams in the Square congress centre on the Mont des Arts or in the Cinquantenaire museums.
More than 200 students at UC Louvain are planning to sue the university over botched end-of-year exams. They have turned to a law firm to begin a group action, claiming a lack of organisation and communication meant they were unable to perform to their best ability. Exam dates have reportedly changed at short notice, or there have been sudden changes to the format and length of exams.
Retirement homes
Army medics have been called in to provide support at several retirement homes. Other nursing homes can request the help of the military. Private care homes will be allowed to call in help from volunteers until the end of June, federal health minister Maggie De Block has announced. This was already possible in public care homes. "In some institutions, the high number of absent staff is strongly felt. A helping hand from volunteers is therefore more than welcome," De Block said. Volunteers can only be used if a care home has not placed any staff on temporary unemployment. "The volunteers are there to help the existing staff, not replace them," De Block added.
Robotics company ZoraBots in Ostend is sending out its James robot to rest homes in Belgium free of charge during the outbreak of the virus. All ZoraBots are small humanoid designs and can roll in and out of residents' rooms. The James will specifically ask residents if they would like to make a video call to their loved ones. It's voice activated, so the elderly residents – the most vulnerable to the virus – do not have to touch any screens or buttons. The City of Brussels has opened a phone line for senior citizens in need: 0800 35 550.
Nursing homes in Flanders will again be able to welcome new residents from 8 June. New admissions had been banned since 12 March.
The homeless
Saint-Josse municipal swimming pool is opening its changing facilities for an hour in the morning (9.00-10.00) for homeless people to wash. Tuesdays and Wednesdays are reserved for men, Thursdays and Fridays for women only. Etterbeek, Anderlecht, Forest and Saint-Gilles have each requisitioned a hotel to provide accommodation for the homeless. The Brussels government has made an extra €4 million available to support the homeless during the coronavirus crisis. Doctors Without Borders has opened a triage and accommodation facility at Tour & Taxis for vulnerable people. The facility will have 50 beds, expandable to 150 if necessary, and will be jointly run with the Samusocial and the Citizen Support Platform for Refugees. This project aims to enable homeless people and migrants who think they are infected with coronavirus to self-isolate and receive medical attention.
The European Parliament has made a vast building on Square de Meeûs available to the Brussels region to use as it sees fit in the coronavirus response - and 100 chauffeur-driven cars. "These cars can be used, for example, to deliver home shopping for isolated elderly people, or for any other useful cause in the health crisis," the parliament's secretary-general said. The European Parliament's canteens will make 1,000 meals a day to be distributed to the city's most vulnerable residents, as well as those working in hospitals.
Medical research
Health institute Sciensano is appealing for volunteers to take a survey on how the coronavirus restrictions are affecting your physical and mental health. Meanwhile, Brussels mental health professionals have set up a helpline to listen to residents' worries and point them in the direction of further help. The number is 025 01 01 27, or see www.lbfsm.be
A new working group on mental health has been set up to examine the psycho-social impact of the coronavirus crisis. The group is made up of French and Dutch-speaking experts and representatives of organisations including Inami. Their work will help inform the approach taken by Belgium's "deconfinement" committee, which is looking at how best to gradually ease the coronavirus restrictions.
The University of Liège is carrying out a study into what effect the coronavirus restrictions is having on your sleep and memory.
More details here. And VUB unversity is carrying out research on what effect the coronavirus measures are having on pregnant women. See www.promom.be to take part.
Since the outbreak began, almost 250 separate pieces of university research have been launched into different elements of the pandemic. Now a new initiative has brought all those pieces of research together in one place. Some of them have already been published, others are a work in progress. See www.covid19-wb.be
How is the stay-at-home restriction being policed?
Analysis of anonymised mobile phone data shows 70% of people are not venturing any further than the commune in which they live. Police are maintaining their checks on public spaces, as some people are still choosing to ignore the rules on "social distancing". People caught ignoring the rules face a €250 fine. Non-essential shops that stay open could be fined €750.
Federal police in Belgium have prosecuted 36,000 people for breaching the stay-at-home and social distancing rules since they were introduced in mid-March. More than half of the people caught by police were under the age of 30. These figures do not include all the administrative fines handed out by local police.
So far, €2.2 million of fines have been issued. The College of Prosecutors General wants the unpaid fines to be recovered by the taxman. "If people continue to ignore the fines, they will be automatically passed on to the tax authorities," said college president Erwin Dernicourt. "The amount will be included on their tax bill, so no one can escape." The proposal has been submitted to federal justice minister Koen Geens.
The Human Rights League is collecting reports from the public of alleged abuse of police power in the enforcement of the coronavirus rules. Anyone who feels they have been unfairly fined, threatened or arbitrarily arrested can file a report at www.policewatch.be. Belgium's police watchdog, Comité P, has received 111 complaints in five weeks about police behaviour enforcing the coronavirus restrictions. Complaints include officers not respecting a safe distance, not wear a mask or gloves, to aggressive and intimidating behaviour and unlawful violence. Comité P is recommending the use of bodycams by officers, so that video evidence can be gathered.
Some police have reported being coughed at or spat on during their patrols. "We want this kind of attitude to be punished as severely as possible," said interior minister Pieter De Crem. "It is absolutely unacceptable and incomprehensible for our agents who are on the front line to be treated in this way. The possible sentence can range from three months to two years in prison.
Read more on The Bulletin