Coronavirus in Belgium: The latest developments
Last update: Tuesday 7 April. All updates from the past 24 hours are in bold
What's the latest?
On Tuesday 7 April, Belgium had 22,194 known cases of coronavirus - an increase of 1,380 in the past day (734 in Wallonia, 587 in Flanders, 62 in Brussels and 19 unknown). There are 6,012 people currently in hospital, of whom 1,260 are in intensive care - which means 56% of intensive care beds are occupied. Over the past 24 hours, 314 patients have been admitted to hospital and 171 discharged. Since the outbreak began, 2,035 people have died. Deaths in hospitals have increased by 162 over the past day. Today's figures also include 241 reported deaths in care homes between 1 and 4 April. Some 4,157 people have made a full recovery from coronavirus since the outbreak began.
Belgium is now capable of carrying out more than 10,000 coronavirus tests per day. Last week's average was between 3,500 and 4,000. The new swab tests were developed by the Covid 19 research unit at ULiège.
The Brussels-Ixelles police force handed out 488 fines over the weekend. Another 191 people face prosecution for a repeat offence. A police spokeswoman said: "We had to stop a lot of cars with too many people on board. There were also a number of people who were partying at home with people who did not live under the same roof."
In a video message on Sunday, Belgian prime minister Sophie Wilmès said the positive effects of the stay-at-home restrictions were starting to be felt - but that the next few weeks would still be very testing. "The rate of spread of the virus or the rate of doubling of the beds occupied in our hospital services ... are encouraging data," she said. "Despite this, more than ever, we must persevere. Our will is tested on a daily basis. Our capacity to cope too. We must hold on. I believe in our capacity to remain united in adversity. We all have the opportunity to demonstrate this on a daily basis at all levels."
Het Belang van Limburg, the regional newspaper for Limburg province, which is the worst affected area in Belgium, had 13 pages of obituaries in its Saturday edition - about 1,000 death notices in total.
For how much longer must we stay at home?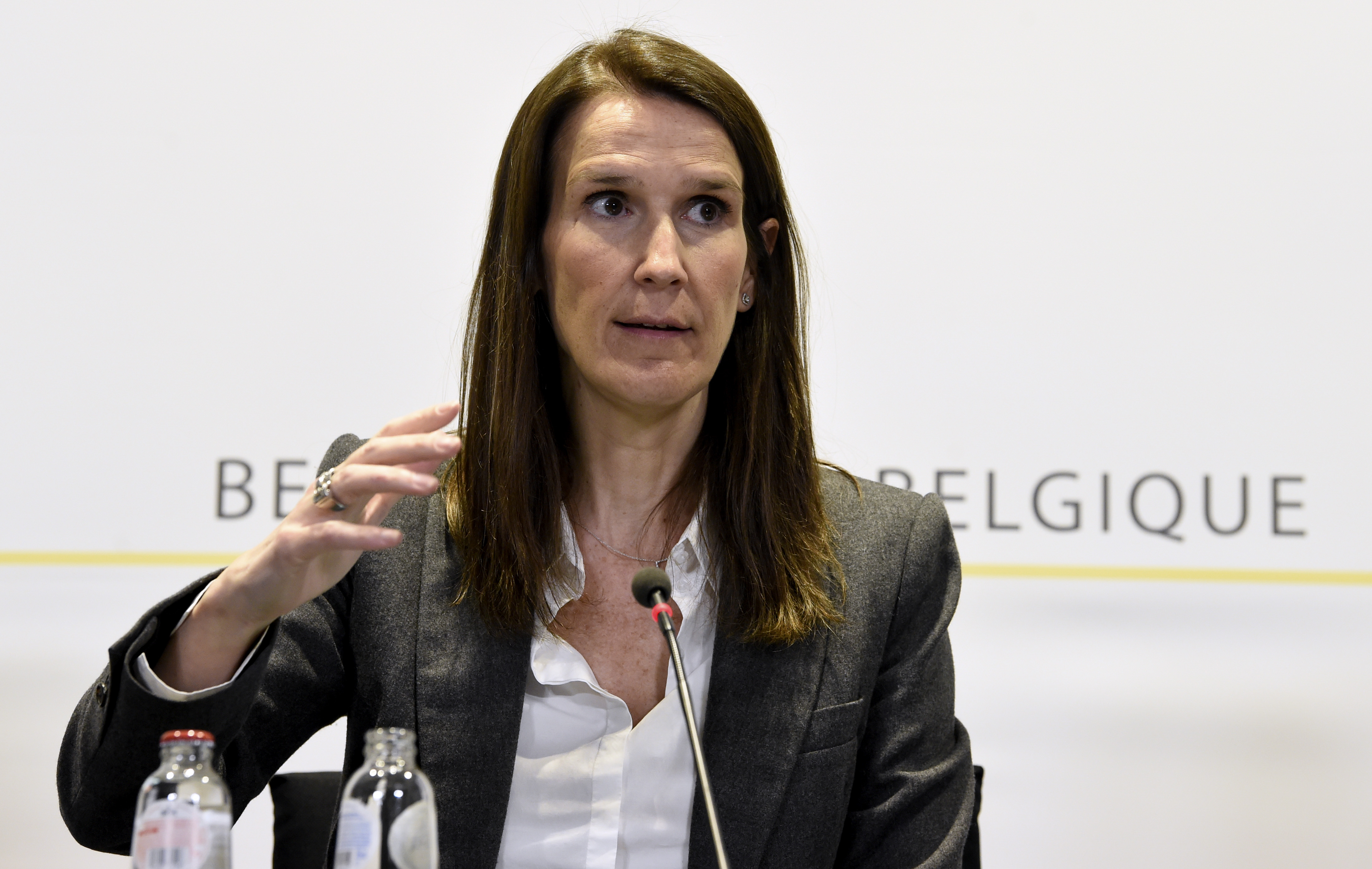 Belgium's stay-at-home restrictions have been extended by a fortnight to 19 April, and could be extended again until 3 May. "It is far too early to say with certainty that the epidemic is under control," Belgian prime minister Sophie Wilmès said.
About 10,000 local police have been deployed to ensure the rules are respected - that's about a third of the total police force. Essential outings are still allowed - to buy food and medicine, go to a bank, petrol station or post office, attend a medical appointment, help an elderly relative or go to work if a job cannot be done remotely.
Last Thursday, André had suggested that the stay-at-home measures would be lifted in gradual stages. "The decrease in the intensity of the epidemic does not mean that the number of patients in hospitals and in intensive care is decreasing. On the contrary, this figure continues to increase because there is always a certain delay between the measures taken by the public and what is going on in the hospitals. It is important that, in the coming weeks, we maintain the measures taken today to make room in the hospitals. Whenever we lift certain measures, there will be a residual risk of seeing the number of cases increase again. We will have to do this very carefully and rigorously. We cannot let go of everything from one day to the next because in this case, there will then be in a rebound of the epidemic which would be at least as significant as the one we know today."
A group of 10 experts has been appointed to discuss Belgium's strategy for gradually easing the stay-at-home restrictions. They include scientists, researchers, a lawyer and an economists. "We know that the management of the transition period towards a return to normal will be decisive in order to avoid an upsurge in the epidemic," said prime minister Sophie Wilmès. " This is the reason why we are preparing for it now."
Belgium's stay-at-home measures have prevented 560 deaths, according to a report from Imperial College London. The study estimates that 3.7% of the Belgian population has contracted coronavirus so far.
How is the stay-at-home restriction being policed?
Police have stepped up their checks on public spaces, as some people are still choosing to ignore the rules on "social distancing". "There will no longer be any tolerance," said a spokesman for interior minister Pieter De Crem. "The awareness-raising period is over," says Belgium's College of Prosecutors-General. People caught ignoring the rules face a €250 fine. Non-essential shops that stay open could be fined €750.
Security guards were placed at the entrances to several Brussels parks to limit the number of people inside. At Parc Tenbosch in Ixelles, only one of the four entrances was open at the weekend, with a strict one-in one-out policy.
Failure to respect the rules will result in on-the-spot fines. Wilmès stressed that, while outdoor exercise is permitted, participants should be moving at all times - not sitting down on lawns or park benches. Once they have finished their exercise, they should return home. "It is important to get out," Wilmès said. "But when you go out, try to limit how long it is for. We do not want our scientific experts to come back to us in a few weeks time and say that the measures are not working." Police have begun seizing vehicles belonging to drivers who are travelling needlessly. A man in Liège province had his car taken away and was fined €250, after he was stopped by police three days in a row.
The federal crisis centre has sought to clarify the rules about what can and cannot be done outside. Families with young children (under the age of five) can make a short trip by car to reach a park or other green space. As well as walking, jogging and cycling, they have clarified that skateboarding and roller-blading are also acceptable forms of exercise. Picnicking and sunbathing are not allowed. Sitting on a bench is now tolerated for elderly people, pregnant women and anyone with a disability.
Some police have reported being coughed at or spat on during their patrols. "We want this kind of attitude to be punished as severely as possible," said interior minister Pieter De Crem. "It is absolutely unacceptable and incomprehensible for our agents who are on the front line to be treated in this way. The possible sentence can range from three months to two years in prison. Police union SLFP has threatened strike action if officers enforcing the coronavirus restrictions are not given better protection. The union says every officer should have the use of an FFP2 respiratory mask. Some 150,000 masks have been distributed to federal police, but not local police forces, according to the union.
Police in Brussels have begun using drones to keep a check on parks and other open spaces. And tempting though it may be to go and see the bluebells in the Hallerbos, the Flemish Agency for Nature and Forests is inviting people to stay away. There will be no shuttle buses and no extra parking spaces. People living in close proximity can still go for a walk or cycle there. Forest wardens will be on patrol and have the power to issue fines.
Belgium has effectively closed its borders to what it considers "non-essential" traffic. "Border controls will now apply," said the interior minstry, especially between Belgium and the Netherlands, which have different approaches to the coronavirus outbreak. Some Dutch drivers had been crossing the border to Belgium to take advantage of lower fuel prices. People who own a second home in Belgium are being turned away at the border. Essential travel reasons include caring for an elderly relative, or work. Cross-border workers should carry paperwork with them to justify their journey. Road haulage continues as normal.
Health institute Sciensano is appealing for volunteers to take a survey on how the coronavirus restrictions are affecting your physical and mental health. Meanwhile, Brussels mental health professionals have set up a helpline to listen to residents' worries and point them in the direction of further help. The number is 025 01 01 27, or see www.lbfsm.be
Going outside
Outdoor exercise - walking, jogging or cycling - is still "allowed, even recommended", either alone, among members of the same family living together, or with one friend. Everyone is advised to keep a "reasonable distance" from each other. Police are patrolling the main roads to the Belgian coast, preventing people accessing the seaside, unless they are residents or work there. It's a similar scenario in the south of the country. The mayor of popular tourist centre La Roche-en-Ardenne says tourists and people with a second residence will not be allowed into Luxembourg province for fears of saturating local hospitals. Fishing in lakes and rivers is also not allowed.
The federal crisis centre said on Friday that with the arrival of the Easter school holidays and good weather announced, people could enjoy barbecues with members of the family or people living under the same roof, but inviting friends and neighbours would have to wait. It also reminded the public that picnics in parks were not allowed.

All public gatherings are banned until 19 April, including all sporting and cultural events, whether indoor or outdoor and regardless of size. Brussels concert hall Ancienne Belgique has said it will not reopen until 3 May at the earliest. The venue published an open letter on Monday, with other European music venues, asking for governments to provide aid. "We are asking for urgent and lasting public support and a structural policy at European, national, regional and local level to ensure the musical ecosystem," the letter said. 
The mayors of Werchter and Boom (where Tomorrowland takes place) have called for their respective music festivals this summer to be cancelled. Tomorrowland's organisers say they are "in close consultation with the local authorities and we are awaiting instructions from the federal government" - but nothing is confirmed at this stage.
The Brussels 20km, due to take place on 31 May, has been postponed until later in the year. "It will mostly like be in the the autumn," said a spokeswoman. "We are in full consultation with the authorities." Mima museum on the canalside in Molenbeek has successfully raised €15,000 from a crowdfunding appeal, after warning that it was in a precarious financial situation. Half of the proceeds above €15,000 will be donated to Saint-Pierre hospital.
Requiring everyone to stay at home has led to a 30% drop in crime in Belgium, according to a survey carried out by De Tijd newspaper among several local police forces. "There are fewer road accidents, fewer fights," said a police spokesman. "We are seeing that crime in general is down."
Saint-Josse municipal swimming pool is opening its changing facilities for an hour in the morning (9.00-10.00) for homeless people to wash. Tuesdays and Wednesdays are reserved for men, Thursdays and Fridays for women only. Etterbeek, Anderlecht, Forest and Saint-Gilles have each requisitioned a hotel to provide accommodation for the homeless. The Brussels government has made an extra €4 million available to support the homeless during the coronavirus crisis. Doctors Without Borders is set to open a triage and accommodation facility at Tour & Taxis for vulnerable people. The facility will have 50 beds, expandable to 150 if necessary, and will be jointly run with the Samusocial and the Citizen Support Platform for Refugees. This project aims to enable homeless people and migrants who think they are infected with coronavirus to self-isolate and receive medical attention.
The European Parliament has made a vast building on Square de Meeûs available to the Brussels region to use as it sees fit in the coronavirus response - and 100 chauffeur-driven cars. "These cars can be used, for example, to deliver home shopping for isolated elderly people, or for any other useful cause in the health crisis," the parliament's secretary-general said.
Belgians are already making preparations for a stay-at-home summer - one Walloon swimming pool provider has seen a 50% surge in orders for people's homes.
Shopping
Shopping is allowed in food stores, pharmacies, newsagents, pet food stores and shops selling baby products. These stores must impose a limit of one customer per 10m² of retail space, and a maximum shopping time of 30 minutes. Shops must close by 22.00. Retail federation Comeos says customers should do their shopping alone and keep a distance from other shoppers. Customers should not put their shopping on the conveyor belt until the previous customer's purchases have been scanned. Checkout staff will wear gloves. Bulk-buy promotions, which had been banned to avoid panic-buying, are now allowed again. Delhaize has decided that, instead of running promotions that encourage bulk-buying, the supermarket will apply a 5% discount to every bill until further notice as a goodwill gesture.
You should pay by card where possible. The limit for paying with a contactless bank card has been doubled from €25 to €50. If your shopping costs less than €50, you should not need to enter your PIN on the keypad. Shops cannot refuse cash, but some supermarkets are limiting cash transactions to a single till, with all others card-only. A new app lets you check how busy a supermarket is before heading out. Search for ShopSafe in your app store. The app functions in a similar way to traffic planning service Waze. Stores are listed as "quiet", "normal", "busy" or "very busy" based on anonymous location data from mobile phone operators. Hypermarkets have been allowed to keep their non-food aisles open, meaning they can still sell non-essential items such as televisions, garden equipment and clothes. This has prompted some unions to complain of unfair competition, at a time when non-essential stores are banned from opening.
An employee at a Colruyt store in Forest died from coronavirus last week. The supermarket chain said it was doing everything possible to ensure a safe working environment for staff. "We continue to ask our customers to strictly stick to the rules," Colruyt said. "Show the necessary respect for our employees, who are doing their best to maintain our daily food supply." Meanwhile, Colruyt has closed its online store, Collishop, for "a few days" because of overwhelming demand. The suspension will allow the supermarket to clear a backlog of orders before reopening.
Delhaize is opening its stores only to over-65s, police and medical workers between 8.00 and 9.00 in the morning, and has cancelled its click-and-collect online ordering service to free up staff. Other supermarket delivery services are experiencing long delays. Lidl is closing its stores an hour early, at 19.00 on weekdays and 18.00 on Saturday, to take the pressure off staff. Aldi will also close an hour early on Saturdays, at 18.00.
All non-essential shops (not food stores or pharmacies) are closed until 19 April. That now includes hairdressers. There has been a boom in online shopping - everything from thermometers to trampolines and popcorn makers. According to retail union UCM, almost two-thirds of shopkeepers want the summer sales to be moved from July to August. Federal economy minister Nathalie Muylle is in favour of postponing the summer sales until August. The government will make a formal decision in the coming weeks. Winter sales would also be pushed back as a result.
The National Lottery is giving every retailer that sells lottery tickets a €50 grant to buy plexiglass protective screens and disinfectant gel. Lottery winners now have 30 weeks to come forward and claim their prize, not 20, and winners of more than €100,000 no longer have to travel to the Brussels head office.
Chocolate isn't considered an essential item - not even in Belgium - and the country's chocolatiers are suffering from a forced closure in what should be their busiest period of the year, ahead of Easter. Some chocolatiers say they plan to sell Easter eggs in May or June instead.
Banks and post offices
Leaving the house to go to the bank or post office is allowed - but banks will only see customers by appointment. Customers should use online and mobile banking wherever possible. Post offices are closed on Saturdays. Bpost says it will continue to distribute mail, newspapers, registered letters and parcels as normal to Belgian addresses. For signed-for items, the postman will sign, instead of the recipient. However, Bpost has temporarily stopped delivering mailtravel to addresses outside Europe. Notaires have cancelled all non-urgent consultations until 19 April. 
Work
Work should continue as far as possible. Belgian prime minister Sophie Wilmès said companies must make remote working available for everyone, wherever posssible. Businesses for which this is not possible must respect the rules on "social distancing". Companies that cannot must close. More than a million workers have been placed on temporary unemployment. For the first month, furloughed workers will receive an advance of €1,450 while their dossier is being processed. The monthly payout is typically 70% of salary. Some of the beneficiaries of temporary unemployment may find their first payment is delayed, because their employer has not acted fast enough to supply the necessary paperwork. FGTB trade union general secretary Jean-François Tamellini said: "It is an absolute emergency." He said six out of 10 employers had failed to send back the document confirming employees' salary and accrued holiday entitlement.
The Flemish government has announced that workers placed on temporary unemployment will have their energy bills paid for them. In Wallonia, every firm that has shut down will receive a €5,000 payment. In Brussels, the payout is €4,000. While the work market has collapsed in recent weeks, some sectors are actually recruiting - including food distribution and security guards. There's also a shortage of fruit pickers, as workers from eastern Europe are no longer coming. All Brussels' public construction projects have been put on hold, including the renovation of the Leopold II tunnel and the extension of tram line 9 in Jette. Mechelen criminal court has become the first in Belgium to start using videoconferencing for its trials.
Foreign travel
Virologist Marc Van Ranst says we should avoid making any holiday plans abroad this summer. In an interview with Het Laatste Nieuws, he said: "Suppose the virus runs out of steam in our country by the end of May. That does not mean that it will be the case in other countries where it is only emerging now or has yet to break through." As a result, Belgian residents who were not infected here could be infected elsewhere and again re-import the disease to Belgium.
EU member states have agreed to close the Union's external borders in an effort to slow the spread of the coronavirus pandemic. All travel between non-EU countries and the European Union will be suspended for 30 days. Movement of people within the EU27 is still allowed.
The Belgian foreign ministry has advised against all travel abroad. The new restrictions announced by Belgium on 17 March include a ban on non-essential foreign travel. If you are a Belgian citizen abroad, a special call centre has been set up to provide advice and assistance. The number is 02 501 4000, open daily from 9.00-20.00. Some 30,000 Belgians remain stranded abroad. Anyone affected should register at this website.
Eurostar has cancelled several trains between Brussels and London. It says passengers who wish to return home earlier than planned can exchange their tickets for the next available train, free of charge. Last week, Brussels Airport ran just 5% of its regular flights. Only passengers with a boarding pass can enter the airport. The arrivals lounge is off-limits - anyone waiting for a friend or relative to arrive at the terminal has to wait outside. Passengers repatriated to Belgium have been told to self-isolate for 14 days, as well as anyone who came to the airport to pick them up.
Charleroi airport is closed - but hopes to reopen on Monday 4 May. Budget airline Ryanair has cancelled most of its flights until the end of April. It invites customers to change the dates of their flights and is waiving the usual flight change fee. EasyJet has grounded all flights until further notice. Brussels Airlines has suspended all flights until 15 May, with the exception of a limited number of repatriation flights for Belgians stranded abroad. The airline has placed 4,200 staff on temporary unemployment. The national carrier is facing dire cashflow problems. Brussels Airlines' parent company, Lufthansa, does not believe that the airline industry will return to pre-coronavirus levels of activity any time soon. It is making long-term adjustments to its flights schedules and withdrawing several dozen craft from its fleet. An existing restructuring plan at Brussels Airlines will be accelerated.
Customers who have had tickets or accommodation cancelled because of coronavirus can receive a voucher for the full cost, to be redeemed against other travel plans. Consumer and economic affairs minister Nathalie Muylle said travellers could only apply for a refund in 12 months' time - and even then, they could have to wait six months for the money to arrive.
Transport within Belgium
Public transport continues to run in Belgium, albeit with a reduced service. In Brussels, Stib is operating about two-thirds of its normal level of service during the week - and half at weekends. There is a limit of five passengers on small buses, 12 on articulated buses, 20 on trams and 60-80 on metros. SNCB is also running about 25% fewer trains. Tournai rail station had to be closed on Sunday afternoon for a deep clean, after a drunk man spat repeatedly on the platforms and concourse.
For the Easter school holidays, the public transport network across Brussels will continue to favour essential lines that serve hospitals, care homes and essential shops and businesses. Some non-priority bus lines will be dropped over the weekend because of a decline in traffic. On Sunday the affected lines are: 12, 17, 20, 21, 33, 43, 45, 54, 72, 75 and 86.
Over the rest of the holidays, Stib will maintain a limited service with some minor changes. From 6 April, there will be an increased service compared to the previous week, although some non-essential lines will be temporarily suspended.
De Lijn and Stib have both banned cash payments onboard their trams and buses. Both operators say passengers should board buses by the middle and rear doors, not the front. De Lijn has cancelled its dial-a-ride service, Belbus, primarily used by the elderly and people with mobility problems.
There has been a 50% reduction in road traffic since the stay-at-home restrictions were introduced. Street parking in Brussels is free: parking restrictions will not be enforced until further notice. Namur has also stopped charging for street parking, so drivers can avoid touching the parking meters. The fines for Euro 3 diesel vehicles entering Brussels' low-emissions zone have been suspended - they were due to start being issued on 1 April. Petrol prices are at their lowest level since 2009 - a maximum €1.22 per litre of 98 unleaded.
Brussels Mobility has reprogrammed the traffic lights at about 100 junctions, where traffic has fallen by as much as 75%. Waiting times at red lights have been reduced to improve the flow of traffic. For example, on Rue Belliard, pedestrians can now cross every 40 seconds, instead of waiting up to a minute and a half.
Bike-sharing scheme Villo is offering an hour of free use with each ride, up from the regular 30 minutes. The measure will continue for as long as the stay-at-home restrictions are in place. Medical staff can apply for a free Villo subscription on presentation of proof of work.
The Brussels-Ixelles police zone says speed checks are still being carried out. "There are fewer cars on the streets and we have seen that people sometimes take advantage of that to drive at excessive speeds," said a police spokesman. One driver was caught doing 138kph on a 50kph road in Laeken. A motorcyclist was stopped for doing 152kph on the 70kph Avenue de Vilvoorde.
Vehicles are banned from the Bois de la Cambre, to give pedestrians and cyclists more space. Brussels' two vehicle inspection centres have closed, and driving theory and practical tests have been cancelled. Mechanics can still carry out urgent car repairs. Motorists due to take their cars for their annual roadworthiness test (contrôle technique/technische keuring) from 1 March, have been accorded a delay of six months. This extension will remain in place until the final day of the stay-at-home order. Uber has suspended its Jump bike hire service in Brussels until further notice.
There has been a sharp improvement in Brussels' air quality since Saturday, as road and air traffic is significantly reduced. A stream of fresh air from Scandinavia has also helped. "As many people work from home and heat their homes, you would think that this has a negative effect, but it is very difficult to demonstrate for the moment," says regional environment body Celine.
Brussels taxi drivers want to cease their activities, arguing that they should not be defined as "an essential profession". Taxi use has fallen by 80% in recent weeks. "Paramedics are equipped with masks to protect themselves, we have nothing," said a taxi union spokesman. "It is for hygiene reasons that we are asking for the activities to be stopped - then self-employed drivers will be able to apply for financial support."
Hospitals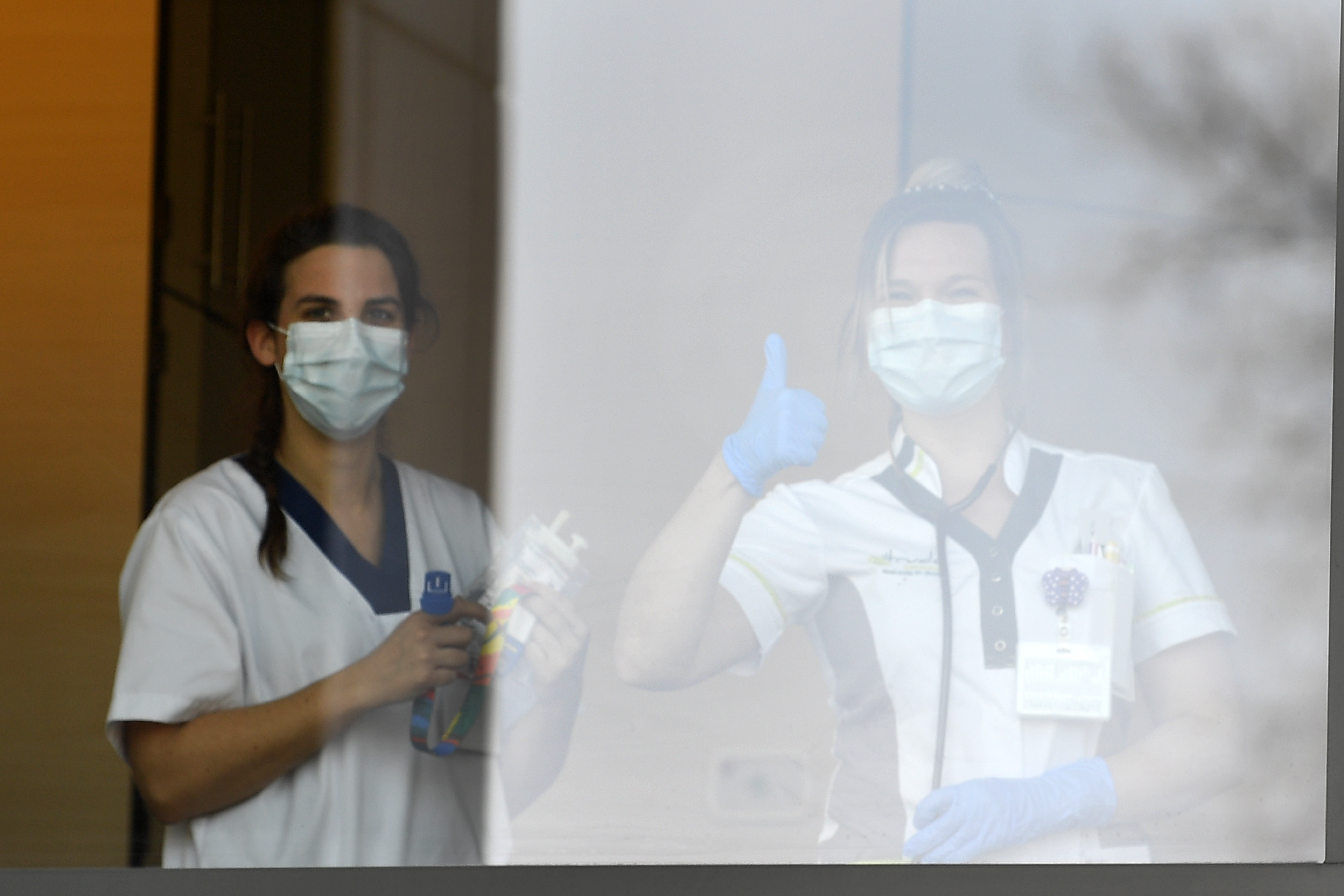 The Red Cross is appealing for donations in order to buy protective equipment and disinfectant for its frontline workers. Meanwhile, more than 500 volunteers in Brussels have joined a reserve list of medical staff willing to lend a hand to overstretched hospitals. They are mostly students and retired doctors. There are currently no shortages of nursing staff in Brussels' healthcare establishments, but the increasing number of positive cases of Covid-19 will increase the pressure on hospitals in the days and weeks to come.
Medical trade journal Mediquality reports that doctors are being threatened with legal action if they choose not to place a patient in intensive care or give them a respirator. The paper reports of one case, involving a 91-year-old patient in Liège whose family placed pressure on medical personnel. One practitioner said patients were "threatening prosecution if we refuse to hospitalise".
The intensive care unit at Brussels' Queen Fabiola children's hospital is treating its first adult patient, as the facility at neighbouring Brugmann university hospital had reached capacity for Covid-19 intensive care patients.
Saint-Pierre hospital in Brussels has converted a former pediatric warned into a new intensive care unit in record time, financed thanks to €4 million of public donations which have been received in just 10 days.
Belgium has refused requests from the Netherlands and Italy to treat coronavirus patients from their countries in Belgian hospitals. Every hospital in Belgium has postponed non-urgent consultations and surgery until further notice. Dialysis and chemotherapy go ahead as normal. Federal health minister Maggie De Block said this was a precautionary measure, freeing up medical staff to deal with a potential increase in coronavirus cases. Hospital visits have also been banned, except for parents whose child is in a pediatric, postnatal or neonatal care unit, and close relatives of a patient in a critical condition at the end of their life.
The federal government has unblocked €1 billion in extra funding to help hospitals cope with the outbreak. Hospitals are struggling with cashflow to pay their staff - as routine consultations, which patients pay for on the day, are cancelled, to prioritise emergency work.
UZ Brussel university hospital in Jette is appealing for volunteer babysitters to alleviate the pressure on medical staff. Dentists have cancelled non-urgent consultations until 19 April, but are accepting consultations by telephone. Children's care organisation ONE is continuing its regular schedule of vaccinations against other illnesses.
The Brussels region is considering turning some hotels and care homes into recovery wards, for coronavirus patients who have left intensive care but are still too contagious to return home to family. Recovery beds are in short supply in Brussels' hospitals - and the region is looking for up to 100 more. Hotels could be used for some patients, and retirement homes for the elderly. Meanwhile, engineers at VUB university are working with the Audi car plant in Forest to build prototypes for respirators.
The federal health ministry says people with an ongoing health problem should continue to seek treatment and attend follow-up consultations with their doctor. "When you need care, you have to go to your doctor, but we ask that you make a phone call to your doctor so that he can guide you and organise with you the best way to provide continuity in your care," the ministry said.
More stories are emerging of frontline medical workers being evicted from their flat shares because fellow tenants are worried about them bringing the virus home with them. A nurse in Schaerbeek was thrown out of his six-person house share last week. He received a call while at work in the morning and returned home after a long shift to find the locks had been changed and his belongings were outside. "I went to the police station but was sent away," he told RTBF. "I called the CPAS but they never answered. I have contacted the municipality which refers me to the housing department and a waiting list of several months. The authorities should be able to house us, medical staff, especially when we are driven from our home. There should be an emergency system. Today, I feel rejected - and the worst part is that I'm not the only one."
A junior doctor in a Brussels hospital has told how he was evicted by his three flatmates because they were scared he might bring the virus home. Thomas (not his real name) told trade journal Le Spécialiste: I told them that I was not in direct contact with Covid19 patients. They told me that I was dangerous for them and that I had to leave - and that I was dangerous for their family. I told them they couldn't go to their family since we were in confinement. They didn't want to hear anything and I had to leave. I have known these people since secondary school. It's irrational." He has moved in with his father, who is also a medical worker. When he returned to pick up his belongings, his flatmates were partying with friends.
Two out of three visits to pharmacies are coronavirus-related but 40% of visits are not essential, according to a survey of 600 pharmacists between 30 March and 3 April by the Association of pharmacists in Belgium (APB), in collaboration with the VUB. It reported that after a peak in recent weeks, visits remained high but were levelling off. With telephone calls doubled, colleagues off sick and a drop in the number of people visiting their GPs, pharmacists said that the mental and physical impact of the epidemic remained high.
The survey evaluated 637 pharmacies and just over 2,000 pharmacists. VUB's Professor Eline Tommelein said hygiene measures had been implemented in almost all pharmacies, but that "face masks in 65% of pharmacists and gloves in 40% of pharmacists remain problematic, although pharmacists understand that the available resources must first go to the healthcare providers directly caring for Covid-19 patients".

Eating/drinking
The closure of cafes, bars and restaurants remains in place until 19 April. While restaurants have had to close their dining area, take-aways and home deliveries are still allowed. However, Quick, McDonalds and Burger King have decided to temporaily close - including their drive-ins and delivery services.
Utilities and mortgage payments
A proposed strike at Bruxelles Propreté is not expected to have any impact on regular household waste collections. However, there will be no collections of yellow or blue recycling bags this week - you should keep them in your home if possible. If this isn't possible, they can be collected at the same time as regular household waste (white bags). The blue and yellow rounds have been cancelled, to ensure the available staff at Bruxelles Propreté can focus on white, green and orange bags (household, garden and food waste). Absenteeism at Bruxelles Propreté stands around the 20% mark.
Brussels' Recyparks are due to reopen on 7 April. Flanders could re-open its recycling parks from Tuesday, although the public is asked to limit visits to urgent waste disposal only. In Wallonia, the waste management authority met recently with staff representative, and some cities and regions have already said that they did not want to see the general public using the parks in the short term. Workers, though, are ready to open recycling sites for municipality staff.
Banks are prepared to allow a break in mortgage payments, without penalty, on a case-by-case basis, the banking federation Febelfin said. "Don't wait until the problems become too serious," the federation says. "By anticipating, you can avoid the worst. Your banker will explore the possibilities with you." The Brussels region has extended the deadline for paying property tax (précompte immobilier) from two months to four. Bills are normally sent out in the summer.
Water provider Vivaqua will not chase any overdue bills until June, the firm has announced. Customers who fall behind with their water bill will automatically be offered a 10-month payment plan to spread out the burden. Gas and electricity companies cannot cut off a customer's supply due to non-payment until the end of April. Evictions in Wallonia and Brussels are also banned until 19 April. Proximus is allowing customers free phone calls to all Belgian landlines, 24/7, from their landline or mobile phone. It is also offering unlimited data use on its home broadband packages. Meanwhile, Orange has added an extra 5gb of mobile data for its customers. The mobile operator has changed the name that appears at the top of customers' phones - it now reads "StayHome Orange".
In Brussels, service vouchers (titres-services/dienstenchèques) used to pay cleaners and for other home help will have their expiry date extended by three months. 
Moving house
The guidance on moving house appear to has changed. Initially, the Belgian federation of removal firms said the practice was banned. It now says it is "advising moving companies to stop their activity", suggesting firms can decide for themselves. The federation wants people to postpone their house moves wherever possible, but the federal health ministry said in a tweet: "Moving home is still authorised, with or without a firm. You should still follow the recommendations regarding hygiene and social distancing."
Laundrettes
Laundrettes can stay open on weekdays. Various laundrettes around Belgium have introduced rules to avoid contamination. Quality Wash, which runs several laundrettes in the Brussels region, has put up posters saying customers should not wait inside while their washing is on. After drying, clothes should be folded at home.
Private events
Funerals can be held, but with a maximum of 15 guests, who must maintain a correct distance from each other. The body of the deceased cannot be on display. Marriages can take place, but only in the presence of the couple, their witnesses and registrar.
Schools
Schools are closed until after the Easter holidays (Monday 20 April), except for children whose parents work in healthcare, public security, care for the elderly and education. Creches remain open, but with additional precautions. These include not accepting any children who present signs of infection and stricter access to the creche; only one parent can enter the building to drop off a child. Children's playgrounds - indoors and outdoors - are closed. School holiday activities in Flanders over the Easter break have been cancelled. VUB has asked all of its university students to leave their accommodation and return home to their families. Most of Belgium's universities plan to give online lectures until the end of the academic year. Antwerp University will hold its end-of-year exams in Antwerp Expo to ensure a sufficient distance between each candidate. Hasselt university has become the first in Belgium to organise online exams. The first was held on Monday, with 200 candidates.
Belgium's French-speaking schools have been allowed to extend their summer term to 10 July. Tests and exams at primary and secondary school will only go ahead if the schools can reopen on 20 April, ministers from the Wallonia-Brussels Federation said on Tuesday. Students will be told no later than 27 April whether their exams are going ahead, and when. University exams are due to go ahead as normal. A study published this week revealed that two-thirds of parents are in favour of scrapping exams entirely this summer.
As the Easter holidays begin, prime minister Sophie Wilmès reiterated the rules on childcare, both in schools and among family members. Children who have been together during the stay-at-home period so far should stay together - they should not mix with other children. They should ideally be looked after by someone who has already been in contact with them since the restrictions were introduced. The registration deadline for Dutch-speaking schools in Brussels has been extended to 20 May (primary) and 24 April (secondary).
Retirement homes
More than half of Brussels' 146 care homes for the elderly have reported at least one case of coronavirus. Some 20,000 coronavirus tests will be carried out in the country's retirement homes. Robotics company ZoraBots in Ostend is sending out its James robot to rest homes in Belgium free of charge during the outbreak of the virus. All ZoraBots are small humanoid designs and can roll in and out of residents' rooms. The James will specifically ask residents if they would like to make a video call to their loved ones. It's voice activated, so the elderly residents – the most vulnerable to the virus – do not have to touch any screens or buttons. The City of Brussels has opened a phone line for senior citizens in need: 0800 35 550.
Staying safe online
A growing number of coronavirus-related scams are doing the rounds online, Belgium's federal computer crime unit has warned. They include fraudulent listings for disinfectant gel and masks and fake online shops claiming to sell medical supplies. There are also reports of scammers visiting elderly people door-to-door, claiming to be from the town hall and offering to disinfect their home. For more info about common online scams, see www.safeonweb.be
Consumer protection body Test Achats has set up an online platform to specifically address coronavirus-related scams and fraud. The group is also monitoring price increases for medical supplies. See www.test-achats.be/stopabuscorona
What is the economic impact?
According to Flemish business body Voka, the coronavirus crisis could cost the Belgian economy €16 billion. Brussels chamber of commerce Beci says more than half of the region's businesses have lost at least 75% of their turnover. Belfius bank forecasts that the Belgian economy will shrink by 5% this year - but it says the recovery should be "rapid" and "solid".
A series of measures to support freelances and small businesses has been announced. The deadline for paying second-quarter and third-quarter social charges has been extended to 15 December. The deadline for paying VAT has been extended by two months.
Belgium's four biggest banks - ING, BNP Paribas Fortis, KBC and Belfius - have all agreed to offer businesses a break with their loan repayments - and to make it easier for firms to borrow if they need to. The Brussels government has set aside €110 million to help business in difficulty. The social security body for self-employed people, Inasti, has a helpline for independent workers facing difficulties: 0800 12 018 (weekdays 8.00-20.00). The Brussels Hotels Association says the majority of hotels have closed, and those that remain open are currently operating at about 5% capacity. The Audi car plant in Forest hopes to resume activity after the Easter holidays, after making adaptations to the production line to allow for social distancing. Volvo in Ghent is also preparing to restart its production line.
What's the difference between the coronavirus and the normal flu?
The symptoms and high-risk groups are the same, says KU Leuven virologist Marc Van Ranst. "The coronavirus is more contagious than the normal flu. As to whether it is deadlier, the information we have so far suggests that it is, to a limited extent. We also have vaccines for the normal flu and anti-viral drugs if needed. We don't have those yet for the coronavirus."
Van Ranst says the virus will "stay" and become a seasonal illness, like flu. Asked about a vaccine, he said: "Whether it takes 10, 12 or 18 months, it will come. I am confident. By the end of the month, we will know which vaccine we will choose to produce but, at the same time, we must be 100% certain that it is safe."
Interfederal spokesman Steven Van Gucht said this week: "We think that over time, in a few years, coronavirus will behave more and more like a cold virus. It is possible that it will return on a regular basis. Since there will be partial immunity by then, the consequences will be less serious."
Hayfever season
The birch pollen season has officially started in Belgium, relatively early this year, and is expected to last around five weeks. It's estimated that one in 10 people in Belgium suffer hayfever - and it is important not to confuse the symptoms with those of coronavirus. You might suffer a runny nose, coughing, fatigue or some difficulty breathing. But, unlike coronavirus, hayfever does not cause a fever or muscle pain.
Should we be wearing masks?
"People who are already sick can wear a mask to prevent their respiratory droplets from infecting others," says Van Ranst. "Health-care workers can also wear them to prevent themselves getting sick. Other than that, there's no reason to wear one. China cannot keep up with demand, so if everyone buys them up from local pharmacies, then we don't have any left for people who actually need them." Masks and disinfectant gel can now only be sold in pharmacies with a prescription.
Belgium has received 16.5 million masks in recent weeks, for medical staff. It cancelled an order for two million last Friday because of a disagreement with the supplier over contact terms. Meanwhile, another supplier of masks, which failed to deliver five million to Belgium earlier this month, has responded to claims it acted fraudulently. "If the federal health ministry had paid on time, the masks would have been delivered," said lawyers for Mossa. The firm's suppliers in Turkey had warned that the masks could only be delivered within three days if cleared funds were received by 12 March. The firm "stressed the importance of transferring the funds in an emergency, but the health ministry did not do so," the lawyer added. Mossa's founder was arrested and questioned on 13 March and released the next day.
Flemish health authorities sent back a delivery of 100,000 masks because they were completely unusable. De Tijd reports that they had come from Colombia, not China as expected, and they were for industrial, not medical, use. They did not carry the necessary certification and had been stored in used banana crates and breakfast cereal boxes. Some 17,000 masks made by inmates have been distributed to Belgium's prisons. A delivery of seven million masks arrived at Liège Airport on Friday morning. The special 35-tonne cargo also included 100,000 masks offering full face protection.
Wavre and Enghien have become the first towns in Belgium to issue official advice encouraging people to wear a mask in public. Two of Wavre town's councillors are medics - one is an emergency nurse, the other a cardiologist. The town council said surgical and FFP2 masks must always be reserved for the medical profession. "We clearly know that wearing a mask, if it is used properly, contributes to the reduction of the spread of the virus. We think that it is completely beneficial and that's why we encourage it," Wavre town councillor for health Gilles Agosti said.
Interfederal spokesman Emmanuel André said people could be required to wear face masks after the social distancing restrictions have been lifted.
What symptoms should I be looking out for?
A sudden onset of fever (at least 38°C), a persistent cough and difficulty breathing. The most at-risk groups are the elderly and people with an existing medical condition. If you think you might be affected, call a doctor. They will either arrange a home visit or give you an appointment at a time when no one else is in the waiting room. Do not turn up at the doctor's surgery or hospital unannounced. The Brussels region has created a helpline for anyone who is not registered with a general practitioner. By phoning 1710, you will be put in contact with a GP who can discuss your symptoms with you.
Vets in Liège recently confirmed a case of coronavirus in a cat. The animal showed symptoms - diarrhea and respiratory problems - about a week after her owner did. Interfederal spokesman Emmanuel André said this was an "isolated case" which can only be explained by "close contact between the animal and the owner". He said it was a case of human-to-animal transmission, and not vice versa. He said there was no reason to believe that "animals are vectors of this epidemic".
What can I do to reduce my chances of getting it?
Stay at home. Wash your hands with warm, soapy water more frequently than usual. Cover your nose and mouth when sneezing with a paper tissue that you then throw away and try to avoid touching your face with your hands. If you do not have a tissue, sneeze or cough into your elbow, not your hands.
How are the tests done?
The lab at KU Leuven university hospital is the central base for testing samples in Belgium for coronavirus. Between 2,000 and 2,500 tests are carried out every day, 24/7. That capacity could soon be increased to 10,000 per day. A company in Liège has developed a new screening kit that allows for faster results - in under 10 minutes - meaning the capacity for testing in Belgium can be increased 10-fold. The new method is being tested at Liège university hospital. So far, more than 80,000 tests have been carried out in Belgium since the epidemic began. 
Today, the Belgian strategy is to test people who are suspected to have been infected. As a result, the numbers are lower than the reality, because many people do not show symptoms, and the number of tests carried out is limited by the capacity of labs. But RTBF reports that another way is possible. An antibody test would make it possible to find out if someone has built up immunity to the virus - and could therefore be able to leave their house and return to work. ULB immunity specialist Michel Goldman has written to minister Philippe De Backer calling for these tests to be rapidly made available. A royal decree currently prevents such a test being imported to Belgium, to avoid a rush on pharmacies. It is also still unclear whether there is a possibility of being reinfected a second time. Goldman says the tests should first be made available to medical staff and people working in other critical jobs such as public transport and distribution of essential goods. "Investing massively in these tests makes sense economically, by limiting the magnitude and duration of the economic crisis," he says.
How is Belgium handling this?
Belgium's handling of the coronavirus crisis has won praise from British newspaper the Financial Times and could be "a useful example to other countries". Its Brussels correspondent Jim Brunsden writes that Belgium's daily briefing "is fronted not by politicians, but by scientific experts and spokespeople of the Belgium government's crisis centre", the paper says. "The briefings are an opportunity to scotch rumours and conspiracy theories, counter misunderstandings and admonish attempts to evade the conditions. The briefings have also focused on the human impact, emphasising the importance of mental health, and countering the spread of false information." The FT concludes: "Contrary to what many might have predicted, Belgium's government has shown that a deeply fragmented country can still produce a clear, decisive response to a national crisis. Here's hoping it continues."
Is there an official Belgian website to get the latest information?
There are two, in fact - www.sciensano.be and www.info-coronavirus.be - plus a freephone helpline: 0800 14 689. You can be on hold for some time.