Daily & Weekly newsletters
Buy & download The Bulletin
Comment on our articles
Sweet success: Meet artisan chocolatier Ariqua Denis
Less than a year after opening his Andenne atelier and boutique, Ariqua Denis was named Wallonia's chocolatier of the year 2020 by gourmet guide Gault & Millau. The 32-year-old's meteoric rise in the world of Belgian chocolate is thanks to his passion for all things cocoa.
The award, announced in the autumn, may have been unexpected, but Denis is resisting changing his concept. "If we won thanks to the quality of our products and balance of flavours, we are not going to change everything," he says. However, with complete control of the bean-to-bar process the ultimate ambition, Denis already imagines the odour of the roasting process wafting into the boutique as customers enter.
It was the aroma of molten chocolate cascading from a fountain on a school trip that inspired his own passion when he was 11. "In the eyes of a child, it was at least two metres high and so appetising," he recalls. "Back home, all I could talk about was chocolate, so my mum said, 'no problem, we'll orientate your studies around that'." While at technical school, Denis entered competitions to advance his skills. "My objective was to do everything to succeed," he says. At 19, he was a master chocolatier and his first job was with Pierre Marcolini.
After a couple of years in Brussels developing a range for a small chocolate business, Ariqua returned home to start a family, taking a job in a patisserie. "I didn't learn anything about chocolate, but I did learn plenty about selling and running a business." With the additional experience under his belt, he chose Andenne, on the banks of the Meuse between Huy and Namur, to establish his atelier and boutique. "I really believe in the town's development project. There's free parking and we're showing that small towns can work and are convivial, enabling you to get to know your clients," he says.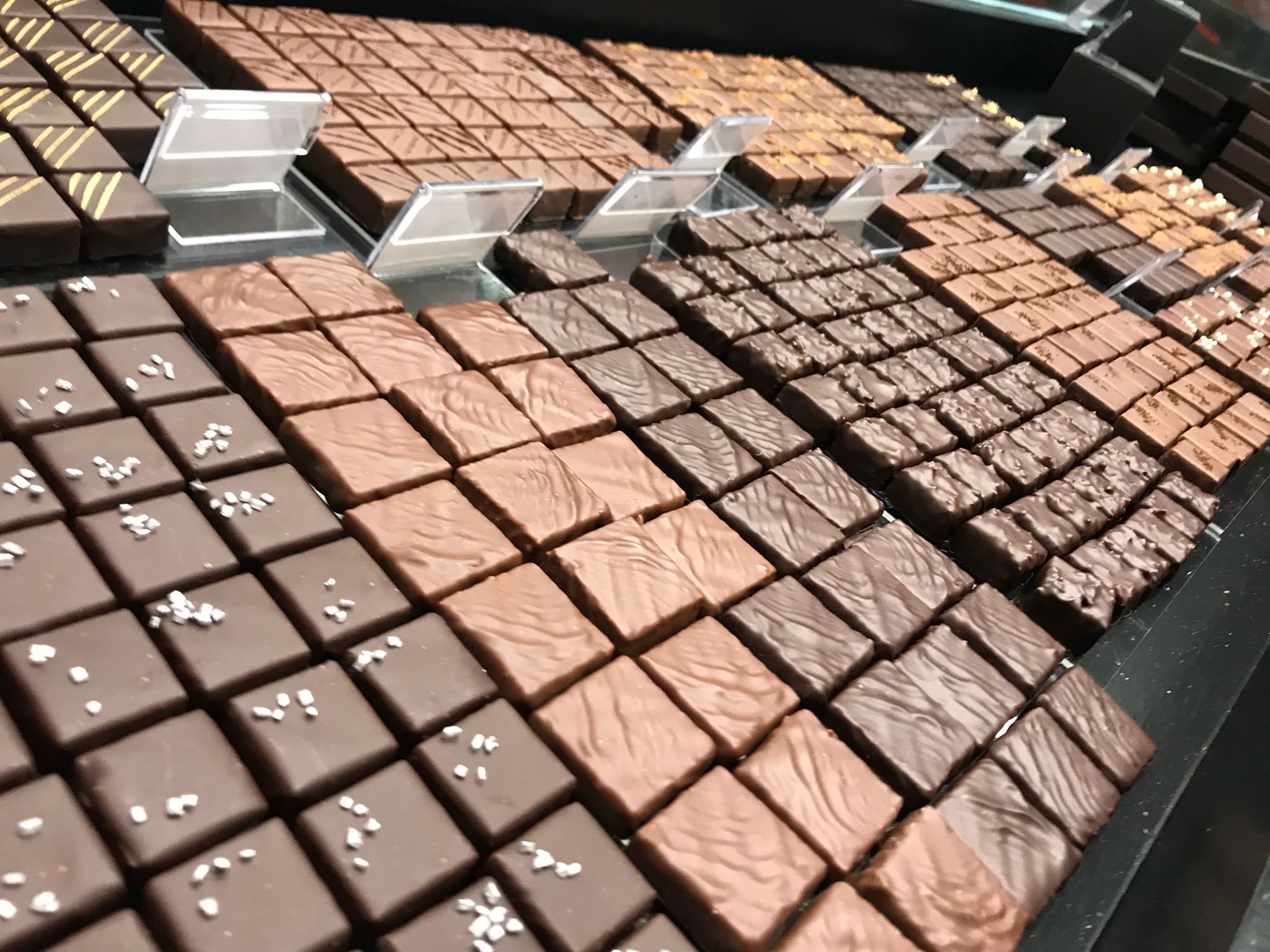 Ariqua has since perfected a range that includes original pralines, truffles and bars. He sources all his additional ingredients locally – mint from his garden, speculoos biscuits from a neighbourhood baker and honey from a nearby village. Demand for his confectionery has rocketed, leading him to take on three young members of staff, and visitors to the store can see the team at work in the adjoining workshop.
What skills do you need to be a good chocolatier? "In all the artisan trades, you need a passion that pushes you to reflect on what you do and take yourself further," he says. And he appreciates the precision and control in the craft. "When you bite into a praline, I like it when you can hear the crunch of the outer shell. It needs to be subtle, not enough to break a tooth, but not too thin a layer either."
The ganache and fillings require similar attention to detail. "When making a ginger ganache, I carried out seventeen tests and for the earl grey tea flavour, we made many infusions before achieving the right result," he says. He opts for a familiar palette, with a couple of surprises: "We have a few special ones, but customers tire of them after a while; what they want are the classics." Among his seasonal specials was balsamic vinegar in the summer, which surprised him with its popularity. For winter, there are the comforting flavours of cinnamon, marzipan, pecan and speculoos, although the latter is so popular it features all year round.
When it comes to his own preferences, Denis's taste buds transport him to Latin America. "My favourite is from Ecuador, which gives you an essential cocoa flavour at 71%, but not at all bitter. My second choice is a 66% Mexican, very gentle, but you let it melt on your tongue and the flavour slowly develops." His next job is creating a signature praline with chocolate from Ecuador, Mexico and Guatemala, "because they represent three types of chocolate that I appreciate a lot". Summing up his winning approach, he concludes: "It's all about finding the right balance, in my work and family life, as well as in the chocolate."
This article first appeared in the 2019/2020 winter issue of the Wab magazine