What's on this week: 16-22 December
Brave the cold for an outdoor adventure or seek solace indoors with our selection of concerts, shows and film screenings….
Winter walks in the Bois de la Cambre take on another allure thanks to new art trail A call to travel. Six monumental installations now grace the city park and remain on display for a year. An initiative of the neighbouring Boghossian Foundation at Villa Empain, the outdoor sculpture exhibition sees Belgian and international artists reinvent the landscape according to their own vision and practice. The choice of artists from Lebanon and Armenia represent the foundations's ongoing mission for dialogue with Eastern cultures. Until 1 December 2023, Bois de la Cambre (Ixelles)
Make lights come to life at Magnetic Flow, an exhibition of installations paired with compositions by electronic musicians. By day, families can visit to experience the show put on by each installation, some on their own via robotics, others controlled by the visitors themselves. By night, DJs create new sounds by interacting with the soundtracks, creating a wholly unique club experience. Until 19 March, LaVallée, Rue Adolphe Lavallée 39 (Molenbeek)
An orchestra of international musicians and a choir of multi-lingual schoolchildren come together for Brussels Carol Concert, an expat tradition in the capital. With Mary Gow on piano and Ian Forester as master of ceremonies once again, the concert brings together well-loved holiday carols (not excluding a bit of sing-along) and this year special guest soloist Julie Gebhart. Proceeds go to the Foetal Medicine Centre at CHU Brugmann. 18 December, Royal Conservatory, Rue de la Régence 30
Drop by free Winterdrink at Beursschouwburg for a bit of dancing to live music out front. Then head inside for a performance of bad ideas, mistaken emotions and guilty pleasures, and hang around for a late-night exhibition. And, as the name implies, plenty of hot bevvies. 16 December, from 18.00, Rue Auguste Orts 20
Bond is back! Well, at least the superhero spy's extensive collections of wheels, wings and gadgets is on show thanks to this exhibition of 007 memorabilia. Bond in Motion presents some impressive vehicles, including a collection of iconic Aston Martins. In addition, exclusive documents, models and videos reveal production secrets that have delivered many moments of thrilling movie magic over the past 60 years. To complete the Bond experience, a British-themed café/bar serves some favourite tipples and snacks, while a memorabilia store is an ideal hunting ground for last-minute gifts. Until May, Brussels Expo, Place de la Belgique 1 (Laeken)
For its final concert of the year Brussels Muzieque stages an unconventional string quartet recital featuring not one but two cellos, to produce a lower melodic sound. The programme is also unusual: a Ravel sonata and a new work by Belgian composer Walter Hus. 18 December 20.00, Full Circle House, Chaussée de Vleurgat 89 (Ixelles)
The eco-friendly Let It Slow offers locally produced gifts and edibles. Hosted by Greenbizz and Be-Here at the latter's glass-covered sustainable village behind Tour & Taxis, it's a family-friendly Christmas market with all the trimmings – ethical stocking fillers, live music, kids' activities, festive decor, warm drinks and seasonal bites. 17 & 18 December 11.00-19.00, Be-Here Rue Dieudonné Lefèvre 4
L'Os à Moelle theatre runs its own Christmas market, inviting some 40 exhibitors with original ideas for presents. There's also seasonal chill-busters such as gratinated potato, cheese and bacon tartiflette from the French alps, accompanied by traditional mulled wine. Children can be photographed next to Father Christmas in a fundraising venture for cultural events and activities. 16-18 December, Avenue Emile Max 153, 1030 Schaerbeek
Cult Chantal Akerman film Jeanne Dielman, 23 quai du Commerce – it recently topped a best-ever movie poll – is showing at Cinéma Galeries. There's two screenings of the 1975 francophone classic: the first with Dutch subtitles, the second with English ones. Recently restored by Cinematek, it will also be screened at the Palace, Cineflagey and Cinematek, as well as other cinemas around the country from January. 17  December 17.30 (Fr, NL subtitles); 19 December 20.00 (Fr, Eng subtitles), Galérie Royale 28
For the fifth edition of the annual State of Cinema talk and screening, Sabzian and Bozar welcome Chinese director Wang Bang. He's chosen the 2022 film Stonewalling by Chinese-Japanese directors Huang Ji and Ryûji Ostsaka for the screening (pictured). They explore the new norms of the gig-economy and life in the modern-day metropolitan China through the experiences of one young woman (in Mandarin and Hunanese; Eng subtitles).  18 December 19.00, Rue Ravenstein 23
Community A Festival of Nine Lessons and Carols is held at Holy Trinity Brussels, followed by a similar service at the Cathedral of St Michael & St Gudula. 18 December 16.00 & 19.00 (Holy Trinity Church), Rue Capitaine Crespe 29 (Ixelles); 21 December 19.30, St Michael & St Gudula Cathedral, Parvis Sainte-Gudule
Book now: Pick up tickets soon if you want to catch the Grammy-nominated Malian singer, guitarist and actor Fatoumata Diawara present her spring release at the AB. The single "Nsera" has already been released and is making waves for both its textured guitar riffs and its colourful, stylish video, which questions how the west views Africa. She's also appearing in Bruges next month. 31 May, Ancienne Belgique, Brussels; 27 January, Stadsschouwburg, Bruges
Outside Brussels
Rock around the Christmas trees at Winters Vilvoorde, a 1950s holiday bash brought to you by Radio Modern. Learn to swing, get your hair done in the requisite ducktail or victory roll and see Santa lead a fire show that will warm up the dance floor. Entry is free. 16 December 19.30-3.00, CC Het Bolwerk, Bolwerkstraat 17, Vilvoorde
Queen Elisabeth cello competition winner, Ha-young Choi, is performing an intimate concert in Antwerp. She's joined by no less than the winner of the 2015 Queen Elisabeth for violin, Ji-young Lim. Don't miss this chance to see these two top talents from Korea playing together in this one-off recital that's a co-production between the Antwerp Symphony Orchestra and the Korean Cultural Center, in collaboration with the Queen Elisabeth Competition. 17 December 20.00, Royal Elisabeth Hall, Koningin Astridplein 20, Antwerp
The Parcum museum in Leuven's Park Abbey puts a modern spin on religious art, using it to show the evolution through history that shaped the cultural norms we know today. The temporary exhibition Fragile brings together work by multidisciplinary artist Patrick Van Caeckenbergh, who explores the tiny parish community of Sint-Kornelis-Horebeke, East Flanders. It's a walk through the history of a place and a people, whose small stature belies their hidden splendour. 16 December to 26 February, Abdij van Park 7, Leuven
The beautiful historical city of Leuven really comes into its own this time of year. Aside from a Christmas market with more than 100 chalets and a terribly cheery Santa Claus, there's a Winter Garden on the Grote Markt, with a nativity scene, giant Christmas tree and special lighting on one of Belgium's most beautiful city halls. Until 18 December, visitors can explore the (un)Holy Light art trail. Park Abbey has not been left out of Wintertijd in Leuven; it hosts its own Christmas market and carillon concerts. Until 7 January, across Leuven
Knokke's Ice Bar is just steps away from the beach. Don't let the name scare you off: The Ice Bar is in fact very cosy, with a warm winter chalet feel during the day and party ski lodge atmosphere in the evening. A few blocks away, the festively decorated skating rink is covered, and surrounded by a funfair. For families, a 2km fairy tale walk awaits that will take participants on a Rudolf the moose migration tour of Knokke-Heist (children aged four to 10). The perfect spot for a nature walk on the coast is the Zwin reserve. During the Christmas holidays, a hut trail as well as winter and family walks, accompanied by mulled wine, are additional welcome attractions. Until 8 January, Knokke-Heist
Namur's Christmas market and end-of-year festivities bring a welcome sparkle to Place d'Armes and other pockets of the city centre. Among energy-saving measures, the seasonal ice rink in Place de l'Ange has been replaced by a roller skating track. Wax statues replace some light installations. In the market square, expect the usual visit from Santa, folklore parades and fairground rides. Some 70 wooden chalets offer a colourful array of gifts and crafts, plus a mouth-watering selection of warming food and drink options, including melting baked pasta dishes cooked in rounds of hard cheese. A New Year's Eve firework display is set to light up the sky above the Meuse valley on 31 December. Take advantage of free shuttle buses in and out of the city. Until 31 December (market); until 8 January (roller rink)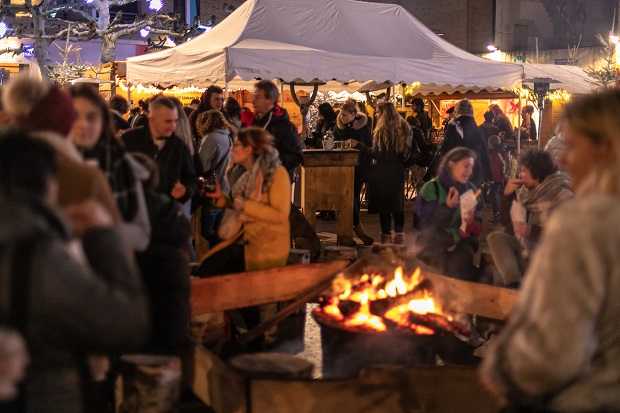 The student city is transformed into a Christmas village in Louvain-la-Neige. A market with around 130 wooden chalets sells local, regional and international products, while snow-frosted fir trees add some festive sparkle to the pedestrianised centre. Warm yourself up in front of a large wood fire in the Grand Place and join a torchlit walk on 16 December from 19.30. Winter comfort also comes in the form of a feast of sweet and savoury snacks, while liquid refreshments include Champagne and mulled wine. In Place de l'Université, stands are dedicated to artisan creators and producers. Until 20 December, Place de l'Université, Grand Place
For more Christmas markets and light festival around the country, check out The Bulletin's bumper seasonal guide.
Photos: (main image) Fondation-Boghossian-Parcours-de-Sculptures-Leopoldine Roux; Winterdrink (c) Alora Griffiths, Unsplash; Leuven market c willem goovaerts