Breaking through the digital divide: Libraries Without Borders integrates kids, the elderly and refugees
In association with ING Belgium
The Covid-19 pandemic saw huge chunks of society move online practically overnight. The digitalisation of working, learning and socialising that was already under way sped up, and those without the devices or the skills to keep up soon found themselves excluded. This digital exclusion is part of a longer-standing problem that the NGO Bibliothèques Sans Frontières (Libraries Without Borders, BSF) is working to fix, among children, older adults and, more recently, refugees from the invasion of Ukraine.
One of the lasting consequences of the pandemic has been a rapid increase in digital dependence: not only handling the administrative tasks of everyday life online, but also staying in touch with friends and relatives and preserving vital social contact. When schools suddenly moved to online teaching too, already vulnerable children faced further exclusion. "During this time, the digital divide became more visible and it was clear the challenge wasn't going to disappear," says BSF spokesperson Justine Cocset. "Digital inclusion is a matter that is very present in our society and there's a much stronger awareness now that we need to do something about it."
Skills, not access
For a long time, the divide has been about having access to technology, but it has increasingly become a skills challenge. Cocset: "It's not just about knowing how to do things with digital tools, and it's not about turning people into tech experts. It's about people being able to safely navigate online in the way they want to and giving them the keys to find solutions autonomously. We want to help them see the opportunities of digitalisation and feel comfortable with it."
Digital inequality is indeed a major barrier to social integration. The King Baudouin Foundation (KBF)'s Digital Inclusion Barometer reported in 2020 that as many as 40% of people in Belgium are at risk of social exclusion as a result of inadequate digital skills. One in 10 Belgian households has no internet access, a figure that rises to almost three in 10 for low-income families, while 57% of Belgians with a low level of education have never used the internet to submit essential documents to the government.
Set up in France and established in Belgium four years ago, BSF aims to combat challenges like this by bringing information, education and culture to those who need it. It was created with the aim of providing the resources that a library traditionally brings to communities in contexts where there is no access to a library. In Belgium, the organisation also trains librarians to become digital helpers, giving them the tools and resources to increase inclusion in their communities.
Digital ambassadors
BSF's projects target various ages and demographics, such as schoolchildren, older women and low-income families, across the whole country. A pilot scheme with ING launched towards the end of 2021 saw staff from the bank taking part in the Digital Buddies project, which aims to turn them into ambassadors for digital inclusion and support those around them to feel more safe and comfortable in the digital world. Think of parents, grandparents or elderly neighbours, getting to grips with online banking or shopping, WhatsApp or Zoom. BSF now hopes to partner with other businesses and civil society organisations to expand the project's reach.
A breakfast club at libraries introduces older women to digital tools and skills, while the Cyber Heroes programme shows children how to use the web safely and responsibly, through classroom resources for teachers and family activity packs for kids to do at home. BSF also works with the American NGO Khan Academy to provide online teaching in science, technology, engineering and maths; more than 100,000 hours of teaching were viewed by children in Belgium during the first period of lockdown.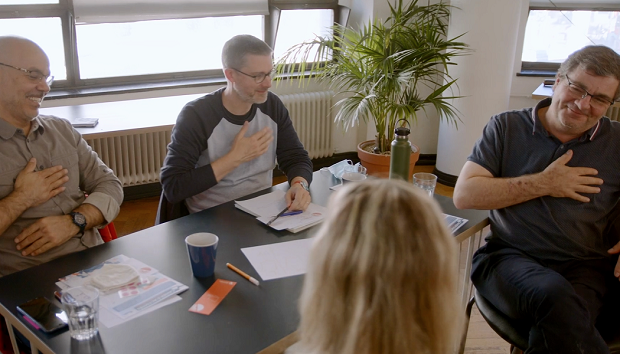 And now, as millions of Ukrainian people flee their homeland following the invasion by Russia, BSF has deployed emergency Idea Boxes – durable mobile libraries – at the Polish-Ukrainian border and is setting up emergency libraries and information points for refugees in reception centres in Belgium. It's a project entirely in keeping with the organisation's founding mission to provide essential information to those in need.
"The corona crisis has clearly shown the opportunities that digital technologies bring," the KBF report states. "However, it has also painfully exposed the fact that not everyone is on board. For these people, this means an impediment to their participation in society and access to their rights. We must avoid a situation where the benefits of the increasing digitalisation of our society are concentrated on groups that are already socially, culturally and economically advantaged."
BSF is supported by a number of public and private partners, including ING and KBF. More information here about ING's sustainability actions.
This article was first published on the Expat Time site of ING Belgium, spring 2022