Living in Waterloo: Move over city, the countryside is calling
In association with St. John's International School
From its leafy location to extensive portfolio of real estate and excellent international school, Waterloo increasingly attracts international families
Hop on a train at Brussels Midi station, and 20 minutes later, you're in a pretty town made famous by the Battle of Waterloo and, of course, that song by Abba. Home to around 20,000 people, the town is well-placed in the French-speaking Belgian province of Brabant Walloon. It's no surprise that leafy locations such as this and the surrounding communes are attractive places for families to set up home. And the proximity of schools like St. John's International is an additional draw to the area.
But since last year's global disruption and ongoing restrictions, something new is happening. City dwellers are turning tail and flocking away to the comparative space of the suburbs. Despite real estate transactions taking a downward turn during the pandemic upheaval, the trend is growing; people are looking to move away from city centres. For many professionals, the demands being made on their work-life balance have changed; with new ways of working, choosing a location to live in is being based around the best balance for the family or household, and not for the job. Towns like Waterloo are now being sought after by the world's real estate markets and by diplomats, business leaders, and elite thinkers looking for a more flexible way to raise their children.
In Belgium, this trend is backed up by the numbers. Despite real estate transactions falling by 2.7% last year, and sales from summer onwards playing catch-up, there has been an uptake mainly in the segment of so-called 'corona-proof' purchases. Or, as Bart van Opstal, spokesperson for the notary website Notaris.be, put it, there is strong interest in "homes with a garden, balcony or extra space". As the average price of a house in Belgium continues to rise, hitting 5.7% last year, and six out of the 10 most expensive communes in the country are located in the southeast of Brussels, people are starting to look further afield to realise their dream of a large garden and life outdoors.
Looking south
It's no wonder that Waterloo and its neighbouring area is an attractive option. The region plays a significant economic role in Belgium, primarily due to the many international companies that have headquarters there. Waterloo itself is well-connected, offering excellent public transportation options, including a free bus service within the town. With the Brussels ring road nearby, it makes for easy access to destinations in all directions including Brussels Charleroi and Brussels International airports.
With almost 20% of the population being expatriates, Waterloo is considered a friendly and comfortable place to live and a perfect area for families to relocate. Plenty of big family houses come with lovely gardens and there is still good value-for-money property to be found.
Waterloo councillor Brian Grillmaier also understands the appeal of Waterloo. "We have a long history of welcoming expats to Waterloo, so our commune and amenities, such as doctors and banks, are well set up for non-French speakers."
Life in and around Waterloo
Waterloo provides expat families with all the conveniences of a large town while maintaining a small-town feel, with everything you need in terms of services; stores, medical facilities, and cultural opportunities. Among the myriad family activities are cinema trips, days at the local aquatic centre, visits to historical sites and bike rides in the countryside.
The surrounding areas of Ohain and Lasne are equally popular. Living within minutes of their children's schools encourages a strong local community and school engagement, alongside ample opportunities to integrate into local Belgian life. Excellent sports facilities are right on the doorstep; one of the best hockey clubs in Belgium, tennis centres, exceptional golf clubs such as Royal Waterloo Golf Club and Hulencourt, swimming pools, rugby, football and cricket all add to the plentiful offer of co-curricular activities.
Philippe Rosy lives in Lasne and, as manager of eight Engel and Völkers real estate agencies in Brussels, Lasne and Wavre, says: "Among all the areas around Brussels, Lasne has been the preferred target for newcomers leaving the city to get another life after the first lockdown. The hills and valleys, the picturesque views and the diversity of houses are the definitive combination for people in search of quietness and beauty. The market has not stopped since the end of May and everything that comes up for sale is sold within 10 days."
School-life balance
When it comes to providing exceptional education, the area is well-placed. International schools like St. John's International are located within easy walking and cycling distance of quiet, tree-lined, residential areas.
St. John's provides a truly international education that offers a passport to a world of opportunities. An appreciation of diversity amongst peoples, languages, cultures and beliefs is deeply ingrained in its ethos. St. John's believes in empowering each student to discover their passion so they can reach their personal potential on the global stage. Teaching the prestigious International Baccalaureate (IB) at all levels of the school lays a solid academic foundation and springboards its graduates to leading universities globally.
The Dual-Language Programme in Primary School and English-language instruction with mother-tongue and language acquisition programmes offered, go hand in hand with the highest percentage of bi-lingual IB diplomas in Belgium.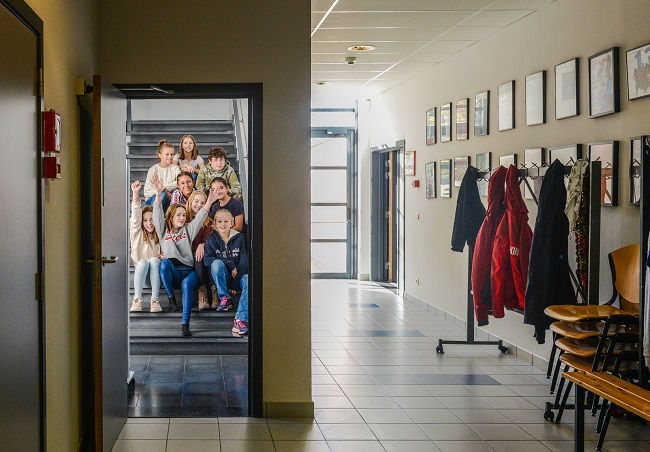 The school has an abundance of extra-curricular activities in which three-quarters of the school's population participate, and stages large all-school musical theatre performances in its 400 seat professional standard theatre.
Famed for its excellent programme of family events, St John's boasts a community outreach programme encompassing a wide variety of active projects and is very proud to host annually the  'Relay For Life', a 24-hour life-affirming event and fundraiser for the 'Foundation Against Cancer'.
What will your next move look like?
It is no wonder that, in these tumultuous times, many among us have been re-evaluating what we  want out of life for ourselves and our families. Shifts in professional working dynamics have enabled many to take the plunge. Those who find greater well-being outside of city centres attest to a newfound sense of freedom, privacy, and community.
So, for those city dwellers still looking for a certain je-ne-sais-quoi in the quality of family life and an outstanding international education for their children, the move to the suburbs could be the most positive experience that has happened all year.
Photos: St John's students at the Lion's Mound, Waterloo; Saint-Joseph Church, Waterloo (c) Jean-Paul Remy WBT; Tree-lined street in Waterloo; Property in Lasne; Students at St. John's International School