In the Eye of the Storm: Celebrating the dynamic diversity of Ukraine's modernist art scene
The itinerant exhibition In the Eye of the Storm: Modernism in Ukraine 1900-1930s boasts a dual mission. While safeguarding a lost treasure trove of avant-garde work, it showcases a generation of talented artists who significantly contributed to early 20th-century art.
Showing at the Royal Museum of Fine Arts in Brussels until 28 January, more than 60 works attest to a pivotal period of creative renaissance that forged Ukraine's cultural identity by maintaining an artistic continuity with the past.
Exploring a polyphony of styles and identities, they include a full range of media, from oil paintings and sketches to collages and theatre designs. The country's radical art also encompassed trends ranging from figurative art to futurism, constructivism and social realism.
All this was set against a complex backdrop of collapsing empires, world war one, the revolution of 1917 and ensuing Ukrainian War of Independence, followed by the creation of Soviet Ukraine.
The parallel with the current sociopolitical situation in modern-day Ukraine is poignant. Many of the works on display were hidden in a vault for half a century in the current National Art Museum of Ukraine due to their "counterrevolutionary" style.
A carefully-coordinated operation succeeded in getting them out of the war-torn country in November 2022. A secret convoy of two trucks drove out of Kyiv in the direction of the Polish border as Russian missiles targeted the capital and other cities.
This hazardous mission to save 51 rare artworks was orchestrated by Museums for Ukraine, an initiative founded by collector Baroness Francesca Thyssen-Bornemisza. A first exhibition was mounted in Madrid, followed by Cologne before heading to the Belgian capital.
The cache of long-lost artworks was already the subject of years of research by the National Art Museum of Ukraine, which claims it represents a comprehensive survey of modernist art. Many of the artists on display were previously grouped under the label of 'Russian avant-garde', but were of Polish and Belarusian origin as well as Ukrainian.
Divided into eight sections, it opens with pioneering artist Alexandra Exter, a leading example of how Kyiv was once a centre of freedom of expression and cosmopolitan culture with close ties to other major cities in Europe. She's one of a number of women represented in the show.
During her early Cubist period in Paris, Exter mingled with the likes of Picasso and Braque, but soon turned to a brighter and vibrant palette, such as in Three Female Figures (pictured). The 1910 oil on canvas is a confident and colourful composition with subtle geometric elements; the flatter planes of two of the figures offset by the livelier third portrait on the right.
Russian censorship obliged many artists to turn to set design and graphic art work. Eclectic and experimental Exter was not alone in pursuing these other art forms. Her costume designs display her highly-distinct playful, geometric and colourful style. Surprisingly modern, she proved to be an influence in the Art Deco movement.
Exter collaborated with Oleksandr Bohomazov, an artist who may have lacked her worldly background but was to become one of the most important artists within Ukrainian modernism. From small drawings that perfectly capture his muse and wife Wanda in a few minimal strokes to cubo-futuristic paintings representing a symbol of modernity, such as Train (pictured), Bohomazov is now recognised as an overlooked European master of futurism.
An important leitmotif running through the exhibition is the way Ukrainian modernists portrayed traditional folk art, such as embroidery and textiles, as well as Byzantine frescoes and mosaics.
This created a visual language that was easily accessible, as is visible in Mykhailo Boichuk's Milkmaid (pictured), one of a series of monumental and striking paintings with a primitive element to their composition. Born in the former Austro-Hungarian empire, the founder of the Boichukists artist group studied in Krakow, Munich and Vienna as well as Lviv in Ukraine.
Fellow international and experimental artists, members of the Kultur Lige, were the towering figures of Kazymyr Malevych and El Lissitzky who both collaborated with Chagall, the Russian-born French modernist. El Lissitzky, of Lithuanian Jewish origin, was avant-garde in constructivism and the Bauhaus. Another influencer at the German school of art and design was Vasyl Yermilov, the director of the magazine Avantgarde, whose cover he once illustrated (pictured).
Bohomazov returns in later chapters of the exhibition, notably with a painting that formed part of a triptych The Sawmill (Tuning Saws, pictured). The ambitious and unique project was the culmination of an anti-establishment career that included teaching and art theory. Exhibited in the Soviet pavilion at the Venice Biennale in 1930, the work is striking for its intense colours conveying a spiritual and emotional connotation. Kandinsky and Mondrain employed similar colour theories.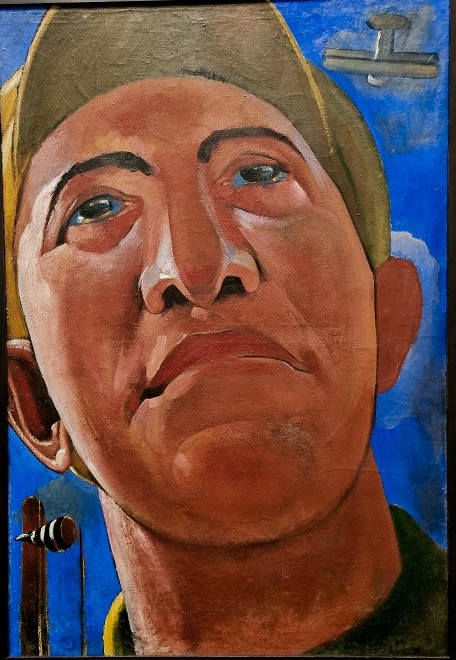 Social realism was the style now imposed on these artists. In the final section devoted to the last generation of modernists, this is evident in a series of large monumental paintings with angular-planed portraits of working people (pictured: work by Oleksandr Syrotenko).
The Stalinist purges of the 1930s marked the end of modernism in Ukraine and resulted in many of these artists being banished or executed. Their plight is echoed in a parallel exhibition on the avant-garde in Georgia at Bozar, part of the Europalia arts festival.
This focus on Ukraine is another overdue study of a body of art and a group of multicultural artists that have long been overshadowed in 20th century art history. It shines a colourful light on a group of innovative creatives committed to keeping alive their heritage, spirituality and culture.
As co-curator Katya Denysova points out, In the Eye of the Storm reclaims Ukraine's cultural heritage while challenging some of the existing narratives and showing how these artists were connected to European modernism. "It's a stunning and visually stimulating presentation that will hopefully resonate today."
After Brussels, the exhibition will move on to Vienna and then London in 2024.
In the Eye of the Storm: Modernism in Ukraine 1900-1930s
Until 28 January
Royal Museum of Fine Arts
Rue de la Régence 3
Brussels
Photos: (main image) ©Davyd Burliuk (1882–1967), Carousel (1921), National Art Museum of Ukraine; Vadym Meller (1884–1962), Composition (1919-1920), National Art Museum of Ukraine; Marko Epshtein, Cellist (ca. 1920), National Art Museum of Ukraine, inv. Грс-9373; Alexandra Exter, Three Female Figures, oil on canvas, 1909-1910, National Art Museum of Ukraine; Vasyl Yermilov (1894–1968), Nove Mystetstvo (New Art), Journal cover design  (1927)