Anima international film festival shines with celebration of Spanish animation among its eclectic screenings
Belgium's beloved film festival Anima returns with a festive 'old fashioned' edition from 17 to 26 February.
After enforced online and hybrid versions over the past few years, the celebration of home-grown and international animation sets up home once again at Flagey. Screenings also take place at Cinematek and Palace in Brussels, plus venues in Flanders and Wallonia.
Destined for adults as well as children, the diverse and rich programme promises 182 of the best films released in 2022: 154 shorts, 22 features and six short VR films. They are served up in various themed festivals, special screenings and competitions.
The 42nd edition also entertains with cinema events such as Soirée Queer, Bike Talk, film concert Melville and the mythical Animated Night. Workshops, exhibitions and masterclasses provide plenty of additional festive encounters for animation fans.
Other highlights are the traditional Best of Shorts and C'est du Belge programmes, along with the return of the LGBTQIA+ Queer Stories selection and animated documentaries in Real-Life Stories.
The programme for adults extends to 11 features, including 10 premieres. Among them is festival opener Nayola by José Miguel Ribeiro on 17 February (pictured above). The Portuguese animation centres on three generations of women plagued by the civil war in Angola.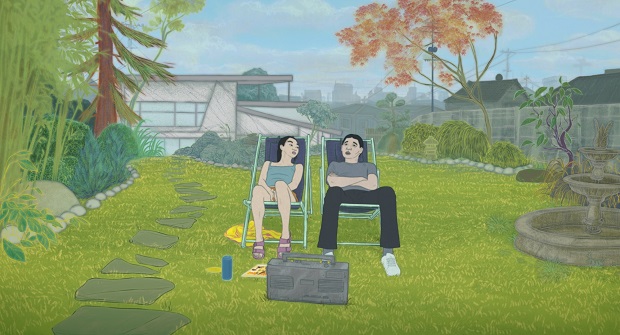 The feature journey continues with Blind Willow, Sleeping Woman by Pierre Földes (pictured above), based on Haruki Murakami's famous short stories. It also includes My Love Affair with Marriage by Latvian director Signe Baumane, Interdit aux chiens et aux italiens by Alain Ughetto and The House of the Lost on the Cape by Japanese director Shinya Kawatsura. Another international film for teens and adults is Korean feature Chun Tae-il: A Flame that Lives On by Hong Jun-Pyo.
This year's focus on Spanish animation honours the country's new creativity in the medium. It proposes numerous short film screenings, selected by Carolina López, artistic director of the Catalonia International Animation Film Festival Animation Lleida.
Two programmes of contemporary animation shorts are joined by the feature Unicorn Wars (16+) by Spanish director Alberto Vazquez Rico (pictured above). Two of the country's film professionals participate in the Futuranima section, while the kids' section also boasts Spanish animations. The focus is a collaboration with the Instituto Cervantes and the cultural service of the Spanish embassy.
As usual, younger audiences are well catered for with nine programmes of short films, all tailored to different age groups. The kids' programme opens on 18 February with a preview of comic feature Un amour de cochon, directed by Mascha Halberstad (NL 2022; 6+).
Franzy's Soup Kitchen is an itinerant programme for toddlers. It brings together six short films, all without dialogue, but employing various techniques for little ones to enjoy the magic of cinema and animation.
Targetting budding filmmakers, Futuranima runs industry events for anyone wanting to learn or simply discover more about the world of animation. Two guests of honour offer masterclasses: award-winning and 2D animation virtuoso Joanna Quinn (Emmy, BAFTA and Oscar nominee), as well as Jim Capobianco, former screenwriter at Disney, Pixar and Oscar nominee for his work on the hit 2007 movie Ratatouille.
The pro section of the festival also includes 'the making of' many successful films, works in progress, presentations and round tables.
Three free exhibitions are on display for festival-goers. The fluorescent box of Kitty Crowther invites visitors into the universe of the Brussels-based illustrator who designed the poster of Anima 2023. In complete darkness and under UV lamp, Knor and Decors is an immersive experience that goes behind the scenes of the film Un amour de cochon. Finally, Reality Hidden, is devoted to augmented reality.
Photos: Nuit Anima © The School of Visual Arts; Pina © Punchline Cinema (C'est du belge); Nayola © Urban Distribution International UDI; Blind Willow, Sleeping Woman by Pierre Földe; Unicorn Wars by Alberto Vazquez Rico; Focus Spain 2, Esfingeurbana