Winter Wonders: Brussels rings in the holiday season with a feast of seasonal activities
Eat, drink and be merry during Brussels' annual holiday festival as the city centre is transformed into a winter wonderland. Tourists flock to Belgium for a weekend splurge at one of its famed Christmas markets, while locals can take advantage of five weeks of non-stop, open-air entertainment.
Until 5 January, the 19th edition of Winter Wonders is lighting up the dark nights for the ultimate holiday experience. Streets are filled with colourful wooden chalets surrounding the Grand-Place festive hub with its majestic evergreen tree and Place De Brouckère, hosting the ice rink for the first time in the newly-pedestrianised area. Meanwhile, Place de la Monnaie is another hotspot with The Dome, a high-tech immersive experience for all ages.
Interaction is the theme of this year's seasonal festival. Celebrating the city's customary hospitality, it focuses on openness, diversity and inclusion to extend a warm welcome to locals and visitors.
Christmas market
In a continuation of a European tradition that dates back to the Middle Ages, the seasonal street market is an unmissable gourmet and gift experience. Some 250 chalets can be found around the Bourse, Place de la Monnaie, Place De Brouckère and The Black Tower (behind Sainte-Catherine's church).
Feast on local delicacies, like poelées of chicory, potato or mushroom, meat stewed in beer, chocolate confectionary and sweet cuberdon cones. Or try cold-busting specialities from beyond Belgium's borders, such as tartiflette, choucroute, churros, bagels, saucisson and foie gras. On the refreshment front, local artisan and seasonal-brewed beers compete with vats of mulled wine and steaming mugs of hot chocolate.
Among the market's selection of original gifts, artisan stands can be found in the Bourse area. And a vintage designers market at Halles-Saint Géry on Sunday 8 December will welcome more than 50 exhibitors, presenting their various creations, including jewellery, lamps, décor, clothes, accessories and much more.
Grand-Place
Towering over visitors in the medieval square is a 22m, 60-year-old Nordmann conifer decorated in the colours of the Belgian flag and with the image of Manneken Pis, who this year is celebrating his 400th anniversary. A present to the capital from Stavelot, the gift is in recognition of the special relationship that links Brussels and the Walloon town, dating from World War Two, when the capital came to the aid of the bomb-stricken town.
With a nativity scene at its foot, the conifer is decked with 120 baubles and 1.5km of fairy lights. The tree naturally has pride of place in the 360° sound and light show that illuminates the Grand-Place daily as night falls (see website for timings). Entitled Come, be Welcome!, its theme is meeting people.
Manneken-Pis
Brussels' favourite son is Winter Wonders' special guest. Celebrating his 400th birthday, the 55cm-high peeing boy has been watching over the city since 1619. Attracting over 30,000 visitors a day, his extensive wardrobe of over 1,000 costumes reflects the melting pots of cultures in Brussels. Blessed with his own programme of events, make a note in your agenda for the Xmas party@Grand-Place on Thursday, 19 December, from 19.30-21.00. Local DJ Daddy K will be setting up his decks from the City Hall balcony to blast out his beats.
The Manneken-Pis is also at the centre of a giant treasure hunt. Various pictures of the wee statue are hidden along a special route that gives players the opportunity to (re)discover interesting areas in the city-centre via a gelocation app. Use it to find clues, solve puzzles and possibly win a replica of Brussels' famous symbol.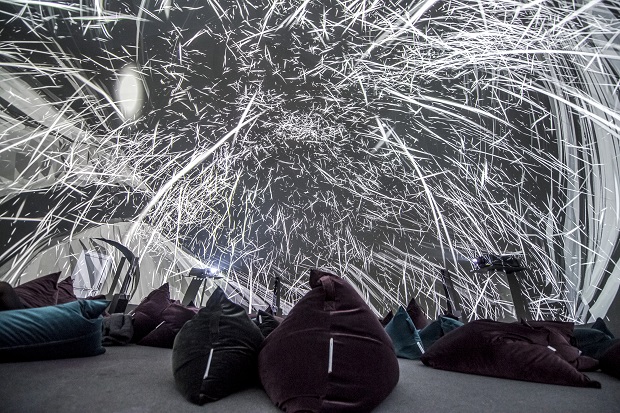 Other attractions
The 55m-high big wheel, in its habitual place in Marché aux Poissons, offers an extraordinary view over the city. In addition to the ice-skating rink in De Brouckère, there are merry-go-rounds and other activities for little ones, including the ice monster, a 45m dinosaur. The Office of Early Childhood returns for the 11th year running with stimulating and creative activities by artists, musicians and a theatre company in Place Sainte-Catherine.
The Dome in Place de la Monnaie (pictured, above), made its first appearance last year and reappears once again with its snug interior filled with beanbags, armchairs, rugs and plants. All ages can enjoy immersive digital art, technology and sound shows.
Other visual experiences include the video mapping of Sainte-Catherine's Church and Casino Viage (Boulevard Anspach), transformed into moving works of art. Keep an eye on the packed programme as brass bands will be performing festive favourites as well as parades due to thread their way through downtown streets.
On the cultural front, city-centre museums join in the fun with additional events, including Brussels City Museum, the CENTRALE for contemporary art and the Fashion and Lace Museum. Popular show Sois Belge et Tais-Toi! and Brussels Craft Days also make a festive return as well as the 19th Brussels Mediterranean Film Festival.
Brussels by Lights
Showcasing the city in the mid-winter period, the annual lights festival shines with more than a thousand lights. The annual event has been renamed and enlarged to 15km of festive illuminations, covering a total of 131 street and arcades. A focus on the De Wand area in Laeken is in honour of the investment in the districts electricity system. In the city-centre, newly brilliant streets include Rue des Brasseurs and Rue Jardin des Olives, while many major thoroughfares have been extended and graced with giant 3D sparkling illuminations.
The immersive work Submergence is on display in Brussels for the first time after successfully lighting up London and Dubai. Visitors to a 300m2 space at Mont des Arts are invited to immerse themselves in an ocean of 16,000 suspended lights, walking among dangling strings of glowing orbs that change colour constantly.
Winter Pop
Travelling pop-up villages appear in different areas of the city: Neder-Over-Heembeek (6-8 December); Laeken (13-15 December); Place de la Chapelle in the Marolles (20-22 December). Each weekend, free activities are organised in collaboration with community groups and local figures as part of Winter Wonder's ambition to spread seasonal joy around the city. Look out for the caravans, stands, illuminations, fire pits and interactive street theatre events. Since its first edition in 2017, Winter Pop has proved a firm favourite for all generations.
Practical info
Public transport is recommended when visiting the Christmas market and other activities. If you are taking the metro, Stib /Mivb recommends using metro lines 1 & 5 and the following stations: Sainte-Catherine, De Brouckère, Central Station. If you cycle, consider locking your bike in a cycle park. For train users, the SNCB/NMBS Happy Ticket offers a return ticket in Belgium for €10 on 14 & 15 December & 21 December to 5 January. You can also get a Weekend Ticket and take advantage of a 50% discount on a standard return ticket. If you prefer to drive into Brussels, consider Park & Ride.
 Written by The Bulletin with Visit.brussels