What's on this week: 28 December-3 January
Brussels is one of the top destinations on the European clubbing scene and this is never truer than on New Year's Eve. House, techno, hip hop ... there are dozens of possibilities for each dance style in such places as the Horta Gallery, Sounds Jazz, the evergreen Fuse and Bloody Louis to name just four. To make it easy to party as much as possible, Visit Brussels offers the Happy Brussels Pass. Not only does it get you into dozens of parties, and provides you with a map that lists countless bars and unusual places to party, it also offers day time activities: free entry to a screening of your choice at Cinéma Galeries and free entry to the Atomium including two exclusive exhibitions on music and clubbing.
It's hard to choose which party to go to but here is one suggestion. The Hôtel de la Poste at Tour & Taxis is a landmarked building that has just been completely restored and the Midnight Magic NYE bash from 19.00-7.00 (four course dinner at 19.00, party starts at 23.00) will take full advantage of the architectural glories of the space, with a house room and a techno room.
Brussels-based American photographer Stephen Sack takes photographs of small-scale, ancient artifacts - and with various photographic processes creates striking evocative images. This time he has created macrophotography of tiny 19th-century magic lantern slides and photographed them with a scientifically developed light that is normally used to photograph amoebas in water. The unpainted glass surfaces of the slides is darkened by the process and the wear and tear of time appears in startling ways on the enlarged images of elephant hunts, prancing horses, fantastic animals, and demons.
Phantasmagoria, in the public rooms of the Sofitel Le Louise until 15 February
Sleeping Rose, a show aimed at children five and up, is a retelling of the Brothers Grimm's immortal tale Sleeping Beauty which skews the standard fairy tale rules to humour and absurdity while also turning the story into an obstacle course of unexpected twists. In French with English and Dutch surtitles.
Bozar, 26-29 December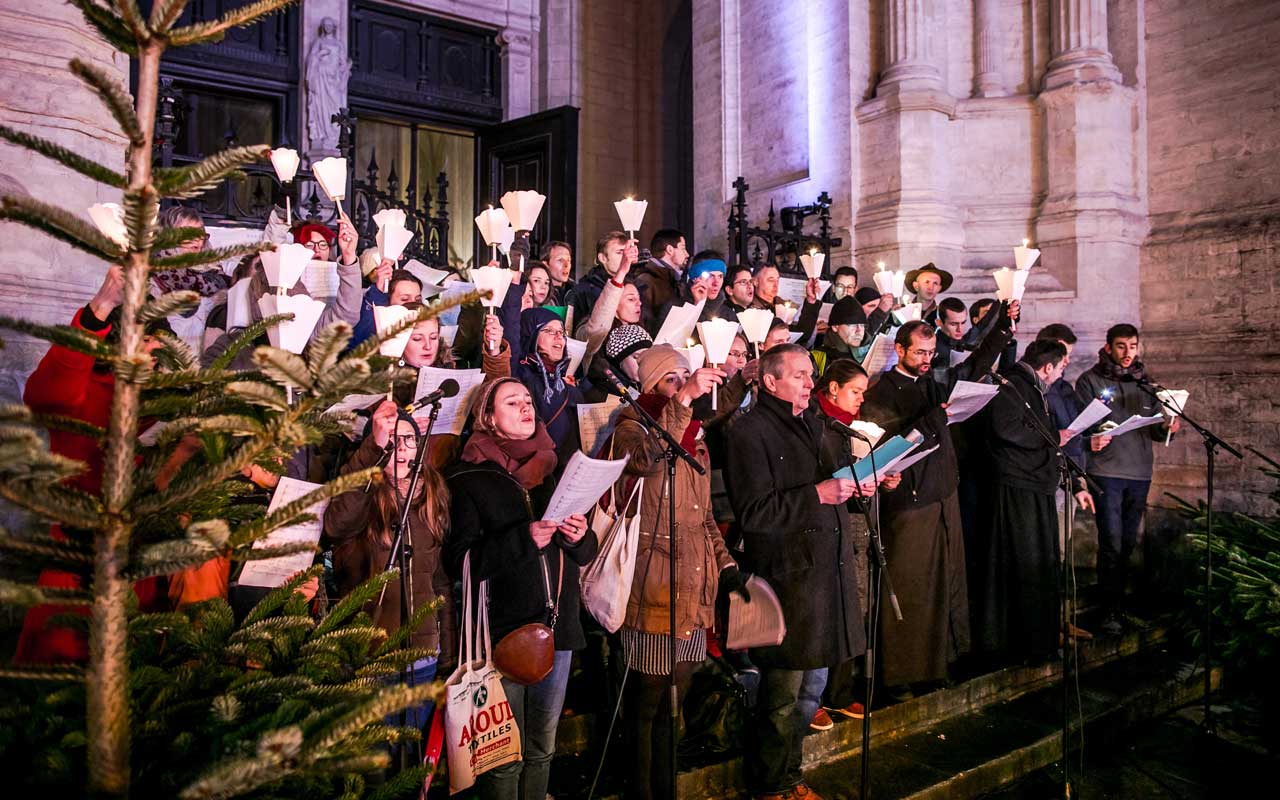 This weekend at the Winter Wonders, along with all the continuous attractions, there is a light parade on Saturday by Carrosse-Coeur all through downtown from 18.00-20.00. On Saturday and Sunday from 16.00-18.00 it's Winter Vox, live concerts of Christmas music in front of the Black Tower behind Saint Catherine church. And for the toddler set there is a special programme on Wednesdays, Saturdays and Sundays.
Winner of three Tonys, a Critics Circle and a Pulitzer, Next to Normal was a critical and popular hit both off Broadway and on. The rock musical about bipolar disorder struck a chord with people after seducing them with its outstanding music. There have been versions staged on five continents in many languages and one of those versions is playing at Bozar for this holiday season. In French with English and Dutch surtitles. Full live orchestra. 
Bozar, 27 December-6 January
In the early 1980s, Flemish comic artist Willy Linthout decided to create a comic strip around Urbanus, a Belgian comedian. Some 170 books later, Urbanus, the "underground family strip" is an established hit, despite the fact that (or maybe because) the characters that populate the little Flemish village in the strip are corrupt, venal, sex-crazed and incompetent and the subject matter includes such unmentionable subjects. And yet it's laugh out loud funny. See the show at the Comics Art Museum until 26 May 2019.
Michel Gondry, the French film director probably best known for Eternal Sunshine of the Spotless Mind, has set a Home Movie Factory in KANAL. It's free and it consists of making a movie with five to 15 other people. First you get a tour of the various sets that are part of the factory and a rundown of all the necessary tasks, writing, casting, shooting and creation of special effects. Then all the necessary equipment is provided and three hours later you go home with your DVD.
Until 10 June 2019
For an audience that ranges from one to 100 in age it's time for the Festival Noël au Théâtre - five days of theatre and dance in Brussels, 24 shows aimed at children in nine theatres and cultural spaces in the city. Predicated on the idea that the Christmas season is a time to relax and catch one's breath, these shows will help you do just that as well as laugh, dance, dream, learn, reflect and get goose bumps.
26-30 December
The one part of one's body that one cannot see except fleetingly in a mirror is the back. Brussels' Fashion and Lace Museum presents a journey from the 18th century to today which shows us with an exceptional collection of clothing and accessories from museums and fashion houses, how the back has been covered, uncovered, isolated, dressed up and burdened. Free admittance if you live in Brussels City.
Until 31 March 2019