Daily & Weekly newsletters
Buy & download The Bulletin
Comment on our articles
What's on this week: 16-22 October
A high point in the yearly cavalcade of film festivals in Brussels is the Korean Film Festival. The theme of this year's festival is New Horizons and it presents feature length and short films of all styles focusing on drama, documentary and animation. Korean cinema has an enthusiastic fan base for its great diversity of styles and stories, high production values and sophistication. It opens this Friday with Peninsula, an official selection of the 2020 Cannes Film Festival but not screened as Cannes was cancelled. The film is a standalone sequel to Last Train to Busan, picking up the zombie tale four years later.
Bozar and Cinema Galeries, 16-23 October
The Millenium International Documentary Festival, another of Brussels' top film festivals, is back this week with the screening of high-quality, independent documentary films from around the world. Included this year is a film from Belarus entitled Strip and War about the chasm between a retired military officer caught up with his Soviet past and his grandson who has abandoned his job as an engineer to blossom in his new career as a male stripper. For a completely different slice of life there's 17 Blocks, an American documentary assembled from 20 years of raw home video footage shot by a family living in one of Washington DC's worst neighborhoods just 17 blocks from the US Capitol. From 40 countries, 102 films with as many different stories will be screened. New this year, some of the movies are available for free online, even before the festival starts, to the first 300 people applying for each film.
Bozar, Cinéma Vendome, Cinéma Aventure and Kinograph, 16-25 October
If you were planning to see the excellent temporary exhibition Juanjo Guardino: Secrets of a Master at the Comics Art Museum but haven't got around to it yet, it's time to mark it in your diary because the show will be closing early next month and it's not to be missed. The fruit of a marvellous union of superior artistic talent and fertile imagination, Guardino's work, most strongly in his Blacksad series created with Juan Diaz Canales, was a huge hit both with the critics and the general public as soon as it was published. The show displays his first pencil sketches up to his completed drawings which enables the visitor to fully appreciate the painstaking process that leads to the brilliance of the final product.
Until 8 November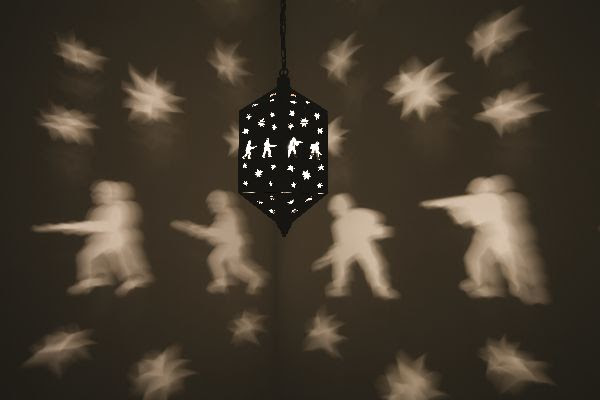 Villa Empain is lending its superb interiors to the presentation of The Light House, an exhibition that gathers the work of 19 contemporary artists reflecting on light and its universal manifestations, with the participation of eleven institutions including Kanal, Bozar, MuHKA, SMAK, The Arab World Institute, Mudam and BPS22.
22 October-31 January 
De Markten is a cultural centre located in the former home of the Val-Saint Lambert crystal works on the pleasantly leafy Old Grain Market. For 40 years they have been presenting exhibitions, putting on theatre performances, offering workshops, conducting debates and providing a welcome oasis with their popular cafe-restaurant. To celebrate four decades of activities they are presenting Over Time - an exhibition in which 14 artists present works that refer to the notion of time. The artists were made aware that this concept can be embraced very broadly and additionally they could create new work or present an old favourite. The important aspect is that this should all be very idiosyncratic as have been the exhibitions presented at De Markten over the years. Free, but reservations are required.
Great Black Music: A Saga to Freedom is a multimedia exhibition extravaganza that puts four centuries of musical creation, an African, American, Caribbean and European story, into perspective. The show reveals the central position of African history and tradition through six themes in a sensorial and immersive 600m² journey made up of hundreds of audio and audiovisual documents presented in a spectacular and interactive fashion. Through an original and rule-breaking chronology the multimedia installations allow the public to extend the musical immersion once they are home. From Dakar to Johannesburg via Paris, the show has visited nine countries before returning to the Halles de Schaerbeek.
The Art & Marges Museum, Brussels' museum for outsider art, is celebrating 10 years by asking 10 artists to present installations and performances, and sound, literary and culinary creations with the museum's extensive collection as a backdrop. The show is entitled Embrasez-vous which is a sort of play on words in that if you take the common expression "Embrassez-vous" ("hug each other") and remove an S you are now saying "set yourself ablaze". These visiting artists are "incandescent, luminous and mysterious embers that will focus a new light on the collection and open the way for a creative combustion." Everyone is invited to the opening which is billed as a non-stop party (reservations required).
22 October-25 April
The Boverie Museum is on an island in the middle of the Meuse River in the middle of the city of Liège. It is housed in the buildings built as the Palace of Fine Arts for the World's Fair of 1905 that were completely restored five years ago. Currently they are showing Warhol: The American Dream Factory, which features his most famous pieces culled from major museums and top private collections as well as rare documents on display for the first time. If you've only seen Warhol's work in photos, seeing the real thing is a major revelation. Make a day of it with a museum visit, a stroll through the island which is a beautifully landscaped park, and enjoy a meal at the cafe-restaurant.