The start-up Kombucha business in Brussels committed to empowering young women in Tanzania
It was a friend's dying wish that ignited a positive story of enterprise, sustainability and lasting allegiance among a group of international women in Belgium.
Together, they've pooled their resources to create a series of ethical businesses in Brussels that support a community of female farmers in Tanzania via the JS Foundation.
The foundation was set up by Belgium-based Dane Karen Christaens in memory of her life-long friend John Schrooten, who died from cancer in 2016 at the age of 45. It was his final wish that Christaens, a former agricultural engineer, should launch the foundation to gift economic independence, self-esteem and empowerment to the farmers.
The foundation has now expanded further afield to aid young women in Tanzanian schools and to teach the benefits of sustainable farming in other African countries, advocating a 'can do' culture. Schrooten and Christaens were travelling companions who had witnessed the economic and social hardship experienced by women and children in low income countries such as Tanzania.
A group of sustainable farmers, including Anastazia Faustin in the tiny village of Endamaraiek in the Karatu district of Tanzania, were chosen to benefit from Schrooten's legacy and Christaens's vision and expertise. The pair had observed how the women looking for work to generate an income,  represented a "rich untapped resource".
With the help of the JS Foundation's Tanzania-based project leader Magreth Anney, young women have established their own sustainable farm, learning to grow often forgotten crops and plants that are high in nutrition, such as moringa, hibiscus and rosella from the roselle plant (Karen Christaens, pictured left).
Organic Kombucha production in Brussels
Now, the crops grown in Karatu have made their way to the shelves of Brussels shops and cafes thanks to Christaens' initiative. Young entrepreneurs Jolene Loh and Alice Carson launched their business – Kāng pǔ chá, a take on Kombucha tea –  in the Belgian capital in October 2021, joining a small enterprise circle led by JS Foundation.
Originally from Malaysia, Loh was committed to sourcing some ingredients from the Tanzanian project after a chance meeting between Loh and Christaens. Brussels resident Carson, from Northern Ireland, joined the business after meeting Loh at a vegan street food festival.
"Jolene told me about meeting Karen and finding out about the JS Foundation. She had come up with the idea to infuse a drink with Tanzanian-sourced ingredients after speaking to Karen about the women farmers. I really liked the idea that the women in Tanzania would benefit, so I joined the business, originally to do the publicity and marketing," explains Carson, a former psychologist.
They now run a fledgling yet thriving flavoured tea business. Kombucha is a fermented sweetened tea that's full of flavour and high in nutrition. Health benefits include lowering cholesterol and blood sugar while improving the immune system thanks to strong levels of iron and vitamin C.
The duo have a fully-licensed domestic kitchen in which to work, where they infuse the teas with ingredients including rosella, hibiscus, ginger, elderflower and lemon. It takes up to three days for the flavours to fully immerse and around four weeks for the full fermentation to come to fruition.
As well as selling their speciality tea, Loh has her own private catering business and the duo plan to open pop-up restaurants at events such as music festivals.
Two others businesses that collaborate with the foundation as well as selling the tea are Taylor's, a vegan café run by Anglo-Belgian sisters Lydia and Rachel Taylor in the Marolles and Mo mo, a vegetarian restaurant in the Saint-Gilles district.
Lock-down romance led to move to Belgium
Like Christaens, it was Loh's unquenchable thirst for travel that brought her to Brussels. Two years ago, she was 'locked down' in a Moroccan hostel when the coronavirus closed borders. Her untapped entrepreneurship blossomed during the pandemic as residents took on the day-to-day running of the hostel after strict quarantine rules deprived them of staff.
A serendipitous meeting with a fellow resident from Belgium led to a burgeoning romance and Loh eventually returned with him to his home in Brussels. They recently celebrated their first wedding anniversary. Determined not to rest on her laurels as a newly-wed in a foreign country, Loh initially started a small business selling vegan chocolates, which led to the chance encounter with Christaens. "It's just so lovely to be part of this enterprise," she says, adding that a female-led collaboration "just made sense".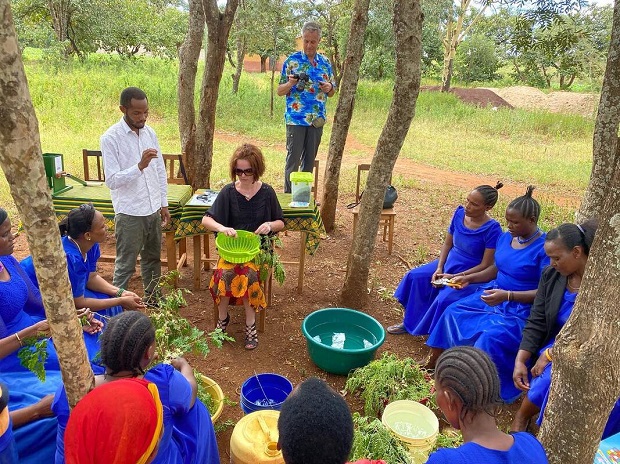 Help for local charities as well as Tanzanian farmers
The benefits of the JS Foundation have created a further ripple effect as Loh and Carson donate 50 cents for every re-useable bottle of Kāng pǔ chá to local charity La Reve D'Aby, an animal welfare shelter in Gembloux.
The collaborative entrepreneurs are all kept up-to date about the foundation's activities by Leuven-based Christaens, who travels regularly to Tanzania to give advice, updates and motivational speeches in schools and villages. "John and myself had a dream of giving something back to the world and to make it a better place, it was not about making money. We both wanted to empower the women in Karatu and other parts of the world and it is happening, including here in Belgium," she says proudly.
Photos: courtesy Kāng pǔ chá  and JS Foundation