Some like it cold: A selection of Belgium's best ice creams
"I scream, you scream, we all scream for ice cream…" As temperatures soar in Belgium, what better way to cool down than with a delicious scoop or two?
One thing is certain, you will be spoilt for choice. Here's a small selection of the cool delights you can find across the country.
Brussels
Each of Brussels' 19 municipalities has a go-to place or several for ice cream. In the centre at the Quai aux Briques, Glacier Gaston (also in Stockel) may be a relative newcomer, but has fast established itself as a wonder for artisanal ice cream and sorbets (pictured above). Flavours are as fascinating as they are delicious – with 'intense Sicilian noisette', 'pineapple, pepper and ginger' or 'apple and basil' well worth trying.
Renowned chocolatier Frédéric Blondeel offers delectable, rich  ice-creams at his headquarters, shop and cafe in Koekelberg. The chocolate options are of course a must (pictured above).
Ixelles classic Le Framboisier Doré has been in operation since 1989, and claims to have invented speculoos ice cream. This charming place serves customers inside and out with benches on the Rue de Bailli and boasts intriguing and mouthwatering options like orange flower water, pink grapefruit and cardamom.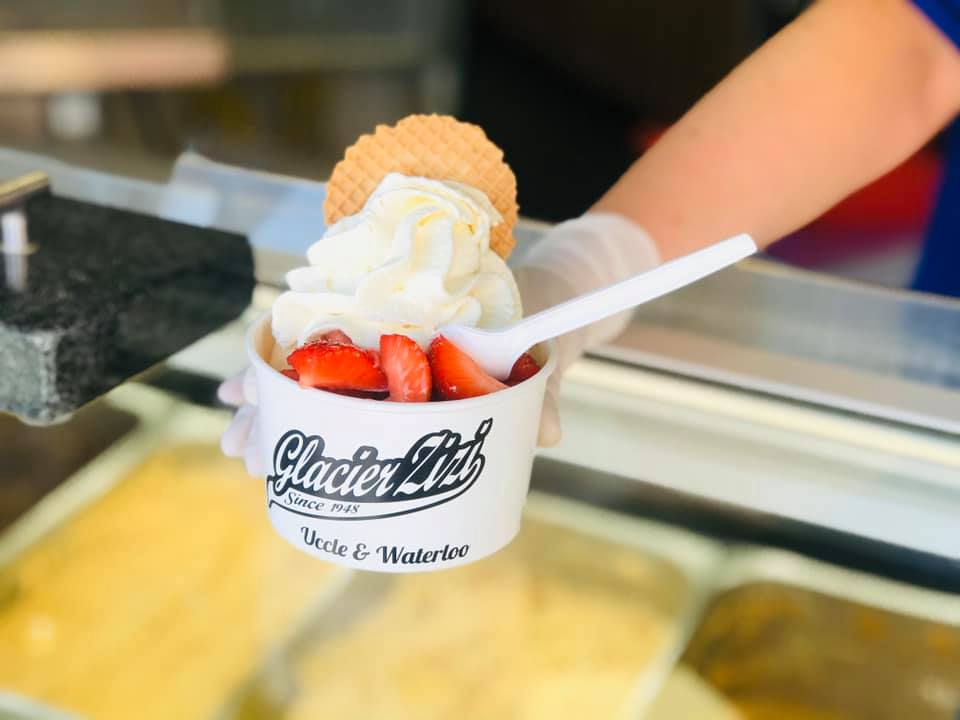 Glacier Zizi, an Uccle institution on the border of Forest, serves ice creams until midnight every day (pictured above). Founded in 1948, the family-owned parlour has churned its artisanal, colour- and preservative-free ices for four generations. It is always busy, unsurprisingly, given its incredible range of ice creams and sorbets – from traditional strawberry to more creative creations like cuberdon or lavender.
Do not miss Bargello in lively, leafy Place de la Liberté. It proposes high quality Italian coffee as well as stunning organic fruit sorbets, rich mascarpone ice cream, vegan options and ice-cream cakes. Cocozza in Schaerbeek is another unmissable address. This charming glacier is arguably the daddy of them all as it first appeared in 1907. It serves great ice cream in a superb setting – just opposite Parc Josaphat.
Finally, with shops and stands throughout the capital, Capoue (pictured above) has been a favourite for 30 years; a reliable vendor of well-made, artisanal ice cream – not to mention plentiful waffles and delicious crepes. Its salted caramel is a dream.
Wallonia
In Walloon Brabant, La Maison Carette, a short walk from Ottignies station, is an ice-cream gourmet's heaven. Known throughout the region, this charming ice-cream cafe with its huge terrace offers mouthwatering flavours including meringue, lemon cactus and orangette, as well as milkshakes, sundaes and ice-cream cakes. Carette cornets can also be enjoyed in Wavre and Waterloo.
In the Walloon capital Namur, Glacetronome (pictured above and main image) has established itself as an ice-cream beacon at the foot of the Enjambée cycle and footbridge. On the Jambes side, just look out for the long queue waiting patiently to be served a selection of Italian-inspired ices with original flavours. Among the most popular are pop-corn, salted-butter caramel, earl grey tea, fleur du lait, sesame peanut and strabana – a fusion of banana and stracciatella with nuggets of chocolate providing a crunchy flourish – as well as a range of seasonal fruit sorbets.
Liège – the city of steel – overflows with culinary treats. Ice-cream afficionados will love Une Gaufrette Saperlipopette (pictured above) With special home-made cornets and biscuits it would be a shame to choose the 'petit pot'. Customers are spoilt for choice with tasty treats including pistache praline, cookies or intense blackcurrant.
Gourmand-Ice in Heusy (Verviers) and Stembert (Liège province) has received accolades including Belgium's best ice cream and a place in the world's top 100 ice-cream makers. Renowned for its locally sourced products and colour and additive-free ices, flavours to watch as well as the prize-winning cheesecake, ricotta, cherry coulis and pistachio crumble include Sicilian pistachio, matcha tea and Sao Thomé chocolate.   
Flanders
Antwerp is bathed in culture and shopping. It also oozes ice cream. Two top tips are Foubert (also in Sint-Niklaas) and Milad Ice Cream (pictured above) The first, launched in 2010 on the Grote Markt, offers more than 16 flavours daily and temporary specials including Kinder Bueno, macaroon, virgin mojito, even 'Dinosaur' biscuit. Opened during Covid, the second Persian-inspired establishment is awash with Middle Eastern tastes including coffee cardamom, saffron rosewater and lavender. Tahini stracciatella anyone?
If you're looking to eat ice-cream on the water, try Coupe Matadi by Leuven canal (pictured above). You can enjoy unique sorbet and ice-cream flavours with vegan options available. One highlight is 'Madame Framboise': ice cream with raspberry sorbet – perfect if you cannot choose between the two.    
Down on the farm
For anyone craving a cooling pit-stop, farm shops are ideal. Guaranteed to offer fresh, natural and local fare, ice options in the Flemish Brabant include De Calogne in Galmaarden, which also serves yoghurt and ice cream bars; Gaasbeek's very popular De Krijmerie opposite the castle, that boasts more than 50 sundaes as well as pancakes and patisseries; and Galgenveld (Kortenberg), whose raison d'être is sheep's milk ice cream including tropical, hazelnut and fruits of the forest yoghurt flavours.
The bucolic farm experience is also available in Brussels – in green and pleasant Watermael. The Ferme du Chant des Cailles (pictured above) is not only an idyllic location to pick flowers. Every Sunday, from April to October, it also serves delicious ice-cream with a difference – made from the farm's goats. The flavours are original too, including verbena and marigold grown on site.