Refa @ Former Veterinary School
Muziekpublique
28/08/2021
from
18:30
until
28/08/2021
-
20:30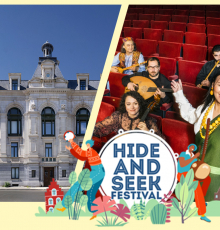 Refugees for Refugees becomes Refa ! "In the first place, we want to be seen as musicians, as people and not as refugees"
After a fantastic five-year adventure with two albums, more than a hundred concerts in Belgium and abroad, rave reviews including the first place in the annual list of the Transglobal World Music Charts in 2016 and the Klara for best Belgian world music album in 2019, Refugees for Refugees has written a new chapter in one of the success stories of traditional music in recent years.
They will continue under a new name and a new line-up. Refugees for Refugees becomes Refa.
"In the first place, we want to be seen as musicians, as people and not as refugees," says Syrian ud-player Tarek Alsayed. "Our previous name pushed us into a victim role." The statement is clear: from refugees into musicians. The new name is therefore a combination of two musical notes, the re and the fa.
But there is more into the name. Tarek Alsayed: «In the ancient hieroglyphs and Phoenician languages, Res or R means head and Pe or F means mouth. So you can interpret Refa as the voice of the people. And last but not least, Refaq رفاق means friends in Arabic. "
"We have become really good friends," said Tibetan singer Aren Dolma. "We speak six different languages, which does not always make communication easy, but through the music we succeed in speaking to each other and a close friendship has grown.
The band is also growing musically, partly thanks to a few new members. Ney player Tammam Al Ramadan welcomes it: "Shahab Azinmehr, who sings and plays the lutes tar and setar, brings along the rich Iranian musical tradition and the Turkish cellist Damla Aydin is not only a master of Ottoman music, but she also provides both rhythmic support and melodic richness. "
Refa will unveil part of its new programme for the first time on 8 February during the online edition of the Belgian World Music Night and then have a full premiere at Muziekpublique on 10 April.
Musicians:
Aren Dolma (vocals) (Tibet-BE)

Damla Aydın (cello) (TUR – BE)

Fakher Madallal (vocals, percussion) (Syria-BE)

Mohammad Aman Yusufi (dambura, vocals) (Afghanistan-BE)

Shahab Azinmehr (tar & setar) (Iran – BE)

Simon Leleux (percussion) (BE)

Tammam Al Ramadan (ney) (Syria-BE)

Tareq Alsayed Yahya (ûd) (Syria-BE)

Asad Qizilbash (sarod) (Pakistan-BE)