Our latest podcast: The Bulletin at the Movies! Welcome to our new series on Belgian cinema
Discover the world of cinema in Belgium, from home-grown films to movie events in Brussels and screenings around the country
Cinema is a popular pastime in Belgium. As well as screening international movies, world cinema and art-house films, Belgium boasts its own rich cinematic history. That's why The Bulletin is launching a monthly feature and podcast focusing on home-grown productions as well as the many film events that fill the cultural agenda all year long.
Belgium's thriving film industry – largely divided linguistically into French and Dutch productions – has been boosted since 2003 by the Tax Shelter, an incentive for taxpayers to invest in audiovisual productions as well as regional funding schemes. These finance initiatives also attract international productions with Belgium often standing in for a variety of locations on film.
Listen to The Bulletin at the Movies here:
Back home, the country is brimming with talented directors, with many renowned on the international stage. Belgium is a cinephile nation with cities possessing multiplex as well as art-house screens. It seems that every city and even the occasional town, stages films festivals with a reputation that stretches well beyond the country's borders.
On release, Flemish films rarely play in Wallonia, and only the best French-language films make it to Flanders. Brussels provides a mix, but films often disappear from screens after a couple of weeks, so you have to move fast. 
Of course, like many sectors, cinema has been disrupted by the corona pandemic, and many film releases have been postponed, which is why there are more Belgian films currently showing in the cinema than usual.
Our monthly series and podcast aims to keep you up-to-date on local productions, with news, events previews and interviews. We'll also be covering world cinema screenings that bring additional colour to the local film scene. 
Belgian films in cinemas now
Un monde by Brussels director Laura Wandel has been showered with prizes since debuting in Cannes this year, where it won the international critics award. As well as being nominated for a European Film Awards, it's Belgium's entry for consideration for a foreign-language Oscar. Impressively, this is Wandel's first feature.
Un monde was shot in Brussels two years ago, but its release was delayed because of the pandemic. Set in the microcosm of a primary school, it's filmed entirely from the viewpoint of six-year-old Nora. The camera never rises above her height, the audience plunged into her vulnerable world as she navigates playground life. If Nora slowly succeeds in finding her place, she struggles in her role as witness to her older brother Abel being victim to cruel bullying. (Palace in Brussels; cinemas in Liege, Antwerp and Ghent).
Another award winner is Flemish film Red Sandra by Jan Verheyen. Based on a true story, the family drama recounts a dad's battle with a pharmaceutical company to get life-saving treatment for Sandra, diagnosed with a rare and life-threatening muscular degenerative disease. The film bravely explores the fallout on families when coping with such a situation. While critical of the world of pharma and the media coverage of such tragic stories, Red Sandra is exceptionally well acted, and it brings alive the charming world of its heroine via drawings and animation. (Kinepolis Brussels & Antwerp).
Dealer is the directorial debut of Flemish actor Jeroen Perceval, known for excellent work in films like Rundskop (Bullhead), Patser (Gangsta) and D'Ardennen. With a penchant for choosing roles in grittier dramas, Perceval has now made one. Dealer is the story of a 14-year-old Antwerp boy already a pro in dealing street drugs. He meets a famous actor in a club and begins supplying him with cocaine. The two become unlikely friends, for better and for worse. Dealer is honest, dark and effective, refusing to supply us with cookie-cutter characters or easy answers. (Kinepolis in Brussels & Antwerp).
Film news
Three Belgian films have been nominated for the European Film Awards. Feature film Un Monde (see above) by Laura Wandel has been nominated in the Discovery category for a director's first film. Nicolas Keppens' Easter Eggs and Olga Lucovnicova's My Uncle Tudor have both been nominated in the Short Film category. Winners of the European Film Awards will be announced in an online ceremony on 11 December.
Nico Leunen has become the first Belgian film editor accepted into the prestigious American Cinema Editors guild. New members have to be invited and voted on based on certain conditions such as quality of work, education of others and dedication to the editing profession. "This unique recognition motivates me more than ever to be a worthy ambassador of this beautiful but invisible profession," said Leunen.
Leunen has edited dozens of films in his more than 20-year career, and is well known for his collaboration with director Felix Van Groeningen on movies such as De helaasheid der dingen (The Misfortunates), Oscar-nominated The Broken Circle Breakdown and Hollywood production Beautiful Boy. Leunen is also known for his work with his partner, director Fien Troch. Bonus trivia: Troch is the daughter of famous film editor Ludo Troch.
Events
A new initiative in Brussels is film club Kinoféroce, launching with a special screening of the Belgian/Brazilian movie Bula by Boris Baum on 14 December. It follows the journey of a socially awkward Belgian teenager who investigates the disappearance of his father in Brazil.  It promises to be a celebratory evening with an opportunity to meet the team behind Kinoféroce and enjoy a free Zinnebir.
The cinema organisation has been set up by a group of directors and film associations, screening offbeat features, documentaries and animation. It's based at See U in Ixelles (at Kinograph, pictured above), the former police barracks that has been transformed into a lively community of cultural, social and business associations. A second event on 11 January is a screening of the Spanish film En Mis Zapatos by Pedro Morato. Kinoféroce films are screened three times, once at See U, and then in Louvain-la-Neuve and Liège. Each screening is in the presence of people from the film, the Kinoféroce team and is preceded by a short film.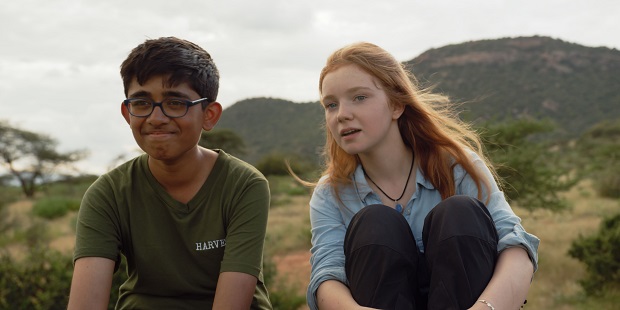 See U also houses the cinema cooperative Kinograph and on 16 December, it's screening the documentary Animal, followed by a talk with the French director, Cyril Dion. The long-awaited film in French and English explores the climate debate from the viewpoint of two teenage activists, Bella Lock (from the UK) and Vipulan Puvaneswaran (from France). They go on a journey exploring human relations with the living world and talk to a variety of people, including British primatologist Dr Jane Goodall. (See U plus cinemas in Liège and Namur).
Brussels' multidisciplinary art centre Bozar offers a rich world cinema programme. It often screens films as part of a larger event, as in the SEE Festival, from 15 to 19 December, its last festival of the year. SEE stands for South Eastern Europe, and this region's contemporary culture is spotlighted. Exile is a German-language film (subtitles in English) that is being screened in the presence of its Kosovan director Visar Morina. It's the story of Kosovan pharmaceutical engineer Xhafer, who has created a middle-class life for himself in Germany. But bullying at work plunges him into an identity crisis.
The second film, Willow, concerns three women – one medieval, two contemporary, all unlikely heroines – who each struggle with tradition, loyalty and control over their own bodies. Exploring themes of love, trust and motherhood, the 2019 film by acclaimed Macedonian director Milcho Manchevski, is in Macedonian, with French and Dutch subtitles.
Subscribe to The Bulletin's podcasts via iTunes, Google or Spotify.