Castles and flowers: Enjoy a perfect spring outing close to Brussels
In association with Tourism Flemish Brabant
With spring blossoming around us - despite the variable temperatures - there's no better time for a short trip into the countryside near Brussels. The capital's Green Belt is renowned for its beautiful parks, gardens, and castles, and surprisingly many of them remain undiscovered. Here are some of our highlights and hidden gems worth exploring this season.
April's abundance of blooms is serious business at Groot-Bijgaarden Castle's Floralia Brussels (pictured, main image). The grounds are filled with more than a million hand-planted bulbs, including a display of almost 400 varieties of tulips. Pink, white, purple and blue hyacinths, along with sunny daffodils, also help turn this nature show into a vibrant tapestry of colour.
An additional charm to the colourful floral festival is its majestic backdrop – a stately 17th-century moated castle –  complete with an imposing 14th-century dungeon tower. The grounds are only open to the public during Floralia, so don't miss out on this annual floral extravaganza (pictured above).
While you're in the neighbourhood, why not turn your excursion into a day trip by visiting the neighbouring village of Sint-Anna-Pede. Discover the works of famous Belgian painter Pieter Bruegel the Elder in the very landscape that inspired him. Find out why the scenery was such a powerful muse for the Flemish Renaissance painter on a walk, bike ride or even by wagon. When you stop to catch your breath, sample a refreshing geuze. It's the region's pride and joy and the local Timmermans Brewery has been faithfully brewing the lambic beer for over 300 years.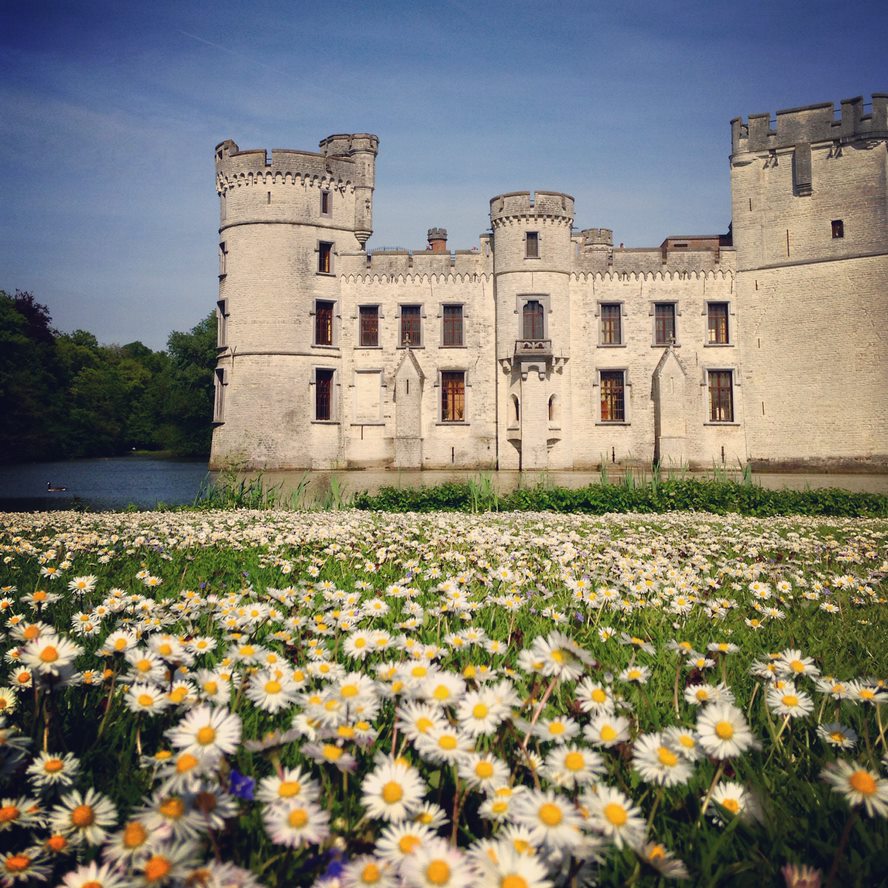 Meise Botanic Garden is your next stop for a sophisticated mix of floral splendour, rich culture and history. Bouchout Castle (pictured above), at the heart of this 92-hectare domain, dates back to the 12th century. Around the period of the French Revolution, it underwent extensive renovation. That's when the lavish garden was embellished with additional ponds and a rich variety of exotic plants. The last resident of the castle was Princess Charlotte, King Leopold II's youngest sibling. Bouchout still bears traces of her harrowing history as the Empress of Mexico and her years as a grieving widow.
Naturally, the castle isn't the site's main attraction. The garden and its Plant Palace are one of the largest of their kind in the world. While the park is worth a trip all year round, spring and summer are exceptionally breath-taking when the outdoor flowers are in bloom. To explore its collection of exotic plants, wander through the large vegetation zones in the greenhouse complex, from the desert into the rainforest and out into the savannah.
Whatever you do, don't forget to check out the giant waterlilies (pictured above). Did you know that they're actually strong enough to carry a baby? An hour is barely enough to immerse yourself in the different climates, so if your time is limited, reserve another hour to explore the rest of the park. Its culinary, medieval and rose gardens as well as the flower theatre all await.
The botanical garden is easy to reach by bus (250 and 251 from Brussels North) and car (Exit 3 off the A12), and there's parking around the domain. Even better, it's surrounded by walking and cycling nodes, making it the perfect start or finish to a countryside walk or ride. For a combination of town life, history, and culture, you could easily combine your visit to Meise with a trip to picturesque Grimbergen and Vilvoorde. This handy itinerary will help you on your way.
Flemish Brabant is teeming with options to combine spring's natural attractions, castles and leisurely park strolls. Park Ter Rijst (Pepingen) is always a fantastic place for a peaceful walk through the lush, quiet countryside. And Tervuren Park is an ideal setting for your first picnic of the year. Gaasbeek Castle's European-Grant-Award winning Museum Garden opens its doors to visitors again in May. In the summer, drop by the Coloma Castle Rose Garden Festival (13-27 June) in Sint-Pieters-Leeuw for its display of heady scented blooms (pictured above). Many of these parks will join the Parks Parade in June with loads of activities for you to enjoy.
Photos: Gaasbeek Castle and Meise botanical garden water lilies (c) Lander Loeckx