What's on this week: 8-14 June
Our top picks of culture and activities in and around Brussels
A possible antidote to the male performances soon on display at the World Cup, Cie Thor and Thierry Smits are presenting WAW! (We Are Woman). A cast (or team) of eleven men explore their feminine side while questioning gender in a fun and liberating journey of dance. Until 16 June, Théâtre Varia, 78 Rue du Sceptre (Ixelles) 
Robert Bolt's play about morality, politics and the common man, A Man for All Seasons, remains relevant today. The story of Sir Thomas More refusing to sanction King Henry VIII's desire to divorce his first wife is staged by the Brussels Shakespeare Society and directed by Andrew Johnson. 11-16 June, Magic Land Theatre, 8 Rue d'Hoogvorst (Schaerbeek) 
Friday evening's Spout Big Space takes over the Guingette Parc du Cinquantenaire – Bar Maurice for a concert of their extremely danceable rock. Be prepared for an encounter of the third kind. 8 June, 20.00 
Oil your wheels, Wiko Roller Bike Parade is back for the summer and already whizzing around city streets in Belgium. The Brussels parade kicks off every Friday evening at 19.00 on Place Poelaert for departure at 20.00. Join hundreds of thrill-seekers on bicycles, boards and rollers and, of course, a rolling DJ truck to keep spirits up. For other cities, check the website. Free event. Until 14 September, Place Poelaert
 The ultimate children's fun event this weekend is Superfly Festival, a family-friendly extravaganza in one of Brussels' parks. Some 40 shows and workshops will tickle senses, including acrobatics, theatre, music, magical in-situ installations, a sensory corner for the youngest children and several summer bars and food trucks. Picnics welcome. Free entry. Saturday 12.00-21.00, Sunday 12.00-19.00, Parc de Forest (Saint-Gilles)  
One of Belgium's most successful comic strip properties is celebrating its 60th birthday this year. The Smurfs first appeared as guests in another Franco-Belgian series in 1958 before their creator, Peyo, gave them their own dedicated world. The Smurf Experience is a vast attraction recreating the Smurf village and surroundings with the help of special effects and cutting-edge technology. For all the family. 9 June-2 September, Brussels Expo, Place de Belgique, Heysel

Take a quick trip to the country without leaving the city by picking your own strawberries at Fruit Time. The farm in Anderlecht is currently full of the seasonal berries. While strawberries are harvested in June, raspberries and other small berries and flowers can be picked in July, August and September. If you don't fancy making your own preserves, pick up a jar of their fabulous homemade raspberry jam. Nearby is the In Den Appelboom country restaurant, an old farmhouse offering great food, gardens, terraces and kids' outdoor play area.  Fruit Time: Wednesday to Saturday, 13.30-17.30; open Sunday if fruit remaining. 465 Rue du Pommier (Anderlecht)
Oak Oak is a French street artist who takes urban elements and turns them into works of art. A short flight of stairs leading to a front door becomes a piano keyboard, for example. Visitors were so charmed by his first circuit through the old port neighborhood in the spring, Brussels city asked him to come back and create 10 more pieces, including a couple of collaborations with Belgian street artists Jaune and Joachim. Download the Oak Oak stroll as well as the entire PARCOURS Street Art circuit, and spend a few hours discovering his world.
Kids can limber up for the summer already by perfecting their circus skills at Parckfarm, the social hub of the Tour & Taxis Regional Park. In association with the Ecole du Cirque de Bruxelles, it is offering circus instruction to 6 to 12 year-olds every Wednesday at its site until August 29,,14.00 to 16.00. Parckfarm also offers a variety of activities including weekly bread baking, cooking workshops, seasonal honey potting and bee hive visits. 3 Rue Picard, Brussels
Start winding down for the weekend by treating yourself to lunch every Friday at Frunch in the BIP courtyard. Each week three different food trucks present an array of original and gourmets meals while DJs concoct an upbeat musical backdrop to get you in the mood for the end of week. Pick up a Frunch Member Card for discounts to various sites and eateries. Until 31 August, 12.00-14.30, 2-4 Rue Royale, Brussels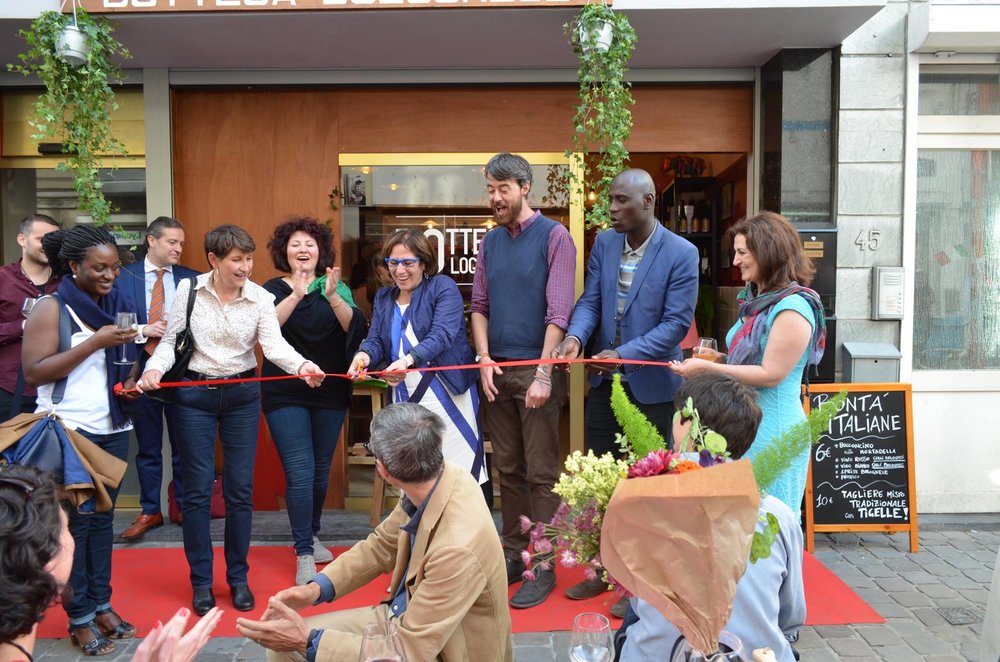 For food and fun, Italian-style, head to the northern part of Ixelles called the Neighborhood of the Continents, which is cheek and jowl with the Matonge and Saint-Boniface neighborhoods. As the name indicates it's a very international area, and this Friday and Saturday they are having the second edition of the Bontà Italiane with 12 of the neighborhood's Italian restaurants participating. Buon appetito!
Keen photographers can join in the celebrations of World Art Nouveau Day on Sunday, marking the 150th anniversary of the births of Charles Rennie Mackintosh, Peter Behrens, Komor Marcell and Lluis Muncunill I Parellada, plus the 100th anniversary of the deaths of  Gustav Klimt, Egon Schiele, Otto Wagner and Koloman Moser. A photo competition My Favorite Art Nouveau Architect is organised by RANN on their Facebook page. 10 June
OUTSIDE BRUSSELS
Whether it's a blue whale leaping from a canal or a floating school on the Minnewater, the Triennale Brugge returns with various startling architectural exclamation points. This year's theme is the Liquid City and asks artists to answer the question, what does the future hold? One of the objectives of the Triennial 2018 is "generating encounters, challenging people not only to view the artworks but also to experience them and to become part of the creative process." Until 16 September, Bruges
Every two years Liège's famous city-centre steps Montagne de Bueren are strewn with fresh flowers in Bueren en Fleurs. The 374 steps form an extremely steep staircase, named after Vincent de Bueren, who defended the city against an attack by the Duke of Burgundy, Charles the Bold in the 15th century. The 22,300 flower plants, consisting of 23 varieties, are spread in 7,400 pots. 8-13 June, Liège city centre
Photos: Cie Thor, WAW; Spout Big Space; Superfly Festival; Old Oak stroll; Bontà Italiane