Je veux nager: Campaign launched in support of Brussels swimming pool Flow
'And me, I want to swim again with you'. This refrain by Belgium's legendary rock singer Arno is now the anthem for Brussels' outdoor swimming crusader Pool is Cool and its latest crowdfunding campaign Je Veux Nager.
So 20 years after the late singer's number hit the airwaves, this new campaign to raise €60,000 for a permanent open-air swimming pool in the capital, will see five Brussels bands – from indie group Splendeur to the Caribbean-influenced Tropicant – record their own versions of 'Je Veux Nager'.
Arno, who called Brussels his home for most of his life, enthusiastically agreed to the campaign and the covers before he died. "We hope that even more Brusseleirs, from musicians to music lovers, will sing 'Je Veux Nager' with us and share it with their social media networks," says Frederik Lamote, the director of Growfunding, which is hosting the crowdfunding effort. "Arno's classic will come back to life in support of what is absolutely necessary: open-air swimming in Brussels as soon as possible."
Bringing outdoor swimming back to the capital
While around 80 years ago there were three open-air swimming pools in the capital, they all closed down in the 1960s and '70s, following a few years of abysmal summer weather and poor maintenance. Brussels is one of the few European capitals without an outdoor swimming option, and the hot summer of 2014 led a group of citizens to mobilise in support of a public swimming pool. The non-profit Pool is Cool was the result.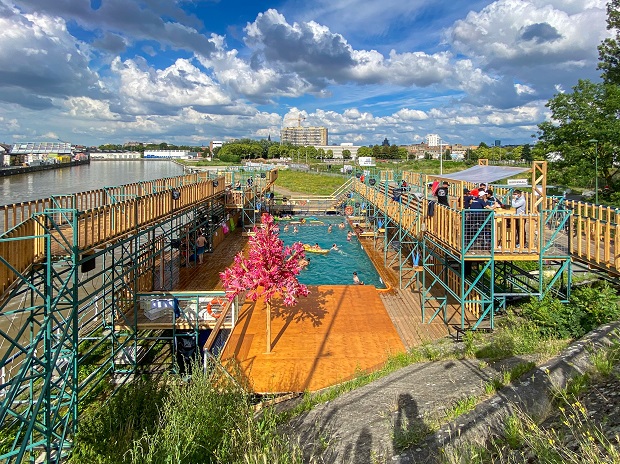 Last year saw the launch of Flow, a pop-up pool alongside the canal in Anderlecht. To keep the momentum going, Pool is Cool is looking for new investment. "The crowdfunding campaign will prove that Brussels residents are really into outdoor swimming," says co-founder Paul Steinbrück. "With the funds raised, we will re-open Flow and refine the way of working. In doing so, we hope to make open-air swimming in Brussels a viable option in the short and long term."
The organisation has done exhaustive research into the environmental and economic realities of building, staffing and maintaining an outdoor public pool. This has led to various temporary interventions, such as a summer pool outside of Bozar and Expedition Swim, which saw local ponds and lakes opening up to swimmers.
'Summers getting hotter'
But it's Flow that provided the real test and proved to be a resounding success. "Flow is so much more than an outdoor pool," says Steinbrück. "It is a place where people who would never meet in other circumstances sit side-by-side. Flow is an incubator of people from different backgrounds and different cultures who find each other in a relaxing environment." Not only local residents, he notes, but people from all over Brussels found their way to the swimming spot.
The ultimate goal of Pool is Cool is to convince politicians and public administrations to spearhead open-air swimming options. The pressure is paying off: the Brussels Region is developing a swimming area at Pede Park's lake in Anderlecht.
It's not enough, of course, for a city of 1.2 million people. "Every day that Flow was open, there were swimmers in the water," says Steinbrück. "The trend is clear. With global warming, summers will only get hotter, and the need for inhabitants of Brussels to cool off will only grow."
Donate to the Je Veux Nager campaign (running until 1 July) and receive perks, like a free swim, sauna or sponsorship of free swimming lessons for kids and adults
Photos: Flow (c) Paul Steinbrück