Five walks through Lambic Country, plus great places to stay
In collaboration with Tourism Flemish Brabant
Do you know the secret of Geuze? It's in the Pajottenland and Zenne river valley air. Wild yeast swirls invisibly through it, seeping into the lambic brewers' open vats at night. It was a similar story in Bruegel's day when he would visit the same gorgeous rolling landscape of farm horses and water mills for inspiration.
And there's no time like October – Lambic month – to visit on foot and discover the craft of brewing. The whole region is abuzz with things to see and do. So, why not stick around for an overnight stay? Keep reading for five choice walking tips.
The Walk – 7.1 km
Head out from the heart of Lembeek on this 7.1-km journey to the Malakoff Estate. The tower ruins (pictured) look authentically medieval, but nothing could be further from the truth. Is Lembeek a bastardisation of the old 'alambic', a distilling device? No one knows for sure.
Pit stop
Frank Boon revived the brewing tradition in the 1970s. Visit one of the region's biggest family-run lambic breweries (pictured) for a tour, a souvenir at the beer shop, and a pint at the cosy BOON Bar.
Out and about
Set out on foot and come home via Lembeek train station. Follow the virtual nodes: 63 - 62 - 600 - 601 - 602 - 603 - 604 - 68 - 69 - 600 - 62 - 67 – 63.
Your stay
Spend the night at Villa Servais B&B, a stately villa commissioned by cellist and composer François Servais. Follow the canal from here towards Lembeek, where you'll pass a giant graffiti wall.
The Walk – 9.6 km
Get off at Halle train station. You'll find yourself on the winding Zenne Trail in no time, heading towards the trees of Buizingen's Kluis Forest [Kluisbos]. Eventually, you'll wind up back in town on your way to the famous St Martin's Basilica. Curious to know what a lambiekstoemper is? Aside from being a lambic fan club, it originally refers to the tool people would use to crush a sugar cube into a cold glass of sour lambic or geuze.
Pit stop
Bart Devillé and his wife and kids are brewing wizards. But they don't stop at geuze: they also brew a whole range of other beers. Drop by for a taste at the pub-brewery Den Herberg (pictured). Or you could take a load off next to Kluis Forest on the terrace of café De Kluis. Sample a sour treat from their extensive geuze and lambic menu.
Out and about
Halle train station is the start and end of your journey. Follow the virtual nodes: 6 - 617 - 620 - 619 - 618 - 395 - 396 - 60 – 6.
Your stay
Halle's Les Eleveurs is an elegant hotel with 16 rooms. Unwind after your walk at the gourmet restaurant, starring local Pajottenland and Zenne river valley products.
The Walk – 13.3 km
Landscapes that look like they sprang from a Bruegelian canvas and Groenenberg and Gaasbeek's majestic castle estates – get ready for the best of the Pajottenland's treasures.
Pit stop
Does wild yeast swarm? It does here. The air is thick with their heady magic, which is why there's no shortage of lambic breweries to choose from: Kestemont Brewery, Lindemans Brewery, 't Guldenhooft Farm Brewery and 4Pajot.
Out and about
Your journey begins and ends at Sint-Gertrudiskerk, Isabellastraat 39 in Schepdaal. Follow the nodes: 724 - 197 - 196 - 125 - 129 - 730 - 126 - 124 - 112 - 70 - 732 - 731 - 730 - 729 - 728 - 190 - 725 - 724.
Your stay
Soak up B&B St-Hubert's relaxing, great outdoors vibes. It's part of a riding school where Frisian horses add to  the ambience. The old caretaker's home has been renovated from top to bottom, now featuring five beautiful, contemporary rooms.
The Walk – 8.1 km
The Kesterbeek guides you through the rolling green hills of Beersel, Dworp, and Alsemberg. Pass through fields and forests to enjoy the sumptuous views of Brussels and the Pajottenland.
Pit stop
Creative spirit Gert Christiaens reopened the authentic alehouse next to the Oud Beersel Blendery, a stone's throw from your walk. Drop by to witness its innovative spark and impeccable charm. Naturally, there's a host of genuine local specialities to try and a wide range of lambics and geuzes. Need more inspiration? Dine at the renowned Drie Fonteinen cafe and restaurant next to the walk's start.
Out and about
This walk starts in Beersel, on the Herman Teirlinckplein. Follow the virtual nodes: 5 - 514 - 530 - 531 - 523 - 524 - 528 - 529 - 513 - 50 – 5.
Your stay
How about a tiny house in the countryside? Or maybe a stylish open loft? It's up to you at Kluts Guesthouses in Alsemberg.
The Walk – 7.7 km
Writer and poet Pol de Mont (1857-1931) waxed lyrical about the beauty of his home, the Pajottenland. Beginning with his birthplace, you'll wander through the Kouterbroeken Nature Reserve and past the Klapscheut water mill, following in the poet's footsteps.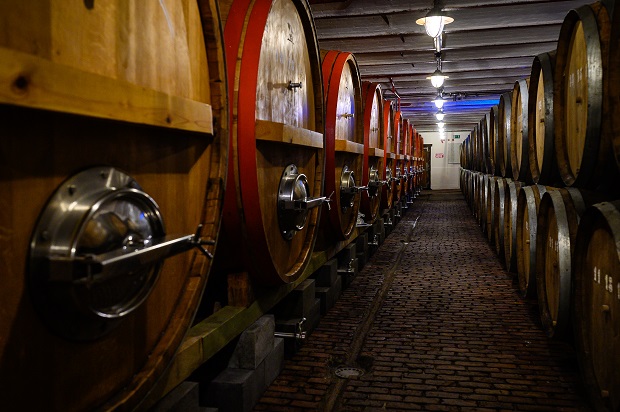 Pit stop
It's indisputable. De Troch Brewery (pictured) is one of the region's loveliest breweries. Dating back to Pieter De Troch's purchase of a beer vat in 1795, this handsome square farm has long been a family stronghold.
Out and about
Begin and end your walk at Sint-Remigiuskerk, Pol De Montstraat in Wambeek. Follow the hexagonal signs with red print.
Your stay
Say yes to a charming holiday flat in rural Borchtlombeek, where the winding footpaths always lead to enchanting views.
Photos: ©Lander Loeckx; Kasteel van Gaasbeek ©Toerisme Vlaams-Brabant; 4. Oud Beersel ©Cliff Lucas