Colombian vengeance film Los Conductos opens alongside exhibition by director Camilo Restrepo
Franco-Colombian director Camilo Restrepo's intriguing new film Los Conductos opens in Cinema Galeries from 6 July, while an exhibition about the filmmaker's work goes on show in the vaulted crypt lying underneath the Brussels gallery.
After winning the Best First Film Award at the Berlin Film Festival 2020, Los Conductos is screening at Cinema Galeries, along with the director's previous five short films.
Traumatised by the violence of his native city Medellín, Restrepo emigrated to France some 25 years ago. After a career in the visual arts, he switched to filmmaking; his first feature a fiction overlaid with reality.
It explores the violence of Colombian society via the semi-autobiographical portrait of lead actor Luis Felipe Lozano, known in real life and the movie as Pinky.
"I don't make movies that tell, but rather, movies that show. This one is a portrait of a protagonist. He's a friend, his name is Pinky and the actor is actually the character, playing himself," explains Restrepo.
In real life, he took Pinky under his wing after he became involved in a criminal religious sect, manipulated by a leader who called himself Father.
After helping Pinky, his sister's boyfriend, through drug addiction, Restrepo came up with the idea of the film, a collage-like story of vengeance.
"Father makes his disciples commit crimes, learning how to shoot, launder money, produce counterfeit designer clothes. He also claims sexual rights on all the female members, justifying all of these actions as acts of faith. One day Pinky witnessed something that woke him up and he decided that he must kill Father to turn his life around. So that's how the movie starts," he says.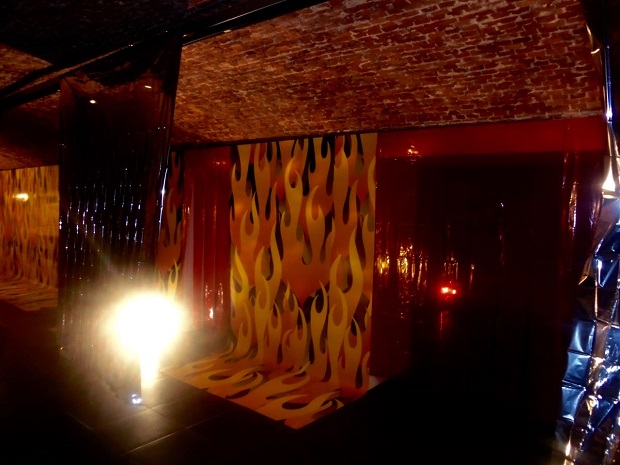 Unknown to many, under the Royal Galleries lies an extensive crypt with vaulted ceilings, an atmospheric exhibition space for the cinema. Restrepo has filled it with a voyage through his career via numerous objects relating to his films.
"Among the collages, sculptures, canvas sets, installations and film excerpts, are misprinted newspapers that I embellished so as to write a history of Colombia. And there's a silk-screened fabric that's a very visual element in this movie; a labour scene with workmen printing the fabric, the motif of which is flames, underlining the hellish nature of their jobs, hence the name of the show 'The Factory of Hell'." 
Los Conductos
Screening from 6 July (OV, subtitles in English)
Camilo Restrepo Exhibition: The Factory of Hell
Until 28 August
Cinema Galeries
28 Galeries Royale
Brussels