Christian Arnsperger: The Donut Decade, What Sustainability (Really) Means
02/12/2022
from
18:30
until
02/12/2022
-
20:00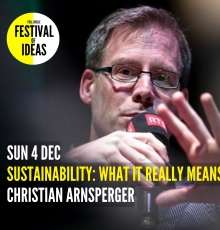 Kate Raworth's famous 'doughnut economics' model, has marked a pivotal time of reflection in economics, calling for a deep questioning of the principle of economic growth. The current economic model has driven societies to extract more resources and produce more products than needed, exploiting labour and nature far beyond their limits. 

Economist Christian Arnsperger sees the way ahead towards a genuinely circular economy and sustainable lifestyles. Delving into existential economics and the concept of perma-circularity, he envisions an economy in which growth is no longer the imperative, but rather an occasional tool used towards more important goals: the nurturing, protection and regeneration of our natural, social and cultural capital. Hear from him how to get there.
__________________________________________________________
ABOUT
Christian Arnsperger is an economist and Professor of Sustainability and Economic Anthropology at the University of Lausanne, Switzerland. His research focuses on social ethics, economic epistemology and on the transition from today's unsustainable economic system to a plurality of sustainable alternatives. A specialist of post-consumerist/ post-growth economic alternatives and of the link between ecological transition and the change of mentalities and lifestyles, he is also a former scientific adviser to the Alternative Bank Switzerland (ABS). He was previously Hoover Chair for Economic and Social Ethics in Louvain-la-Neuve, Belgium.