Bozar exhibition 'Alexandria: Past Futures' honours city's multicultural heritage and legacy
Egypt's legendary city is presented in a new light in Alexandria: Past Futures, Bozar's flagship autumn exhibition.
Once a bridge between East and West, Egyptian and Greek cultures and traditions, the Mediterranean port city was a multicultural megapolis, home to Egyptian, Greek, Roman, Jewish and other cultures.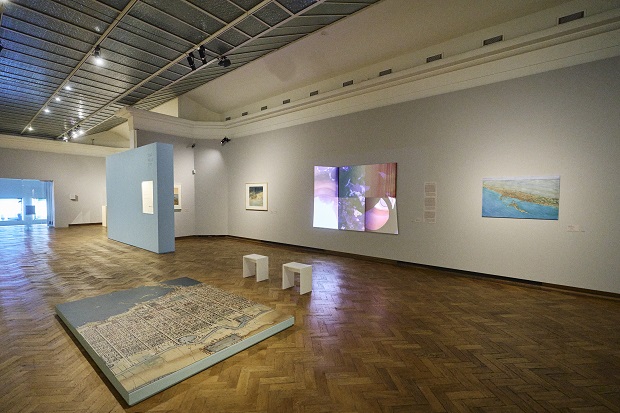 The exhibition encompasses more than seven centuries of Alexandria's multi-layered history, from its founding by Alexander the Great in 331 BC to the arrival of Christianity in 391 AD. As the largest port in the Mediterranean, Alexandria was a major trading hub, influential cultural and scientific capital and centre of Hellenic civilisation.
Some 200 artifacts, objects, jewellery, sculpture and installations are arranged according to five themes, tracing the urban, political and religious organisation of the city, the daily life of its inhabitants and its scientific and cultural influence.
Among them are 17 contemporary works, some specially commissioned for the exhibition. They address colonial representations and the mythology around Alexandria, while exploring modern concerns.
The exhibition is deliberately aimed at presenting the often idealised city via a new viewpoint – combining archaeological research with contemporary art – that questions the history, myths and clichés that continue to surround it.
Among the most illuminating displays are presentations of its former glories, such as the famous Lighthouse, one of the seven wonders of the world (pictured).
Another is the examining of the reality of life in the city for citizens across the ages, from urbanisation, wars and earthquakes to flooding and water scarcity. The current city, like many in the region, is in decline, having suffered major upheaval, conflicts and revolts over the past decades. The contemporary works on display were all created in this period of turmoil.
They are deliberately interwoven among the ancient artifacts, which creates something of a jarring experience. For co-curator of this contemporary section, Edwin Nasr, these works are designed to complicate as well as enrich visitors' understanding of the show.
"It invites European audiences to understand Alexandria and its complexity. The archaeological section focuses on the city because it was one of foundations of civilisation in a sense and invites us to understand how all other cities are constructed over time."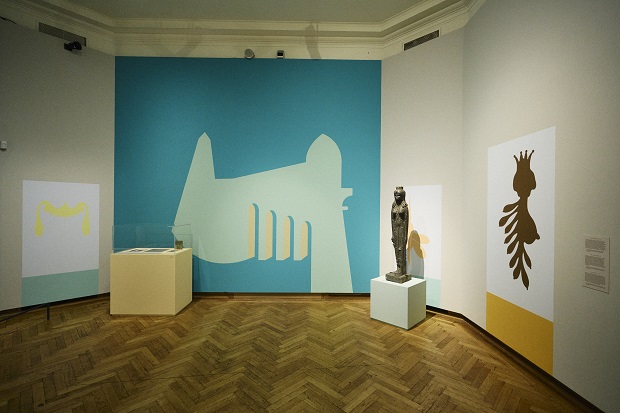 Although the exhibition is not intended to showcase the city of Alexandria, Nasr concurs that it doesn't necessarily make for an easy visit. "We recognise that it does frustrate visitors, but we want to speak to frustrations and not resort to easy categories, to binary thinking and reproducing orientalist cliches. I invite visitors to embrace poetry."
There's a reason why Egypt is dominating the exhibition cycle, not only in Belgium. Bozar's contribution is just one of the large-scale shows across Europe and in Egypt marking the bicentenary of the deciphering of hieroglyphics by French orientalist Jean-François Champollion and the centenary of British archaeologist Howard Carter's discovery of Tutankhamun's tomb.
Alexandria: Past Futures is staged in collaboration with Belgium's Royal Museum of Mariemont (currently showing Egypt. Everlasting Passion until 16 April) and the Musée des Civilisations de l'Europe et de la Méditerranée (Mucem) of Marseille.
Accompanying Bozar's exhibition is a themed programme of events, which includes guided tours, six concerts, two literary talks and a conference.
Alexandria: Past Futures
Until 8 January
Bozar
Rue Ravenstein 23
Photos: (main image) Hrair Sarkissian, Background, 2015 C-print © Courtesy of the artist; exhibition view © Yannick Sas; exhibition view © Yannick Sas; Jumana Manna, Master, Water-Arm Series, 2019 ©Jumana Manna. Image courtesy the artist and Hollybush Gardens, London. Photo: Louis Haugh; Lighthouse © Sarah Crew; exhibition view © Yannick Sas; exhibition view © Yannick Sas; Io welcomed by Isis at Canopus/1st century AD, Fresco Napoli, Museo archeologico nazionale di Napoli