Belgium's first casino resort opens in Namur as temple to gaming and pleasure
The capital of Wallonia's emblematic riverside gaming site has re-opened as Belgium's first casino tourist complex after more than two years of building work and €23 million investment.
Circus Casino Resort is a leisure complex incorporating a four-star Mercure hotel, wellness area, new restaurant and meeting and event space, as well as gaming rooms.
Namur's historic casino, or Kursaal as it was then known, was first inaugurated in 1914. Designed by famous architect Georges Hobé, it occupied a prime location between the river Meuse and the city's looming ancient citadel. After a significant part of the building was destroyed in a fire in 1980, it was rebuilt, resulting in an architecturally muddled appearance.
While the addition of a new wing adds a third style to this landmark building, it creates 100 hotel rooms, including luxury suites. Designed to evoke the shape of an ocean liner to reflect its waterside setting, the renovation now offers sweeping terraces with panoramic views of the river and city. One of its most appealing features is large bay windows that maximise this stunning vista.
The brasserie-style restaurant, La Carte du Roi, also benefits from a covered terrace, providing seating for a total of 145 diners. A contemporary interior, attractively-priced menu and cosy modern central open fire are all intended to further broaden the casino's clientele.
Above in the wellness centre, there's a jacuzzi, sauna and steam room, with various massage, facial and body treatments available. One of the two areas in the centre can be privatised.
The resort is also pitching itself as a business facility. There's an extensive offer of equipped seminar and meeting rooms, including a 340m2 VIP room with bar and terrace, as well as a conference room for 300 people.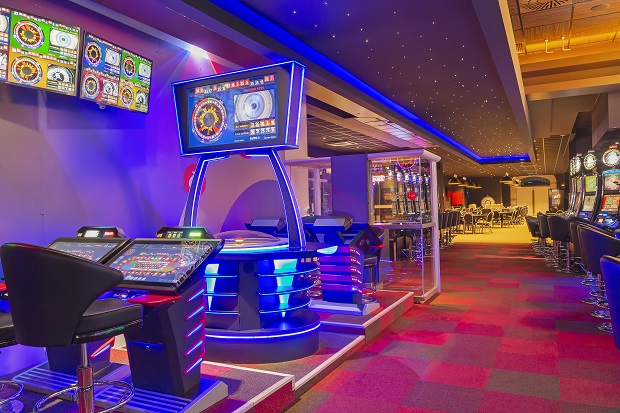 Generations of Namur citizens have partied in the Casino Club, and the transformed space deliberately caters for events such as receptions, weddings and concerts.
In the gaming area, a new bar and river-view poker room are among the extended facilities. If Namur boasts an international reputation for its poker tournaments – it's the second largest poker casino in Europe –alternative games include 250 slot machines, five roulette tables and three blackjack tables.
Currently drawing some 200,000 visitors a year, the move from a pure casino to resort experience is expected to increase this figure to 250,000, while also widening the audience.
Operating Namur's casino since 2004 is Casino, a Gaming1 brand that's a division of the Liège-based Ardent Group. Chief executive Emmanuel Mewissen explained why the group decided to undertake the project.
"When you go to a casino abroad, you enter a very lively atmosphere, which is often lacking in Belgian casinos. The Namur casino is reputed to be the best in the country. Our ambition was, from the start, to breathe more life into it."
With the resort formula proving increasingly popular around the world, "it was therefore clear to me that we had to play this card in Namur," added Mewissen.
The group decided to modernise and expand the casino in 2010, but the fallout of the 2008 economic crisis plus lengthy administrative procedures created delays. There were also local complaints about the building work, including the felling of a large beech tree and the construction of a concrete wall, that has finally been covered with green vegetation.
As a private-public partnership, the project had the backing of the city of Namur, which retains ownership of the heritage building. Attending the opening was mayor Maxime Prévot, who said Namur was lucky to have the only casino report in Belgium, and one that was open 24/7. "Who says there's nothing to do in Namur," he quipped in reference to the city's sleepy reputation.
Additional hotel rooms would help reverse Namur's accommodation deficit as well as boost tourism, continued Prévot. "It's a win-win situation with additional space for seminars and events. We now have a complete offer."