Evi Aerts/Stanislava Stoeva, Transformational Breath Facilitators
01/03/2020
from
9:30
until
01/03/2020
-
9:30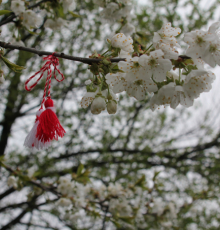 Have you already discovered the transformational powers of Breathwork?
Come and experience the deep healing benefits of a very simple yet profound breathing system. You will use your breath as a simple instrument to free your subconscious, to relax and to revive your health, happiness and awareness.
What is it about?
Learn how to breathe more openly and efficiently and to be connected more fully with your own Self.
Learn to increase your energy levels, let go of unhelpful thought patterns and experience a deeper sense of joy, peace and wellbeing.
Breath, sounds, movement and acupressure will be used to release physical tension and emotions which can be trapped in the body, offering a gateway to a deeper connection with your body and soul.
What will you learn?
Within a safe environment, you will learn about
- The value of conscious, abdominal connected breathing
- Your individual breathing pattern and the implication of that pattern on your life. "We live as we breathe"
- How Transformational Breath® works and its benefits on physical, emotional, mental and spiritual level
- The power of intention
- 2 full facilitated breathing sessions
- Tips & Tricks which can be applied immediately in your day-to-day life
Whom is it for?
This Breath workshop is absolutely for everybody regardless age and medical conditions. It is for those of you who are courageous, open minded and curious about a simple way to relax, to manage stress & emotions in a healthier way and to reconnect with your essence. This is also great for people who do not like endless talking about emotions/challenges and what plays internally, but rather act.
Are you facing physical, mental or emotional challenges?
Are you often stressed, or do you have the feeling to be "stuck"?
Are you facing anxiety? Do you have an addiction you want to free yourself from? Are you a shallow breather or do you have to cope with hyperventilation?
Are you open for personal and professional growth?
Would you like to feel more energetic and gain focus?
Are you ready to take responsibility over the quality of your life?
Then this workshop is really something for you!
Remarks:
The workshop will be given in English. Interpretation into Dutch & French is available when required.
The investment in yourself for this profound experience is 95 €.
If you sign up before 23/02/2020, you will enjoy 10€ discount.
High quality water from "Best Water" & tea & snacks will be provided.
The number of participants is limited to a small group in order to deliver a quality experience to everyone. So be fast in reserving your spot!
For questions and registration:
Evi Aerts, www.ademcoach.be, 0486 13 66 63
Stanislava Stoeva, stani.g.stoeva@gmail.com, 0470 54 11 83
Officially certified Transformational Breath® Facilitators and Group Leaders. (https://www.transformationalbreath.com/fac.aspx)
https://www.facebook.com/events/217249672631634/
Allow yourself some me-time to nurture yourself and to discover your breath as a true gift, available 24/7. You are worth it!
-Bonus-
This workshop is hosted on a very special day. First of March is the fest of Baba Marta, a Bulgarian ancient tradition to celebrate the arrival of spring with joy and hope.