Bruxell'A Cappella
16/06/2019
from
15:00
until
16/06/2019
-
15:00
Eglise Notre-Dame de Bon Secours
Rue du Marché aux Charbon 91
Belgium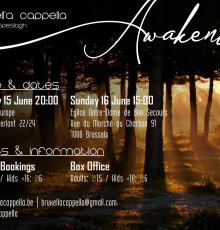 Ever wondered what spring sounds like when you put it to music?
Brussels chamber choir Bruxell'A Cappella was doing just that in the cold and dark winter months, resulting in a programme full of beautiful pieces celebrating new beginnings in nature, in love, in life and in religion. They will bring you Awakenings from a wide variety of genres and eras, from the French polyphonic chanson and the Italian madrigal to romantic Czech partsongs, German motets and some surprising contemporary arrangements.  Expect pieces from, among others, Monteverdi, Smetana, Brahms and Vic Nees.
Get your tickets for our June concerts now and be inspired by the crisp and joyful sounds of spring! Feeling curious? Click here for a sneak preview!